Coaching Behavior Change Toolbox: Agenda Mapping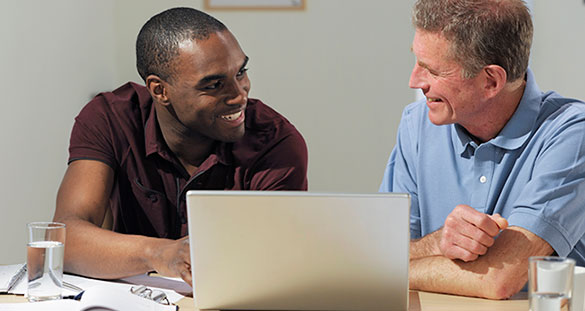 An important strategy for helping someone change a behavior is choosing a focus, or a key area to spend one's time and energy. Miller and Rollnick, the founders of motivational interviewing, describe focusing as "the process by which you develop and maintain a specific direction in the conversation about change." The client addresses what he or she hopes to accomplish from the coaching experience. Together, you, the coach, and your client come together to determine an agenda, or focus, for your time together. The intervention will be most effective when tailored to what the client perceives to be the most important (rather than what you may think is the highest priority).
Sometimes a client will come with a clear direction; for example, to lose a specific amount of weight, achieve a particular training goal, or quit an unwanted behavior like smoking. Other times, the focus may be a little less clear, or there may be several options from which to choose. When this occurs, agenda mapping, or the process of choosing a focus, is an important step to help set the stage for establishing specific goals. An effective way to help a client establish a focus is to use a tool is a bubble sheet.
Here's how it works:
Create a sheet with many bubbles of possible areas of focus. For example, a bubble sheet for a client who wants to "lose weight," but isn't sure how to get started or where to focus initially, might look something like this: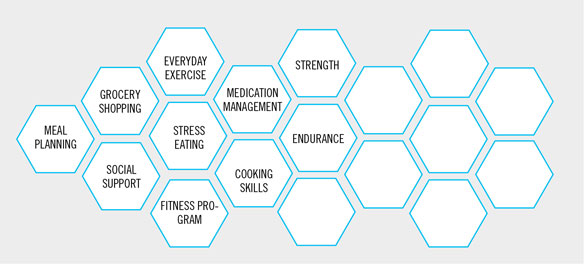 You might show your client the bubble sheet and say something along the lines of:
"Many clients that I work with come to me for help with losing weight. Many factors contribute to one's weight, some of which are easy to change, while others are much harder, or sometimes even impossible, to change. This bubble sheet shows some common areas in our lives that can affect weight. I've also left a few 'blank' bubbles, in case there are areas of potential focus that I forgot to include."
"Let's take a look at them."
[Read some of them aloud.]
"Can you think of anything that we should add to the blank bubbles as a possible area of focus?"
[Add any additional ideas the client offers to the blank bubbles.]
"Clearly, we have lots of options of where to focus. Of these 'bubbles,' what stands out to you most as a place you'd like to focus on first?"
Once the client suggests a particular area of focus, you can help him or her elaborate further on what focusing on that area might look like and, subsequently, some potential goals of working together. Sometimes, use of the bubble sheet uncovers areas of focus that might be outside your scope of practice as a coach (such as mental health concerns or specific dietary needs). In these cases, be prepared to make a referral while also prompting the client to answer the following question: "How do you think I might best help you to make progress toward your goal?"
From here, you and your client can begin to explore next steps of working together and moving toward positive behavior changes.
Earn an ACE Behavior Change Specialty Certification
No matter how you work with clients and patients, effective coaching can further heighten the impact of your program. As an ACE Behavior Change Specialist you will possess the knowledge of behavior change philosophy and emotional intelligence and, most importantly, the practical, hands-on skills to put it to use. Our comprehensive, learning experience incorporates expertise from renowned experts and pioneers in psychology and coaching to help you learn how to develop rich, productive relationships and guide people toward sustainable change in one-on-one, group and virtual settings.
________________________________________________________________________________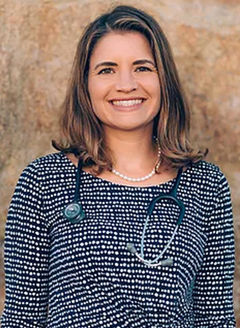 Author
Natalie Digate Muth