As an ACE Certified ACE Group Fitness Instructor, you'll elevate your mission of movement by leading more people — and making a significant impact on the health and well-being of countless class participants. Whether you're new to the health and fitness training world or a full-time instructor looking to grow your expertise, our NCCA-accredited certification will prepare you to effectively design and deliver safe and memorable experiences in any modality.
Compare Programs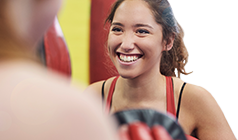 Celebrating Everyday Super

Her

oes
Start changing the world as an ACE Certified Group Fitness Instructor
$150 Off | Ends May 30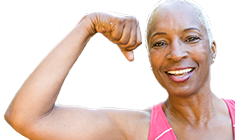 How to become a Group Fitness Instructor in 7 steps
A step-by-step guide to get moving towards your career as a Group Fitness Instructor.
Get Started
Study Programs
Choose your Group Fitness Instructor study program
Get moving on your career by taking the first step to becoming a Group Fitness Instructor — choosing a study program for your certification exam.
Pro Plus
Created to serve as a comprehensive resource for both new and veteran instructors.
Includes everything in the ACE Pro Essentials Study Program, as well as:
Comprehensive access to personalized help from ACE Study Coaches
ACE Group Fitness Instructor Handbook and eBook
Pro Advantage
Our most popular and robust study experience, created to bring the core concepts of group fitness to life.
Includes everything in the ACE Pro Plus Study Program, as well as:
ACE Enhanced Digital Resource Package
Unlimited dynamic practice tests
Comprehensive access to personalized help from ACE Study Coaches
Free Financing Payment Plan
$499
Are you an ACE Pro?
Sign in for
exclusive savings
Retail Value $785
(4 x $87.25 payment plan available)
Pro Essentials
A practical study experience that covers the theory and application of group fitness.
Provides everything you need to prepare for the exam, including:
ACE Group Fitness Instructor Handbook or eBook
Access to videos, quizzes, expert articles and more in the ACE Digital Classroom
Standard access to expert ACE Study Coaches
One practice test
ACE Pro Exclusive
Move your career further and save
Move your career further as an ACE Certified Professional and save 20% on an additional ACE Certification.* This includes our Personal Trainer, Group Fitness Instructor, Health Coach and Certified Medical Exercise Specialist study programs. As a mission-driven nonprofit, we strongly encourage health and fitness professionals to seek out additional education, because we believe well-qualified professionals are critical to turning the tide on the physical-inactivity epidemic causing so many health-related problems around the world. Plus, holding multiple ACE Certifications will allow you to take your health and fitness career to the next level by allowing you to reach a wider, more diverse set of clients.
*Cannot be combined with other offers. Valid only for currently certified ACE Professionals.
Sign In
ACE Interview Guarantee
Our commitment to foster career growth
As part of our commitment to foster career growth among ACE Certified Professionals, we have secured agreements from a wide range of health and fitness companies nationwide. Identifying yourself as an ACE Certified Personal Trainer or Group Fitness Instructor at 24 Hour Fitness, Anytime Fitness, Town Sports International, KoKo FitClub, Crunch, and Orangetheory Fitness will get you in the door for an interview for any qualifying position at those facilities.
Why Choose ACE?
ACE educates, certifies and supports more than 75,000 health and fitness professionals, health coaches and allied health professionals. Earning our NCCA-accredited certification means that you've met the highest industry standard for health and fitness professionals — and that you've made movement your mission. At ACE, we go above and beyond to support our health and fitness professionals throughout their careers, through education, training, partnerships and advocacy.
Group Fitness Instructor Careers
Get the Career Guide
There are a variety of paths to get people moving as a Group Fitness Instructor. Explore them all in ACE's Group Fitness Instructor Career Guide.
Group Fitness Careers
CrossFit

Pilates

Indoor Cycling

Zumba

TRX
Explore your options for starting or furthering your career in the fitness industry as a group fitness instructor.
Benefits
Tools and support to help you conquer your exam
Career Opportunities
Move the crowd
Group fitness is on the move. It's explosion in popularity means that ACE Group Fitness Instructors have a wide variety of career options — and a wide variety of modalities — to get people moving. The ACE Group Fitness Instructor Study Program provides an applied, practical understanding of the key concepts in group fitness—so you can feel empowered to exceed your clients' expectations no matter where their passion lies, be it strength training, mind-body indoor cycling or anything in between.
Strength
CrossFit
Boot Camp
Sports Conditioning
LesMills BODYPUMP™
Group Strength
Mind Body
Pilates
Yoga
Tai Chi
Qigong
Cardiovascular
Indoor Cycling

(Spinning®, Schwinn®, LeMond®)

Kickboxing

(Turbo Kick®)

Step
Aqua Fitness
Mixed Martial Arts
Dance
Zumba®
QiDance
Pole Fitness
Hip-Hop
Bollywood-Inspired
Barre
Equipment
TRX®
Kettlebell Conditioning
ViPR®
BOSU®
SandBells®
Mixed Martial Arts
Move the masses as an ACE Certified Group Fitness Instructor
18
Thousand

Certified Group Fitness Instructors