Evidence-based learning that's easy to understand

Led by best-in-class industry educators and experts

CECs approved by ACE, ACSM, NASM, NFPT and more

Maximize your impact
Take charge of your future with access to
unlimited courses to be the best trainer,
instructor, and coach you can be.
Get Your Pass
Keep on the cutting edge
Receive unique offers and information on new courses,
Specialist Programs, free webinars and more.
Specialist Programs
Expand your reach
Advance your career, reach special populations and increase your earning potential by becoming an ACE Specialist.
Explore Specialist

Programs
Top Courses
Thrive in today's world
Keep your skills relevant with cutting-edge
courses that support the evolving needs of
you and your clients.
Explore Top Courses
Free Webinars
Learn from top experts
Join experts as they discuss exercise theory,
business and more relevant topics for FREE,
then choose to pay for the CEC quiz later.
See Upcoming Webinars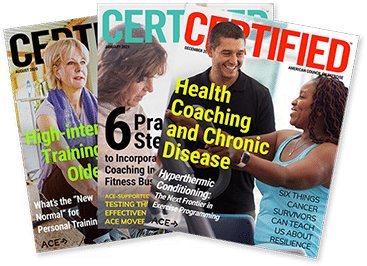 Magazine Quizzes
Earn CECs while you read issues of
Certified™ which you receive as an
ACE Certified Professional.
Learn More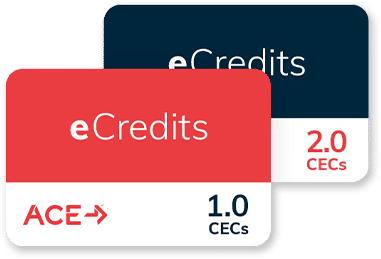 ACE eCredits
Purchase all the credits you'll need for
certification renewal up front at a discounted rate.
Available in 1.0 or 2.0 CEC options.
Learn More