Certification is the first step toward a successful career as a personal trainer. Whether you dream of owning a gym or training one-on-one, there are steps you can take during certification to get a jumpstart on your business. Be ready to train clients confidently the moment you're certified. Make your dream of being your own boss a reality! Download our "Guide to Starting Your Own Personal Training Business" to get started.
Download the Guide to
Starting Your Own
Personal Training Business!
Great news! You're one
step closer to launching
your business.
Be on the lookout for more valuable tips and
resources headed straight to your inbox.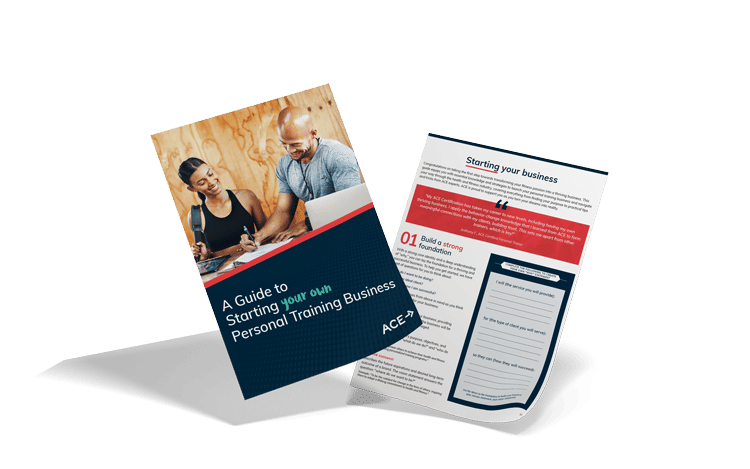 Download The Guide
Getting Started
ACE is dedicated to helping you build a thriving business with continuous support and guidance every step of the way.
Growing Your Client Base
Various resources and tools are available to support personal trainers in growing their client base, including marketing and business development strategies.
To ensure the longevity of your personal training brand, it is important to consistently attract new clients.

How to Attract New

Clients

Building a Professional Network

Establishing a strong professional network is essential for health and exercise professionals who aspire to enhance their knowledge, develop their skills, and progress in their field.

7 Ways to Build Your

Network

Connect with potential clients and build relationships through clear, authentic, and engaging messaging. Focus on how you can help clients achieve their fitness goals for effective marketing.

Learn How to Effectively Market Your

Business
Building Your Brand
Continuing to manage and cultivate your personal trainer brand is crucial for long-term success.
Tools for Your Success
You may also be interested in
Launch Your Career
Start transforming lives
Ready to take the next step in your journey to become a successful personal trainer? Get expert advice and practical tips to help you navigate every aspect of starting your business.
Download The Guide