Invest in the Future by Offering Youth-based Programs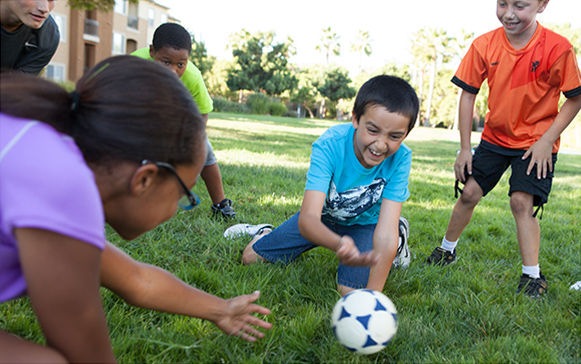 By Carrie Myers
Working with a different population outside your comfort zone can seem daunting, but it can also be tremendously rewarding. This is especially true when working with the youth population, which not only includes athletes, but an increasingly high number of overweight and obese children as well.
"I personally have never experienced something as rewarding as taking a child who has very little interest in fitness and watching him develop a passion for fitness that will affect him for the rest of his life," says Dale Speckman, owner and head coach at Athletic Revolution Northeast in Indianapolis, Ind. "Working with kids allows you to make a real difference in a child's long-term outlook on fitness, as well as his or her motor-skill development. You build lifelong relationships and are completely invested in a child's life."
"Offering kids' programs can also enhance your training of adult clients," adds Steve Ettinger, an ACE-certified Personal Trainer and ACE Youth Fitness Specialist based in New York City, "because it often gets you to think more creatively and hone your coaching and training skills. Whoever you're training, the ability to coach and train is often just as important as your practical knowledge as a fitness professional."
Why is working with youth so important? You can play a role in encouraging, motivating and directing them down the path to total wellness—for a lifetime!
Check out these stats, provided by the Centers for Disease Control and Prevention (CDC).
Childhood obesity has more than doubled in children and tripled in adolescents in the past 30 years.
The percentage of children aged 6–11 years in the United States who were obese increased from 7% in 1980 to nearly 18% in 2010. Similarly, the percentage of adolescents aged 12–19 years who were obese increased from 5% to 18% over the same period.
In 2010, more than one-third of children and adolescents were overweight or obese.
Immediate Health Effects:
Obese youth are more likely to have risk factors for cardiovascular disease, such as high cholesterol or high blood pressure. In a population-based sample of 5- to 17-year-olds, 70% of obese youth had at least one risk factor for cardiovascular disease.
Obese adolescents are more likely to have prediabetes, a condition in which blood glucose levels indicate a high risk for the development of diabetes.
Children and adolescents who are obese are at greater risk for bone and joint problems, sleep apnea, and social and psychological problems such as stigmatization and poor self-esteem.
Long-term Health Effects:
Children and adolescents who are obese are likely to be obese as adults and are therefore more at risk for adult health problems such as heart disease, type 2 diabetes, stroke, several types of cancer and osteoarthritis. One study showed that children who became obese as early as age 2 were more likely to be obese as adults.
Overweight and obesity are associated with increased risk for many types of cancer,

including cancer of the breast, colon, endometrium, esophagus, kidney, pancreas, gallbladder, thyroid, ovary, cervix and prostate, as well as multiple myeloma and Hodgkin's lymphoma.
Ettinger also points out that working with kids makes you more visible and valuable in your community. "One of the biggest reasons people get into fitness is to help others lead healthier lives. There's no better place to start than with children."
"Working with children and youth re-energizes me on a daily basis," says Nhu Nguyen, Ph.D., associate professor, Human Performance and Sport Department, and program coordinator, K-12 physical education at the Metropolitan State University of Denver in Denver, Col. "Children have an innate love for movement and physical activity. Children move effortlessly with enthusiasm. They don't stop to think about their breathlessness or shy from playing at a park or a game of tag. Children play with reckless abandon and remind us adults that we, too, should 'play' with intensity, get a bit dirty and smile while doing so!"
Of course, adding children's programs and training to your schedule can have financial benefits, as well. "Financially speaking," says Speckman, "having a youth client base can set up fitness professionals for lifetime clients. Professionals are able to gain the trust of the youth client, as well as the child's parents, making it possible to retain the client throughout high school, college and even into his or her adult life."
"If youth are instilled with the knowledge and tools for exercise and wellness as youth, we can impact the habits and thus exercise adherence and values much earlier in life and produce a generation and culture of healthy living," explains Nguyen.
It's important to remember when working with children that they are not small adults. "Kids' programs and training should differ from that of the adult population," says Nguyen. "Adult activities may not be fun or suitable for children. One should consider the age and developmental level when working with youth, in addition to the psychomotor, affective and cognitive skills at each age and developmental level."
"Just like working with adults, it's very important to approach each child as an individual," says Ettinger. "Different kids have different motivations, goals, fears, passions, etc. If you pay close attention and listen to children, the experience is way better for you and them."
"You will quickly learn the different types of personalities children have and the best way to work with each of them," explains Speckman. "You have to create strategies to work with highly skilled, highly motivated children, as well as the non-athletic children that have low motivation."
Ettinger adds that it's important to build open and positive communication with the parents early. "Not only are they the ones who pay for the training, their support of their child—and fitness pro—often dictates the success of the program."
Speckman suggests anyone interested in training children get a youth training certification. The ACE Youth Fitness Specialty Certification gives you the knowledge you need to work with children in an engaging, safe manner. It consists of online and book work, as well as an online quiz, all of which address causes, contributing factors and fundamental issues related to physical activity and youth. You will also learn programming concepts specific to youth, as well as sample exercise programs using different types of equipment and age-appropriate games and activities.
Perhaps one surprising benefit of working with children is that it can bring out the kid in you. "The best thing about teaching youth fitness," says Speckman, "is that I find myself having fun and acting like a kid again, too!"
---

Carrie Myers has a bachelor's degree in exercise science and has been a freelance writer for more than 11 years. She is the author of the award-winning book, Squeezing Your Size 14 Self into a Size 6 World: A Real Woman's Guide to Food, Fitness, and Self-Acceptance and presents, teaches and trains in N.H. and Vt.