Want to Make More Money? Use Your Downtime Wisely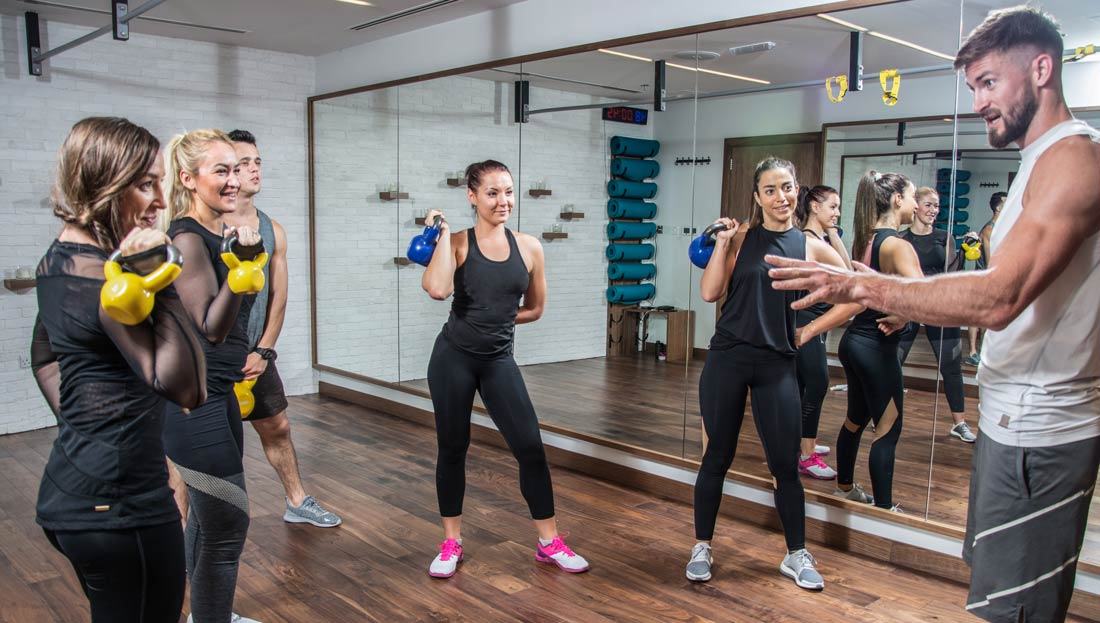 According to 2017 data from the Bureau of Labor Statistics, the median annual income for fitness trainers and instructors is $39,210.
How much are you making?
Whether you're new to the fitness industry or have been here for a while, you may find yourself in the same conundrum: working mornings and evenings with large chunks of down time in between. Instead of using this time swiping right or swiping left, start using it to build your business and clientele—and make more money in the process.
"Most trainers only get paid for time spent with a client, so capitalizing on downtime in between sessions is key to a successful career," says Dani Singer, CEO and director of Fit2Go Personal Training in Baltimore, Md.
For Jessica Cifelli, certified personal trainer and Master CycleStar at Cyclebar in Wyckoff, N.J., capitalizing on personal training downtime means teaching group fitness classes. "In many cases, as new personal trainers, it can be difficult to find, create or foster contacts," Cifelli explains. "Working within a company like Cyclebar [has allowed me] endless access to new people on a daily basis. Whether or not riders are looking to personal train right away isn't always the point. When and if they decide they'd like to invest in personal training, the relationship I've built with them in my classes generally [makes them feel comfortable] coming to me with questions and training inquiries."
Cifelli emphasizes that there is strength in numbers by networking through group fitness. "The more classes you teach, the more access exists to make more connections. If you are teaching three classes a week with 50 riders in each class, you have the potential to communicate with 150 people each week."
Of course, downtime can also be used to get those continuing education credits (CECs) you need for your certification—or work on earning a specialty certification. "Continuing education in your free time will keep you relevant, develop you as an expert and set you apart from your competitors," says Savannah Crayon, founder of Sun Hire Wellness in south Florida. "Become a resource to your clients. Happy clients refer potential clients, and referrals are the best way to build your business and earn more money."
Take Social Media to the Next Level
If you're not yet using social media for business, you need to start—now. "If fitness professionals are not seeing clients, they should be building their brand via social media, YouTube or even creating lead magnets," advises Christopher Finn, P.T., C.S.C.S., founder of Par4Success in Morrisville, N.C. "They need to be engaging in developing their value-based marketing strategies to connect with, and bring value to, their potential clients."
Some ways to build your brand, suggests Finn, include posting exercise tips on Instagram, or creating a YouTube channel dedicated to exercise demonstrations or teaching people how to reach their goals. "You can also create a 30-day weight-loss program that you can give away for free in return for an email address so that you can follow-up with the prospective client about how he or she is doing, and deliver more informational emails or videos about how to maximize their results."
Shadow Experience
If you're new to the fitness industry, you may find inexperience becomes an obstacle when potential clients are looking for someone with more experience. And if clients aren't hiring you due to inexperience, it's kind of difficult to get any. One easy way to gain experience is to shadow a more seasoned trainer or ask one to be your mentor. This not only gives you some practical training, but you'll also begin to connect with members in the gym, as well as other successful fit pros—both of which get your name out there.
This idea of offering something free—such as an article, ebook, consultation or program—is an example of a lead magnet. Whatever you offer should be free and offer enough value to people that they'll give you their email address in exchange for it.
Singer agrees. "The best way to spend this downtime is to focus on one thing: providing value to as many people as possible. For starters, post a quick fitness tip on Facebook every single day. Make these tips as useful as possible, so that anyone reading it will receive direct benefit from your advice."
As an example, Singer suggests creating a quick video demonstrating stretches for back pain. "The return on investment for the time you'll spend posting free advice will be well worth it. First, you're positioning yourself as a fitness expert to every single person reading your free tips. They may not be looking for a personal trainer today, but when they are three months from now, guess who they're going to immediately think of?"
"[Since the beginning of my fitness business], I was an active social media presence and blogger. I often made connections with publications and bloggers, and canvassed for inquiries I could insert my opinion into," explains Crayon. "Building an online presence literally becomes a living portfolio."
And, adds Singer, handing out free information has additional benefits. "Aside from filling up your schedule with clients, sharing free advice can potentially grow into an additional income stream for you. We live in an attention economy; meaning, the most valuable currency is other people's attention. If you build a solid following with your fitness tips, you can monetize in several ways, such as sponsorships, video ads or by developing your own online fitness program."
You Don't Have to Give It ALL Away
As a newcomer to the fitness industry, Jonathan Jordan, a certified personal trainer in San Francisco, also used his downtime to provide clients and potential clients with freebies. "As a new trainer with big gaps in my schedule, I made a point to create content that I shared with my clients in the form of personalized emails, blog posts and e-newsletters. This helped me be more efficient with my time and to establish myself as an expert with leads and clients."
Over time, however, Jordan began to see the potential for passive income. "I wanted to start adding passive income to my business, so I created a downloadable PDF guide on clean eating and began selling it for $4.99 on my website. It's allowed me to reach more people and make some extra cash each month. I'm planning a follow-up guide for improving posture and a sleep guide, as well. I sell about 20 a month, so it brings in approximately an extra $1200 a year—with very little effort on my part."
Just starting out in this business can be rocky at first. Use those free hours to build your clientele and position yourself as a leader.
"If you're consistent with all of this," encourages Finn, "the end result will be that you no longer have all those empty hours. You will have established yourself as someone who can bring value to your customers. People will be contacting you to train instead of you having to pander on the floor of the fitness center for business—something we've all done at some point in our careers and something none of us want to go back to."
Waste Not Want Not
In this technologically driven age, you would think time management would be a snap. After all, you've got notifications buzzing all day long, alerting you to new texts, emails or comments—all time savers, right? Not really. Being constantly barraged by distractions that decrease your focus can be the bane of time management. To use your downtime wisely, decrease as many distractions as possible.
Make a list. Flying by the seat of your pants when trying to meet goals ensures you will stray off-track. Instead, write down a list of what you want to accomplish that day to help you stay focused on the task at hand. It also feels good to check off each task once completed.
Change your home screen. Having a computer home screen that flashes the latest headlines is like a siren beckoning you to click on the links. Before you know it, it's time for your next client and you checked nothing off your to-do list. Change your home screen to the default screen for your search engine.
Shut off or silence devices. The constant ping of phones, tablets and laptops going off is just offering you temptation for a distraction. Shut off notifications for social media and set up your "I'm busy but will get back to you as soon as possible" autoresponder for emails, text messages and phone calls.
Find a quiet place to work. Perhaps you like to sit at your local coffee shop with your tablet. If you can resist talking to every person who steps foot in the store, great. If not, perhaps something more along the lines of a quiet corner of your local library would be a better place to inhabit during your downtime.

Author
Carrie Myers