Video Marketing: If You're Not Doing It, You're Missing Out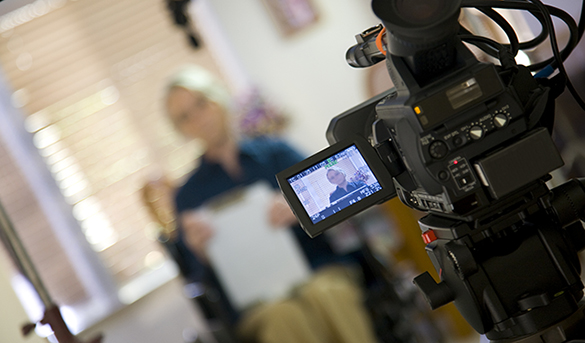 "Everyone is doing it," says Jimmy Craig, M.A., video marketing and viral expert and co-founder of MethodLoft, LCC, based in Boston, Mass.
What is Craig referring to? Put simply: video marketing.
"Video isn't only great at connecting to and converting visitors," Craig adds, "it can significantly boost your visibility online. Google displays blended search results, too, making it easier for businesses with video to get the coveted spots on the front page."
Shawne Duperon, Ph.D., six-time EMMY-award winner and founder of Project: Forgive, agrees. "Video is the fastest and easiest way to create relationships in business. People do business with people they trust and like. Video is a medium that builds trust and likeability."
Not quite convinced video is for you? According to James McQuivey of Forrester Research, the value of a one-minute video is equivalent to 1.8 million words. Here are a few more convincing facts compiled by Adelie Studios and Syndacast:
70 percent of marketing professionals report that video converts leads into customers better than any other medium.

The average Internet user spends 88 percent more time on a website that include videos than on websites that do not contain videos.

Nearly two-thirds (64 percent) of consumers are more likely to buy a product after watching a video about it.
Featuring video on landing pages has been shown to increase conversions by 80 percent.
If a video lasts one minute or less, 59 percent of viewers will watch it all the way to completion.
Only 24 percent of brands are using online video to market to consumers.
Using the word "video" in an email subject line boosts open rates by 19 percent and click-through rates by 65 percent and reduces unsubscribe rates by 26 percent.
Business-to-business and business-to-consumers marketers both say video is among the top three most effective social media marketing tactics.
52 percent of marketers believe that video is the content format with the highestreturn on investment.
By 2017, 74 percent of all Internet traffic is predicted to be video.
69 percent of smartphone users say videos are a perfect solution for smartphone viewing, as it offers a quick way for consumers to grasp an overview of a product.
Three out of four brand marketers and ad agency executives expect original digital programming to become just as important as television programming within the next 3 to 5 years.
Putting Your Fears to Rest
I know what you're thinking. You don't have the budget to produce videos. Or you can't stand the way you look on video—or the sound of your voice. Or perhaps you feel you're not enough of an expert to be on video.
Let me put your fears to rest. First, you do not need a Hollywood budget to create videos that will market and promote your business, skills or products. In fact, says Duperon, "your phone is perfect, especially if you're doing little one-minute video blogs with tips."
"The bottom line for health and fitness clients are client results," explains Scott Sobel, president of Media and Communications Strategies, based in Washington, D.C. "You don't necessarily need to dress up those kinds of videos. As a matter of fact, demonstration and testimonial videos that appear to have been shot by a home user demonstrate honesty and simplicity of method. You see what you get."
"High-quality equipment is surprisingly affordable today," adds Craig. "Even smartphones have incredible video cameras now, too. I think that the most overlooked piece of equipment is a reliable audio recorder. If you're working with little-to-no budget, at least pick up a cheap wired lavalier (lav) microphone, because most on-device audio recording capabilities are severely lacking. You might be surprised how much quality audio will improve a video."
Don't have a website to upload video to? Our experts overwhelmingly suggested YouTube as one of the best platforms for video marketing. Matt Schossberg, senior account and content director for Amendola Communications in Scottsdale, Ariz., recommends integrating your YouTube account with your other social media channels to get the biggest bang from your video time and buck.
As an example of this big bang, Duperone says, "You can start a channel on YouTube and repurpose your videos to share on your social media. When I post a video on our Facebook page, it's getting shared up to 15,000 times. It's deeply impacting my business."
According to YouTube's own statistics:
YouTube has more than a billion users, which is almost a third of all people on the Internet. Every day, people watch hundreds of millions of hours of YouTube videos and generate billions of views.
Each year for the past two years, the number of people watching YouTube each day has increased by 40 percent and the number of hours people spend watching videos on YouTube has increased by 60 percent.
The Nuts and Bolts
As far as lighting and make-up go, keep it as natural as possible, suggests Schlossberg. "Unless you have a budget and expertise, try to use natural lighting. Avoid fluorescent lights or spotlights that shine directly down over your head."
If you're a man with a shiny face, Schlossberg recommends splashing some water on your face and drying it off—or do a light dusting of translucent powder. "For women, their normal amount of make-up usually works fine."
Try to make sure there are no shadows on your face, points out Duperon. "If your face is hard to see, it actually has the opposite impact of trust. You literally appear shady and untrustworthy!"
Duperon also suggests keeping your eyes steady and your chin down some. "People have a tendency to raise their chin and it will come across as arrogant," she says. "People tend not to buy from a person who 'feels' arrogant. It's actually an act of vulnerability to keep your chin down, similar to how TV news anchors are trained."
Keep it short and simple. "Keep the topic high level and the message succinct," recommends Schlossberg.
"Ideally, keep your video under a minute," Duperon advises. "Research shows more than 50 percent of the audience leaves after 10 seconds. When someone starts watching your 60-second [or shorter] video, they tend to stay with you and the video, because the time investment is so little. Think about how many times you dropped out of a video that says it's three minutes or longer."
Lastly, make it personal and speak directly to your audience. "When talking on-camera, talk to one person, just as though you were at [a coffee shop]," says Duperon, "and use the word 'you.'"
If you still feel a little skittish at the idea of going on video, here are a few final words of wisdom from Duperon:
"Dance in the discomfort! For newbies, it takes some getting used to [performing on video]. That's normal. The more conversational you are and the more authentic, the better. Perfection is overrated. You don't have to do it perfectly. My motto is that 80 percent is good enough."
---

Author
Carrie Myers