Medical Fitness: Is It the Wave of the Future?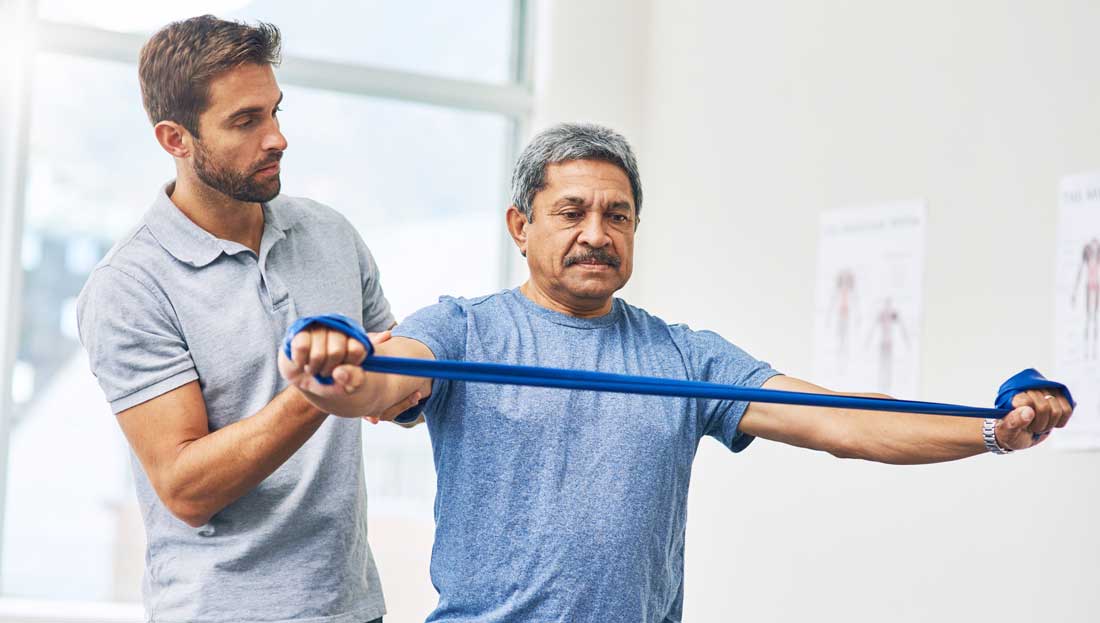 One of my first jobs after graduating college with my degree in exercise science was at my local hospital. I worked in cardiology doing stress tests, EKGs, Holter monitoring and cardiac rehab. Eventually, I transitioned over to the physical therapy department, where I continued to do cardiac rehab, designed and implemented the protocols for stages III and IV cardiac rehab, assisted the physical therapists with procedures, and did post-rehab training for patients who had finished physical therapy but desired more. When I left that position to stay home with my sons, the director of physical therapy told me if she has a choice, in the future, she will choose to hire someone in my field versus a physical therapy assistant, as she felt exercise science was more versatile.
Well, the future is now…
The Medical Side of Fitness
As a certified health and exercise professional, your certification shows that you have the credentials to work with an apparently healthy population, but there's another growing population that needs your help, too. According to the Centers for Disease Control and Prevention (CDC), about half of all adults in the U.S. have at least one chronic health condition, and as of 2014, seven of the top 10 causes of death were from chronic diseases.
"There has been a large void between the medical and fitness communities for a long time," states Debbie Compton, ACE Certified Personal Trainer and Health Coach, and co-author of Stacking: Your Skeletal Blueprint for Posture. "For these special populations or post-rehab individuals to be excluded from the fitness world is negligent. There are many elements in an individual's pursuit to healthy fitness, and connecting to their medical challenges is a very necessary one."
While the thought of working with special populations may seem overwhelming or out of your reach, chances are, you're already working with them, says Jeff Young, C.S.C.S., ACSM-EIM, and author of Concepts in Medical Fitness. "Because about 50% of adults in the U.S. suffer from chronic joint pain and about the same amount suffer from chronic disease, and approximately 70% suffer from a combination, most trainers are already training these special population clients, whether they realize it or not. And trainers need to have the knowledge and skill to train that type of population."
"These members and clients, once thought of as the exception, are now becoming the norm," adds Lisa Dougherty, president and founder of MedFit Network, a resource for people looking for fitness and allied healthcare professionals who work with people with medical and chronic conditions. "They have heard that not all exercise and healthcare professionals are created equal, and they will be looking for programs and professionals who understand who they are, what they are suffering from, and how they can be helped to prevent, treat, restore function and preserve their quality of life."
Medical Exercise Specialists
Where exactly does a medical exercise specialist come into the picture?
"Medical fitness professionals help [individuals] make the transition from medical management and/or physical therapy to a regular physical-activity program following a surgery, an injury, a medical diagnosis or exacerbation of a pre-existing condition," explains Dougherty.
A medical exercise professional works with people with cardiovascular disease, pulmonary disease, neuromuscular disorders, metabolic disorders, orthopedic injury, arthritis and neurological disorders. Some also work with cancer and perinatal clients. I've personally worked with clients with traumatic brain injury and spinal cord injury, as has Tony Davenport, M.S., program director for NextStep Atlanta.
"Working with the neurologically impaired has been enlightening!" exclaims Davenport. "The people want to improve their daily quality of life and are willing to work hard on many levels to achieve independence. My journey started in April 2008 with spinal cord injury and it has since grown to all forms of paralysis within the realm of exercise physiology."
"I've worked with cancer survivors, those with multiple sclerosis, fibromyalgia, diabetes and severe arthritis, prenatal clients and those with mental disabilities," says Dougherty. "This has been my niche from the beginning [of my career in fitness]. These individuals are so rewarding and inspiring to work with! Understanding where they are coming from mentally and physically and then meeting them there to start building a relationship and foundation to build upon is important. I enjoy sharing how exercise and a holistic approach to what they are going through can maximize their health and quality of life. Making a positive impact in these individuals' lives has built my business, as it has been mostly referral-driven."
Referrals can come from clients themselves, as well as other professionals. Young feels it's vital to reach out to healthcare providers, including physicians, medical and wellness offices, physical therapists, chiropractors and nutritionists, and provide them with brochures, flyers and other materials that describe your services, what you can do for this clientele and why it's important to their quality of life.
"Try offering healthcare providers a free consultation or assessment and a few free training sessions so they can see what you're all about," suggests Young. "You'll be repaid through regular referrals."
Young did just this when he was first starting out and offered free sessions to the physical therapists at the independent physical therapy facility where he was working. "Because of that, they quickly became comfortable with me and referred patients [to me]."
It wasn't long before Young's schedule was full and he earned the title of "Fitness Director." The program was so successful that he soon had to hire staff to work with him. "It quickly became clear that physical therapy facilities are also medical fitness facilities," he says. "There are so many independent physical therapy facilities in the U.S. that don't currently have a post-rehab medical fitness component. I see this as a great career opportunity for fitness pros."
Working directly with other healthcare providers, says Young, is a win-win situation for everyone. "The facility makes more revenue and enhances their brand. The patients win, because they move from rehab to post-rehab in a safe, clinical setting, under the watchful eye of other providers. The fitness professional wins from an educational standpoint, increasing knowledge and skill [by working with other professionals], as well as it being a great career opportunity."
Another way to connect with healthcare providers is to ask clients to sign a HIPAA waiver with their provider so that you can contact them regarding your client's medical fitness program. This will allow you to discuss your client's condition and gain a better understanding of the specific situation. It also shows that you are a professional who cares about staying within your scope of practice and are a part of your client's healthcare team. Of course, this gets your name out there and allows you to establish relationships with providers in your community, as well. And if providers in your area are not yet familiar with medical fitness, it opens the door for you to be the first to educate them about it.
Any Age
While medical fitness is not just for the aged—disease and injury can affect anyone at any age—the older adult population does play a large role in this field.
"According to the CDC, by 2030, the number of U.S. adults aged 65 and older will more than double to about 71 million," says Dougherty. "The rapidly increasing number of older Americans has far-reaching implications for our nation's public health system and will place unprecedented demands on the provision of healthcare and aging-related services."
It is increasingly more common for healthcare providers to prescribe exercise. You can play a crucial role as a member of healthcare teams, by becoming educated on various conditions (see sidebar) and taking people to the next level in their treatment.
"Health and fitness is a constantly changing industry," concludes Compton. "To be taken seriously by the medical communities, we must be open to the fact that health and fitness cannot exclude anything that challenges our bodies."
Want to Become Certified as a Medical Exercise Specialist?
Due to the gap between the medical and fitness communities, organizations such as ACE have designed programs, services and certifications to encourage professionals to consider this niche.
By becoming an ACE Certified Medical Exercise Specialist, you will represent a critical link between clinic and community, serving as valued member of the patient healthcare team and working alongside healthcare providers and other allied health professionals. You'll also move people in ways you never thought possible. Utilizing movement as treatment, Medical Exercise Specialists guide those suffering from injuries and chronic disease toward a healthier life by designing programs that not only help alleviate the symptoms of chronic health conditions, but also prevent them from occurring altogether.

Author
Carrie Myers