Study: Why "Everything in Moderation" May Not Be the Healthiest Dietary Approach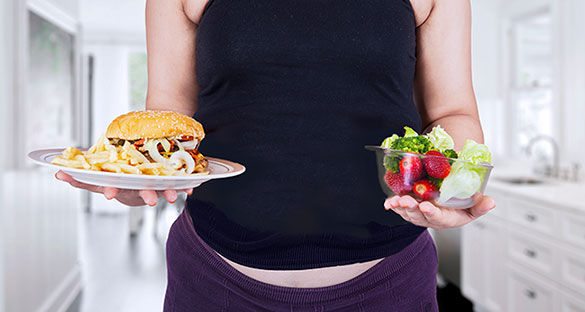 "Everything in moderation." You've heard that mantra repeated countless times over the years, especially as it relates to nutrition and eating healthfully. You've probably even offered this same advice to your clients. But a new study suggests that this long-standing dietary recommendation may actually be linked to a poorer diet and worse metabolic health.
Researchers at The University of Texas Health Science Center at Houston (UTHealth) and the Friedman School of Nutrition Science and Policy at Tufts University examined data from 6,814 participants in the Multi-Ethnic Study of Atherosclerosis, a study of whites, blacks, Hispanic-Americans and Chinese-Americans in the United States. The goal of the study was to "characterize new metrics of diet diversity and evaluate their association with metabolic health," explains Marcia C. de Oliveira Otto, Ph.D., first author and assistant professor in the Department of Epidemiology, Human Genetics and Environmental Sciences at UTHealth School of Public Health.
Data from the study included the total count (number of different foods eaten in a week), evenness (the distribution of calories across different foods consumed), and dissimilarity (the differences in food attributes relevant to metabolic health, such as fiber, sodium or trans-fat content). The researchers evaluated how diet diversity was associated with change in waist circumference five years after the beginning of the study and with the onset of type 2 diabetes 10 years later. Waist circumference is an important indicator of central fat and metabolic health.
When evaluating both food count and evenness, no associations were seen with either increase in waist circumference or incidence of diabetes. In other words, a more varied diet was not linked to better outcomes. Participants who had the greatest food dissimilarity actually experienced more central weight gain, with a 120 percent greater increase in waist circumference than participants with the least varied diet.
To compare with the results seen for diet diversity, the researchers also examined how the quality of participants' diet related to their metabolic health. Diet quality was measured using established scores such as the Dietary Approaches to Stop Hypertension (DASH) score and the Alternative Healthy Eating Index (AHEI) score. At five years, diet quality was not associated with change in waist circumference. At 10 years, higher diet quality was associated with about a 25 percent lower risk of developing type 2 diabetes.
"An unexpected finding was that participants with greater diversity in their diets, as measured by dissimilarity, actually had worse diet quality. They were eating fewer healthy foods, such as fruits and vegetables, and more unhealthy foods, such as processed meats, desserts and soda," says Otto. "This may help explain the relationship between greater food dissimilarity and increased waist circumference."
"Americans with the healthiest diets actually eat a relatively small range of healthy foods," said Dariush Mozaffarian, M.D., Dr.P.H., senior author and dean of the Friedman School of Nutrition Science and Policy at Tufts University in Boston. "These results suggest that in modern diets, eating 'everything in moderation' is actually worse than eating a smaller number of healthy foods."
ACE Certified pro Jonathan Ross, renowned fitness presenter and owner of Maryland-based Aion Fitness, has been a longtime critic of the "everything in moderation" concept. "We need copious amounts of healthy food and a small amount of food with little-to-no value," argues Ross. "Moderation, as it is commonly used, will result in moderately unhealthy people instead of thriving people."
It is important to note that the results of this study do not contradict the good advice to consume a wide range of healthy foods to incorporate as many nutrients as possible. Rather, the take-home message for clients is that a varied diet that is largely comprised of unhealthy foods—even if each food is eaten in moderation—will likely lead to poor health over time.
"Each day we walk through a world that presents us with dozens or even hundreds of temptations and visual triggers for junk foods," explains Ross. "If we only eat an unhealthy food once instead of the other 99 times we come across it on any given day, it may feel like moderation. But daily consumption of junk food—which is not moderate—erodes health and counteracts many of the other healthy choices—like exercising—your clients may be making on a regular basis."
Source: Oliveira Otto, M.C. et al. (2015). Everything in moderation: Dietary diversity and quality. PLOS ONE, 10, 10, e0141341 DOI: 10.1371/journal.pone.0141341.