Study: Phone-based Wellness Coaching Helps Clients Lose Weight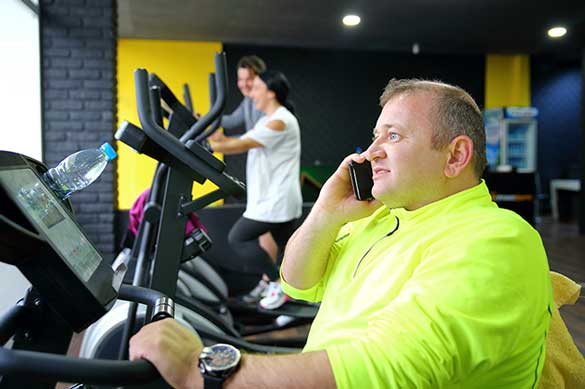 According to a new study published in the journal Obesity, people who voluntarily participated in individual wellness coaching by telephone for weight management lost an average of 10 pounds each and changed their weight trajectories from upward to downward.
The study, which was funded by the Centers for Disease Control and Prevention and the National Institute for Diabetes and Digestive and Kidney Disorders, was designed to evaluate the impact of a real-world telephonic coaching program on weight loss among patients whose goals were to manage their weight, improve healthy eating habits or increase their physical activity.
Researchers reviewed the electronic medical records of nearly 1,000 Kaiser Permanente members in Northern California who participated in at least one voluntary wellness coaching session to address healthy eating, active living and weight-loss strategies. Participants were then compared to a matched control group of more than 19,000 members with similar baseline weight, weight gain and other characteristics, who did not participate in wellness coaching.
"We found that patients who participated in the coaching sessions lost clinically significant amounts of weight, which is so important because even a small amount of weight loss can help patients experience significant health benefits over time," says Julie A. Schmittdiel, Ph.D., research scientist with the Kaiser Permanente Northern California Division of Research and the study's lead author. "And because obesity and diabetes are major health issues in the United States, behavioral interventions within clinical settings may be an important means for addressing healthy behaviors."
Many major health care organizations offer health and wellness coaching programs for their members. Kaiser Permanente offers voluntary wellness coaching by phone to all its members nationwide for no additional fee, specifically targeting weight management, healthy eating, physical activity, tobacco cessation and stress reduction. The coaching is provided by masters-level health professionals who are trained in evidence-based coaching methods, including motivational interviewing.
"Since the wellness coaching program was launched in Northern California in 2010, we have learned that our members appreciate the opportunity to receive lifestyle coaching on their own schedules by phone," said co-author Nancy Goler, M.D., Kaiser Permanente Northern California associate executive director and former director of the Wellness Coaching Center. "Now we have strong evidence that coaching may be helping members to live healthier lives."
The current research is the latest study in a series conducted by the Natural Experiments for Translation in Diabetes (NEXT-D) to assess the effectiveness of wellness coaching in a large, integrated healthcare system. In November 2015, a study in the American Journal of Health Promotion found that wellness coaching participants were able to quit tobacco at higher rates than matched controls (31 percent vs. 23 percent) and that their quitting rates were comparable to people who attended in-person group classes.
Likewise, a study in Preventing Chronic Disease in October 2013 found that patient satisfaction levels with coaching were high among members participating in two or more wellness coaching sessions. Survey results showed 70 percent were satisfied with the program and 71 percent would recommend it to others.
What Does This Research Mean for Health and Fitness Pros?
Of course, the idea that coaching is effective for helping clients make healthy changes is not exactly a surprise, but this research does present evidence that phone-based coaching offers health and fitness pros another way of supporting clients, in addition to in-person coaching.
"We've had very successful telephonic wellness coaching engagements over the years," says Billie Frances, founder of Guiding Mindful Change and an ACE Behavior Change Specialist Master Coach. The key, explains Frances, is helping clients identify roadblocks with powerful requests and accountability, and helping them discover their purpose and goals so they can take action toward achieving them.
Phone-based coaching is also an effective way to grow your business. "Incorporating phone consultations into your repertoire is a great way to target new markets," says Angel Chelik, founder and owner of WorkBetter Wellness. "Building business is all about building relationships. If you can offer a small amount of time to offer feedback and some "easy to implement" strategies to promote behavior change, they will feel connected to you and see the value in your input."
Lee Jordan, an ACE Certified Health Coach and Behavior Change Specialist, also sees great benefits to phone-based coaching, for both health and fitness professionals and their clients. "Understanding how to leverage mobile phone technology not only benefits your clients," explains Jordan, "but it can also move you away from a time slot-based, geographically limited business model to one that offers significantly more free time and revenue that isn't tied to specific appointments."
Jordan cites Justin Seedman, an ACE Health Coach and Behavior Change Specialist he mentors, as an example of someone who has implemented this strategy. "Justin uses the CRAFT coaching model (Check in, Report progress, Adjust and Assign, Feedback, Teach and Train)," says Jordan, "which is taught as part of the ACE Behavior Change Specialist certification. This is a great example of using the tools offered through ACE's certification programs and delivering them in an intentional way." The CRAFT Coaching model provides a program framework that can be used both in-person and via mobile phone.
The key, of course, is to determine what approach feels most suitable to your and your clients. And what works will likely vary from one client to the next. While one might appreciate receiving a motivating text reminder, another might prefer to conduct an entire coaching session over the phone. As with all things fitness- and health-related, there is no one-size-fits-all solution, so take the time to experiment and find what works best for you and your clients.
Further Your Knowledge
Whether you're interested in health coaching or considering a career in corporate wellness, these continuing education opportunities will give you the knowledge and skills you need to move your career forward.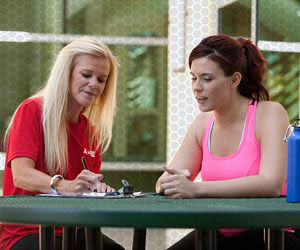 Coaching Fundamentals: Strategies for Behavior Modification [Home Study Course]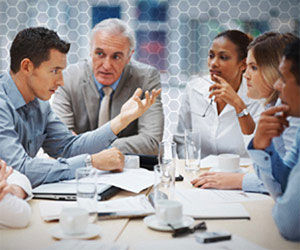 Finding Success in the Corporate World: How to Become a Wellness Consultant Who Produces Positive Results [Recorded Webinar]
Creating a Wellness Model [Recorded Webinar]