Whether you're looking for a quick bite to eat in the morning or want to try some unique breakfasts, these recipes are sure to please your palate and fuel your day.
1. Yam and Yogurt Parfait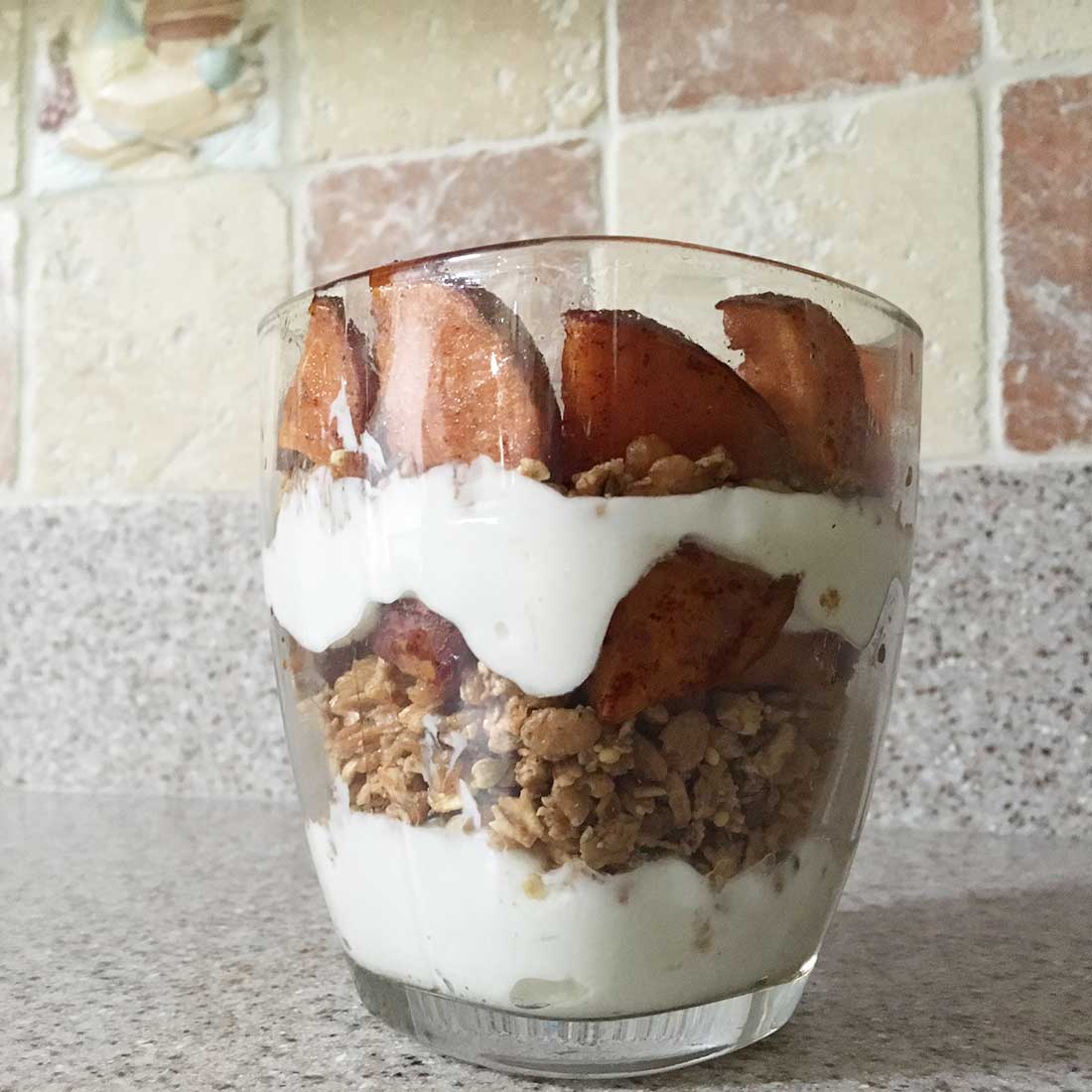 "One breakfast I love is a play on a traditional yogurt parfait that is lower in sugar, higher in fiber and more satisfying. It can be assembled in about a minute and makes for a good post-workout meal, given the carbohydrate-to-protein ratio."
-Jessica Matthews, M.S., E-RYT500, ACE Health Coach, CPT and GFI
Yam and Yogurt Parfait
Ingredients
1 small yam, cooked and cubed
1 container Siggi's coconut 2% Icelandic-style yogurt
1/3 cup KIND Healthy Grains cinnamon oat clusters
Directions
Layer ingredients in a bowl and enjoy.
2. Protein Power Balls and an Apple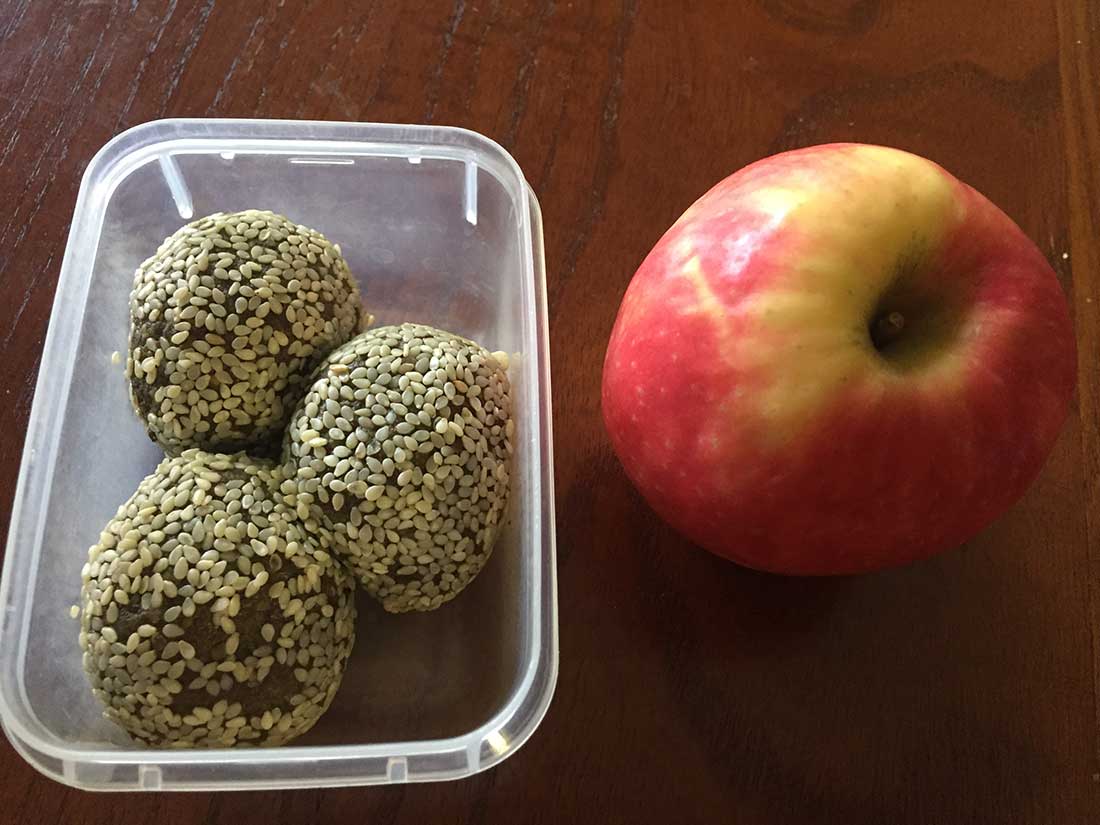 "When I start the day with a workout, I reach for these simple protein power balls and an apple."
-Jonathan Ross, Master Trainer
Protein Power Balls
Ingredients
½ cup raw sunflower or pumpkin seeds
¼ cup coconut, unsweetened
½ cup nut butter (almond, cashew, peanut, etc.)
1 teaspoon honey
Dash of sea salt, if desired
¼ cup wheat germ or oat bran
2 tablespoons flax seeds
¼ cup dried cranberries, apricots, etc.
¼ cup carob powder, if desired
Optional: sesame seeds
Directions
Combine all ingredients in a food processor, except honey, nut butter and salt. Pulse until well-blended. Add nut butter, honey and salt. Blend until mixture forms a ball. Shape into bite-size balls and roll in sesame seeds if desired.
3. Klika's Spicy Chocolate Rocket Fuel Shake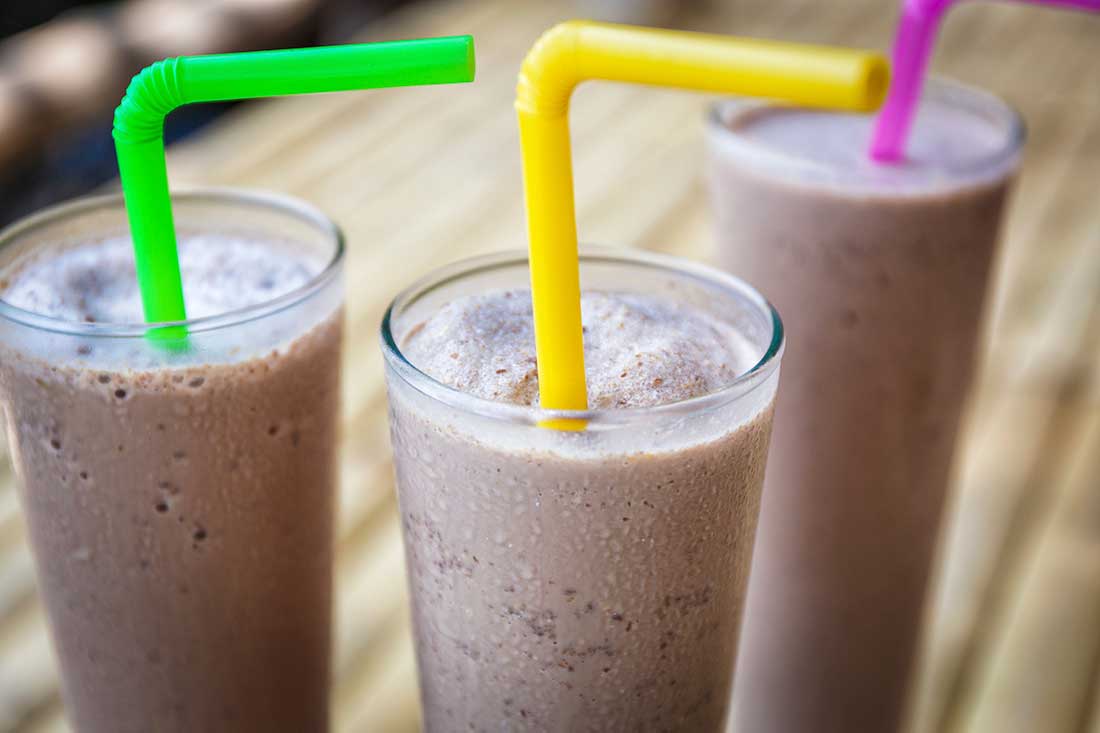 "I usually whip up a drink I like to call 'Klika's Spicy Chocolate Rocket Fuel' that's delicious, healthy and has a little kick, thanks to a dash of cayenne."
-Brett Klika, CEO of SPIDERfit Kids
Klika's Spicy Chocolate Rocket Fuel
Ingredients
6 ounces plain kefir
6 ounces coconut water
1 tablespoon peanut butter
½ banana
1 scoop vanilla whey protein
1 teaspoon cinnamon
Pinch of cayenne pepper
1 tablespoon raw cocoa powder
2 teaspoons maca root powder
Directions
Mix everything in a blender, adding in a handful of ice cubes.
4. Shoshana's Yelapa Oatmeal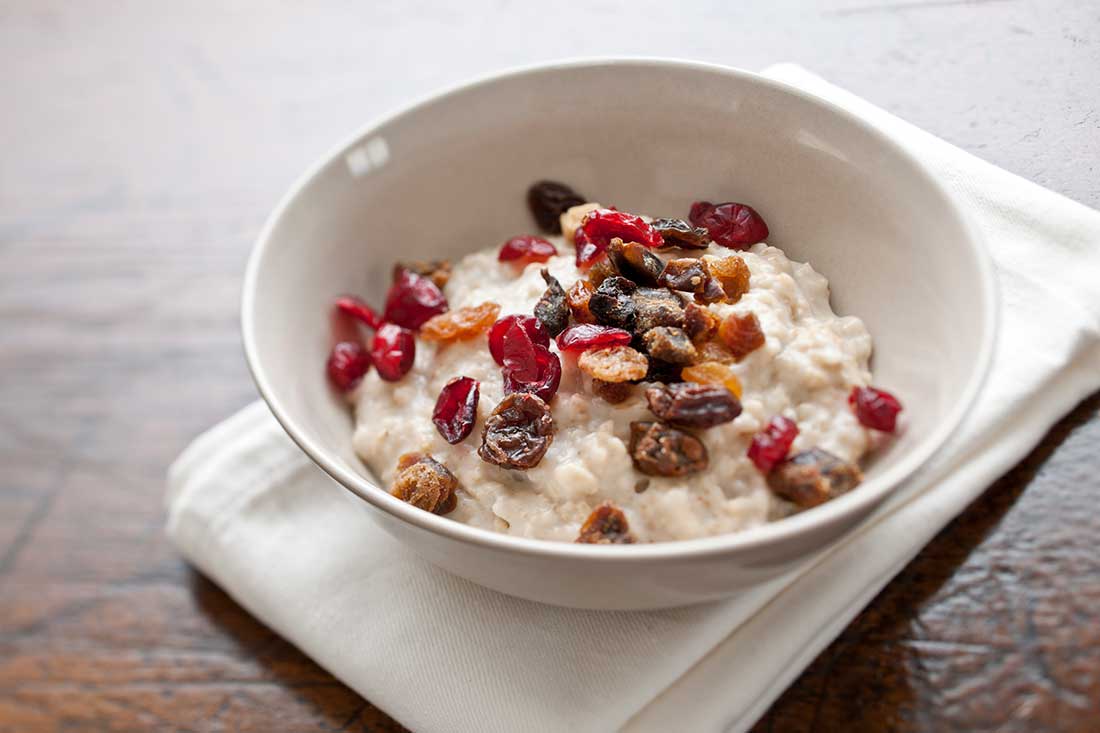 "When I was on a yoga retreat in Yelapa this winter, we had a hearty oatmeal each morning that left me feeling full and energized. I loved it so much that I re-created it when I got home."
-Shoshana Hebshi-Holt, RYT-200
Shoshana's Yelapa Oatmeal
Ingredients
1 cup whole rolled oats
¼ cup each dried cranberries
¼ cup dried blueberries
¼ cup golden raisins
¼ cup unsweetened, shredded coconut
1 handful raw almonds (whole, unsalted)
1 tablespoon cinnamon
1 tablespoon ground ginger or fresh minced ginger
2 tablespoons ground flax seed
1 ripe banana or ½ ripe plantain
Optional: 1 tablespoon nut butter
Directions
Cook oats in two cups of boiling water until almost done. Stir in all ingredients except banana/plantain. Let stand for five to 10 minutes. Stir in banana/plantain. For a protein kick, add one tablespoon of organic nut butter and enjoy!"
5. Green Smoothie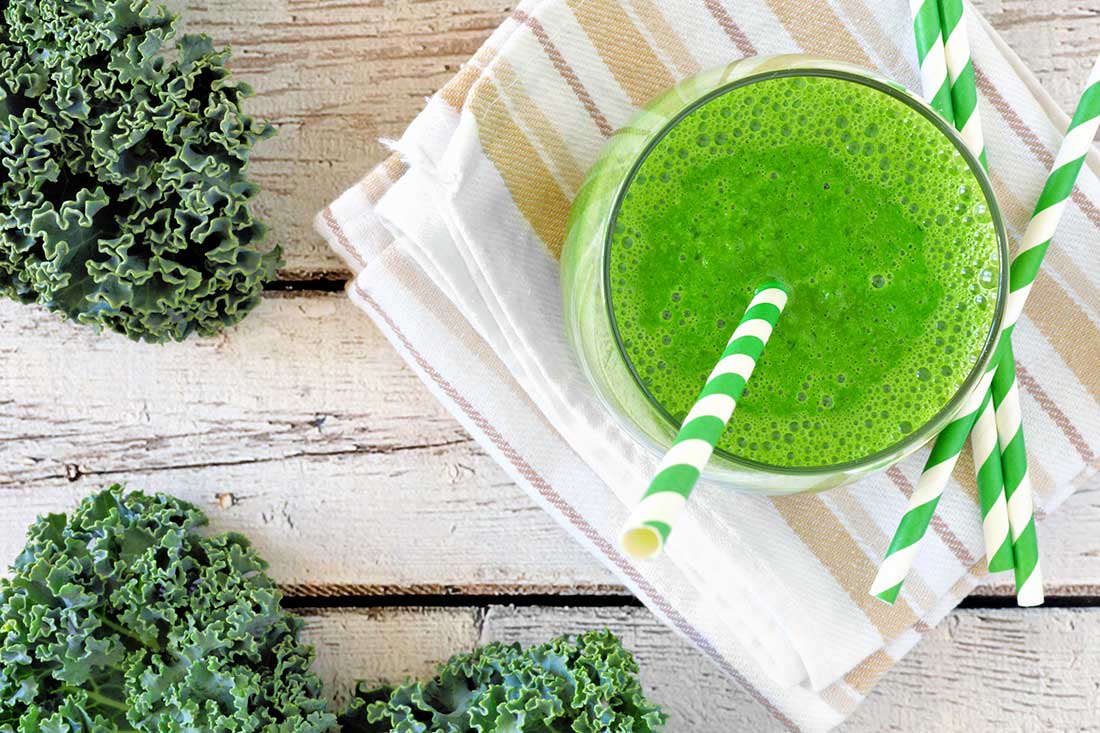 "My typical breakfast focuses on packing as much hydration and nutrients as possible into a meal that is quick, easy and portable. During the week, I like to take a smoothie and cup of black coffee to work. The smoothie gives me two servings of vegetables before 9 a.m.!"
-Amber Long, M.Ed.
Go-to Green Smoothie
Ingredients
2 handfuls kale or spinach
¾ cup unsweetened almond or cashew milk
½ frozen banana
2-3 frozen strawberries
1 tablespoon chia seeds
1 teaspoon raw cacao nibs
1 scoop vegan or whey protein
Dash of cinnamon
Directions
Blend all ingredients in a blender until well-combined.
6. Scrambled Eggs with an English Muffin and a 'Bulletproof' Coffee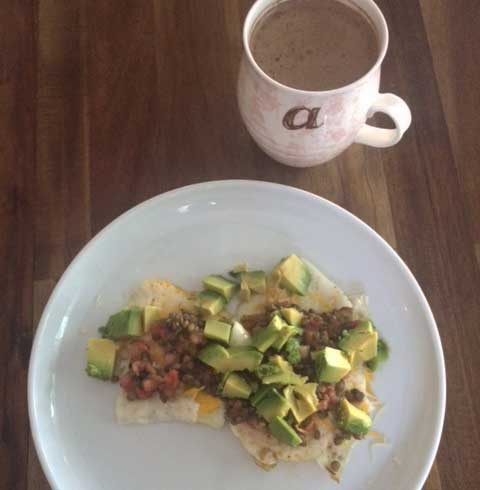 "I love this yummy, nutrient-dense breakfast—two eggs cooked in grass-fed butter, with Trader Joe's pre-cooked lentils, bruschetta mix, shredded cheese and half an avocado on top. If it's an intense exercise day, I'll also have an English muffin for added carbohydrates. The mix of protein and healthy fats keeps me satiated for several hours. I also drink a cup of my version of bulletproof coffee."
-Angel Chelik, Founder/Owner WorkBetter Wellness
Bulletproof Coffee
Ingredients
Brewed coffee
1 tablespoon grass fed butter
1 tablespoon MCT oil
Dash of vanilla extract
Dash of cinnamon
Directions
Blend all ingredients in a blender for a latte-like texture.
7. Oatmeal or Breakfast Tacos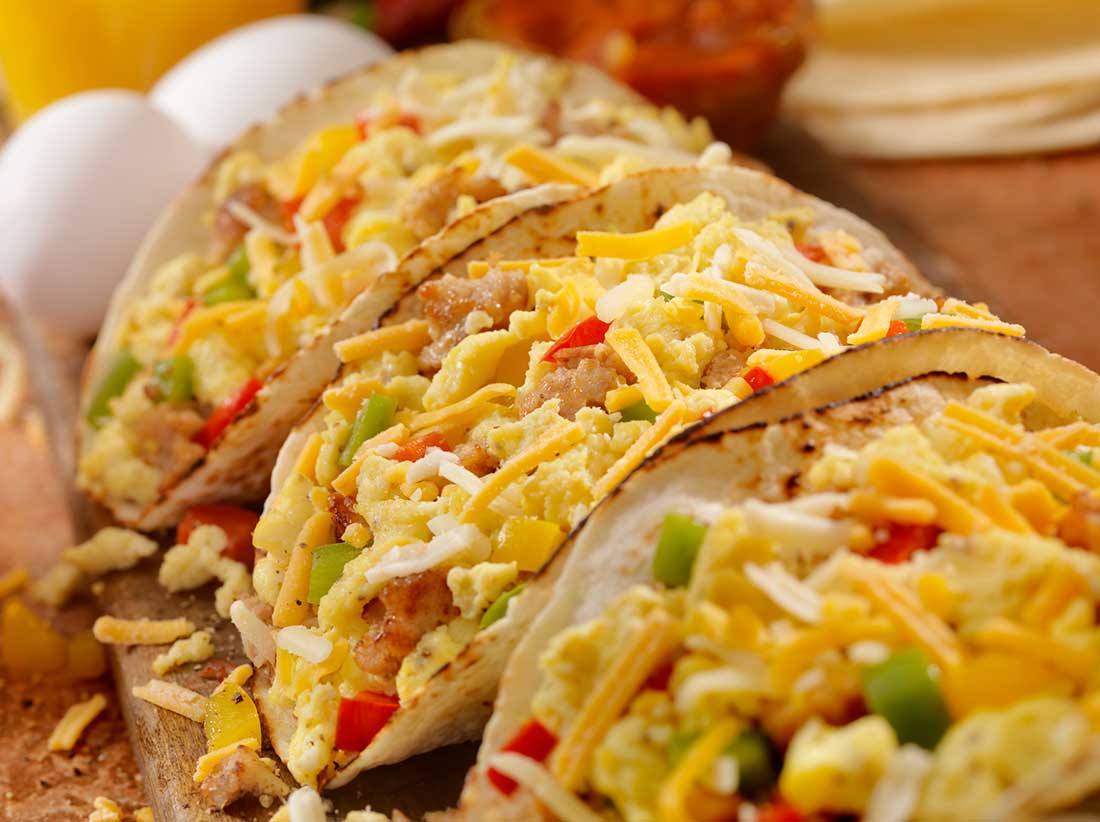 "During the week I prep oats the night before and eat breakfast once I get to work. On weekends I make a nice brunch, like breakfast tacos. As with any meal, I combine carbohydrates, protein and healthy fats for sustained energy. I also include some color with every meal for antioxidants. My drink of choice is loose leaf green tea."
-Justin Robinson, MA, RD, CSSD, CSCS, FAFS
Breakfast Tacos
Ingredients
2-3 teaspoons coconut oil
3 scrambled eggs
Salt, pepper, garlic powder and turmeric, to taste
Handful of spinach or baby kale
1-2 ounces shredded chicken or uncured turkey bacon
Corn tortillas
Avocado
Salsa verde
Directions
Melt coconut oil over low-medium heat. Sauté spinach/kale with chicken/bacon. Add eggs and seasonings. In a separate pan, heat tortillas. Add scrambled eggs to warm tortillas and top with salsa and sliced avocado.
8. Coconut Flour Pancakes with Pomegranate Seeds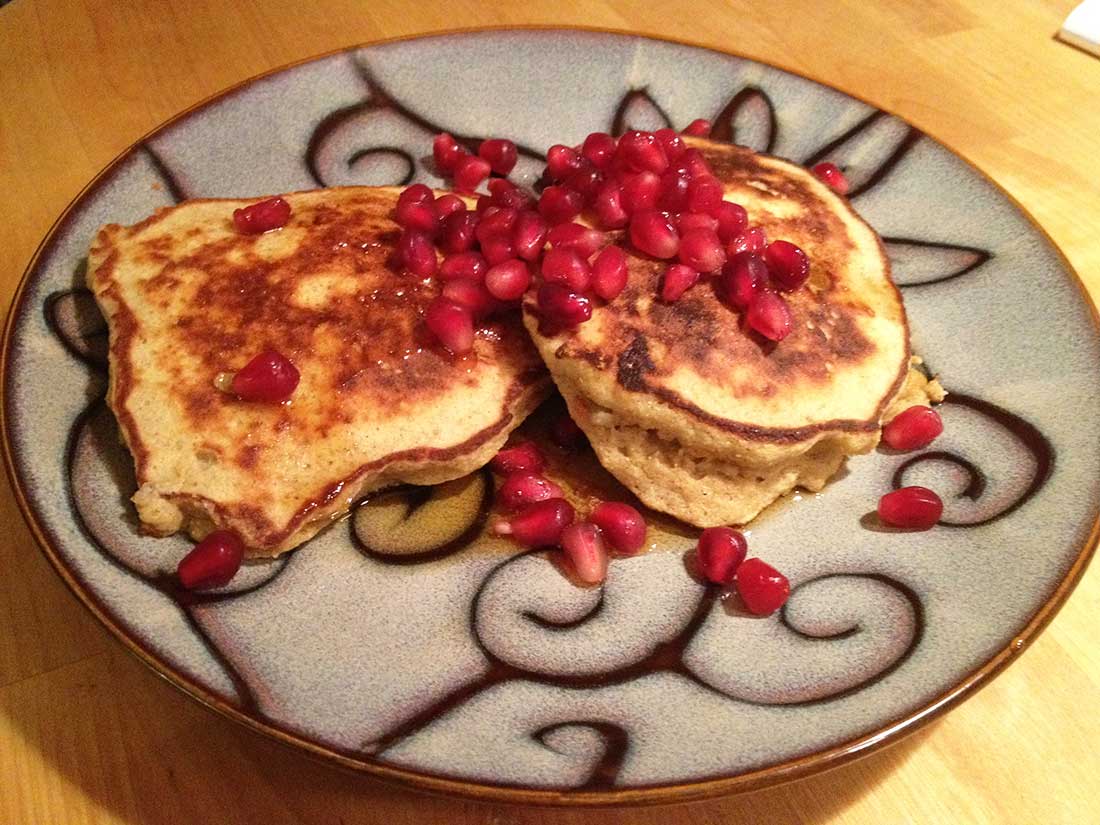 "Most days I eat eggs, bacon, Brussel sprouts and avocado. Sometimes I make pancakes with coconut flour because they're tasty, gluten free and contain protein. I top them off with pomegranate seeds, strawberries, raspberries or a little maple syrup to add sweetness."
-Beverly Hosford, MA
Coconut Flour Pancakes
Ingredients
2 tablespoons coconut flour
3 eggs
Pinch of salt
Pinch of cinnamon
Pomegranate seeds, berries or maple syrup, to taste
Optional: half a banana
Directions
Combine flour through cinnamon in a small mixing bowl. If using the banana, mash it into the batter. Let sit 15 to 20 minutes and then cook in coconut oil in a frying pan a few minutes on each side on medium heat.
9. Mini Frittata Muffins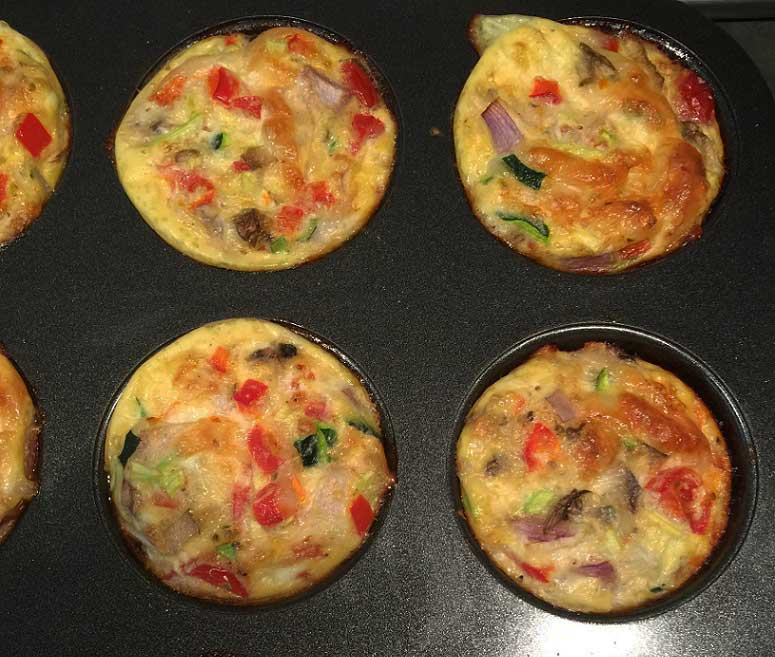 "One of our favorite go-to breakfasts is our Mini Frittata Muffins, a piece of fruit and non-fat Greek yogurt. The muffins pack in seven grams of protein in just 68 calories. They're rich in phytonutrients and antioxidants, and they're a delicious way to start your day out right by sneaking in some vegetables. The fruit provides fiber, antioxidants and energy-boosting carbohydrates while the Greek yogurt provides calcium and more protein."
-Nutrition Twins, ACE Certified Personal Trainers, and members of the American Dietetic Association
10. English Muffin with Avocado and Hardboiled Eggs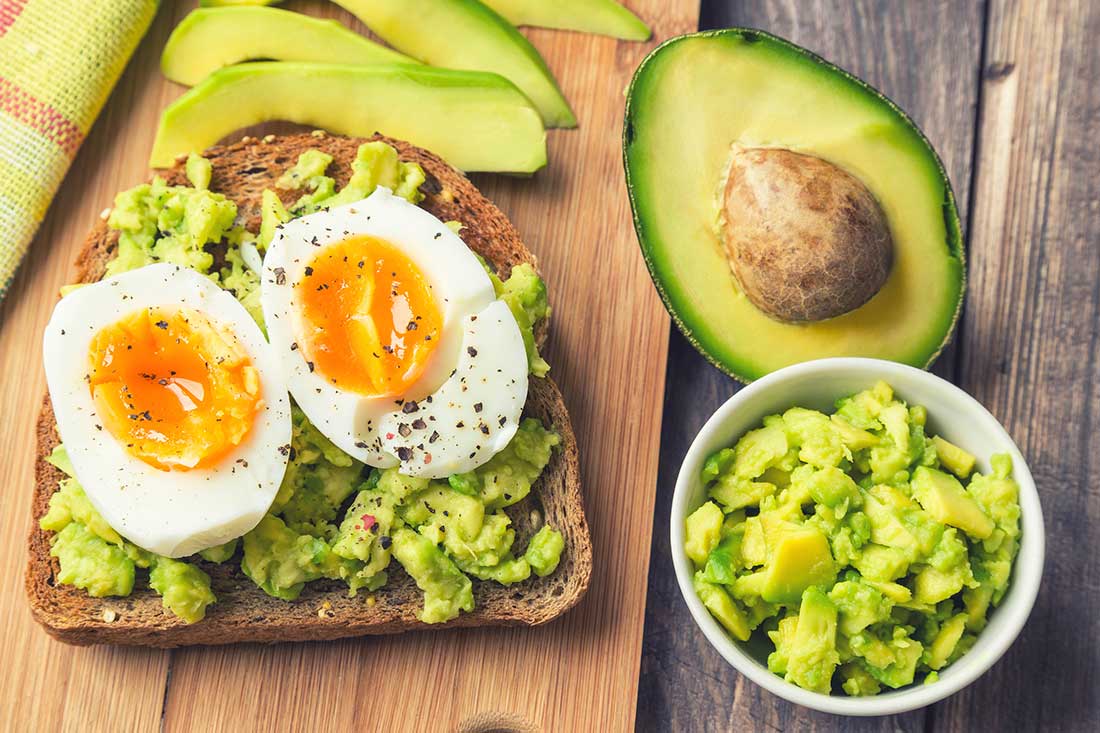 "I LOVE food! So most of my meals consist of many different items, mixed and matched throughout the week; however, depending on whether I'm training for rugby or a marathon the protein, fat and carbohydrate ratios of my breakfasts will vary. One of my favorite meals is whole wheat toast or English muffin with avocado and oregano, two hardboiled eggs, and a cup of green tea."
-Mollie Martin, ACE CPT, CSCS, CMES, GFI and Health Coach
11. Greek Yogurt with Granola Bar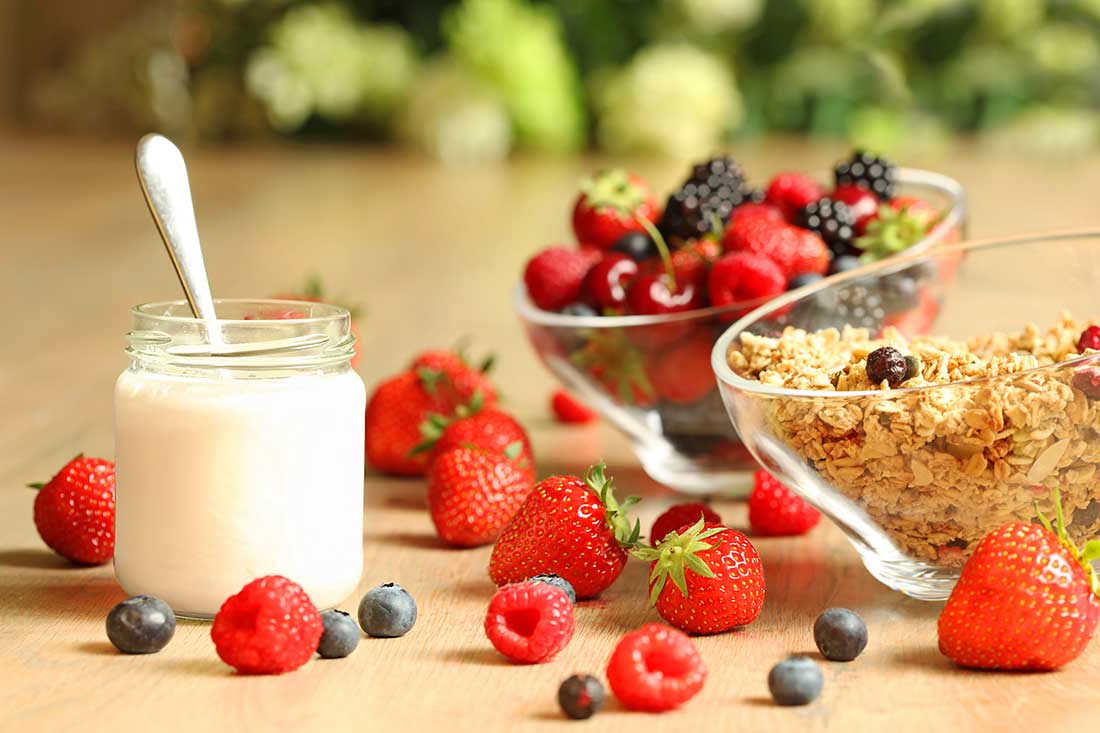 "I am NOT a morning person so I typically don't make anything for breakfast that requires more effort than grabbing it out of the fridge. I usually end up eating something like Greek yogurt and a granola bar or piece of fruit. Sometimes I grill veggies the night before and throw them in the microwave with eggs, but that's about as fancy as I get."
-Jesse Newell, ACE-CMES, ACE-CPT, ACE-GFI, and ACE Health Coach
12. Steel Cut Oats and Egg Whites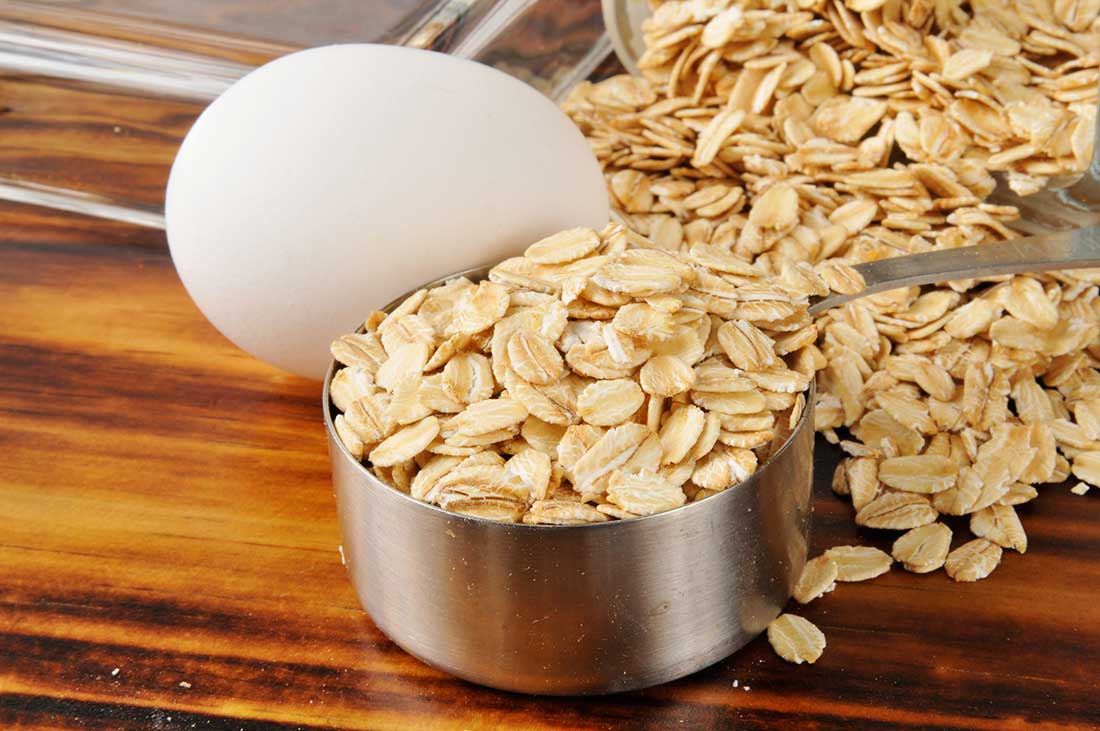 "My breakfast is simple and has been the same for 20 years. I eat one cup of steel cut oats with one teaspoon of maple syrup for carbohydrates in the morning. I eat fruit for the nutrients and energy. And I eat three egg whites for the protein. The yolk from one egg gives me all of the amino acids that I need at one meal and the maple syrup just plain tastes good!"
-Franklin Antoian, Founder, www.iBodyFit.com
13. Sweet Potato Egg Hash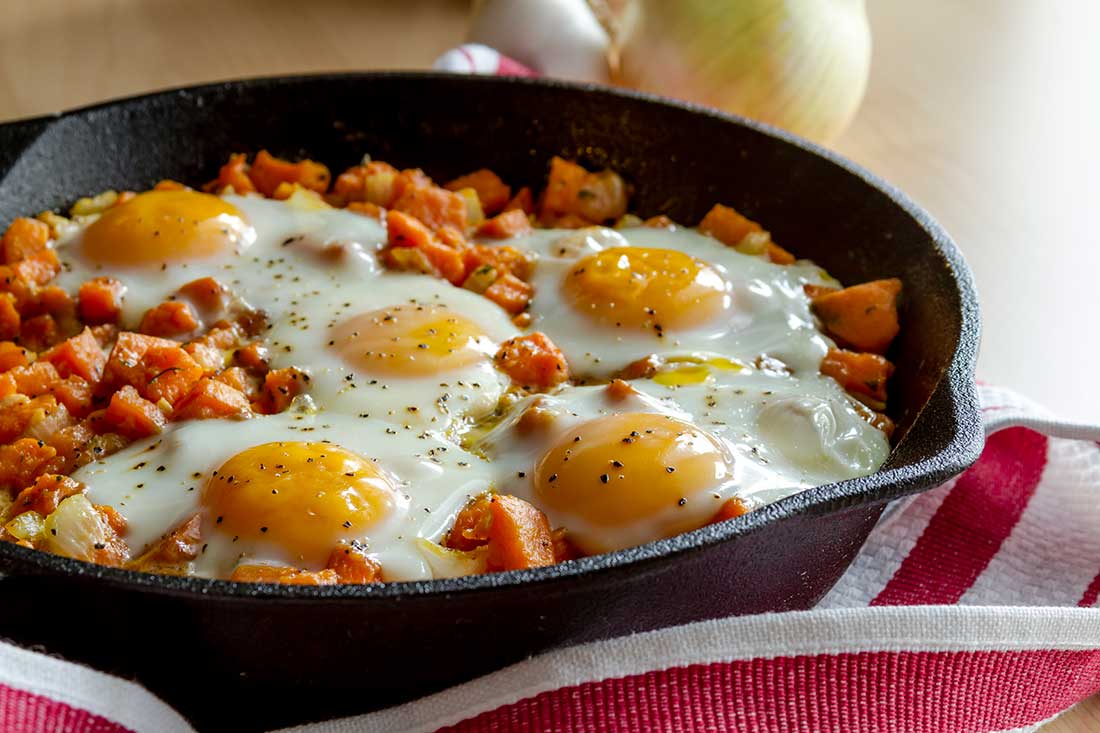 "My breakfast varies between a smoothie, if I'm in the mood for something lighter, or a sweet potato hash. The sweet potato hash has a yummy mixture of eggs, peppers, onions, kale or spinach, avocado, and organic chicken or turkey sausage. I will generally cook it in coconut or olive oil. I love it because the hash is a great combination of carbs, protein and healthy fats from the avocado. It's usually quite filling, gives me a lot of energy and it doesn't spike my blood sugar."
-Makeba Edwards, ACE CPT, GFI and Health Coach
14. Tropical Sunrise Smoothie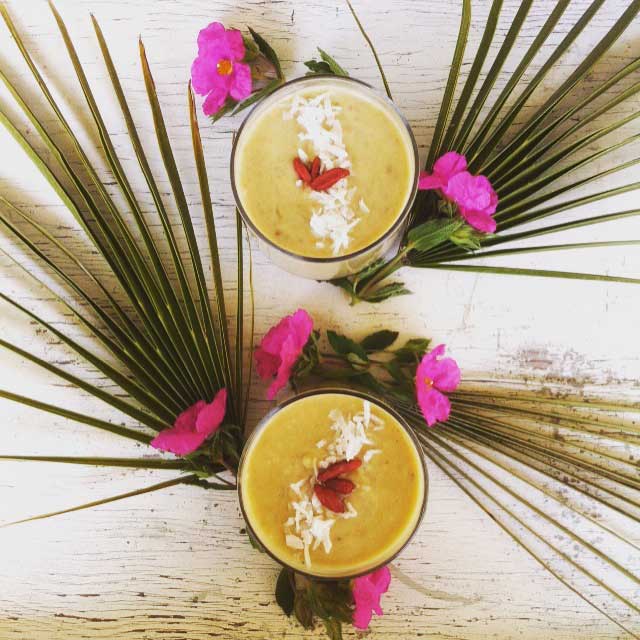 "As a vegan, I energize my mornings with fresh and hearty foods. Along with green or black chai tea, I enjoy smoothies made with coconut milk from the can. If I have a busy morning, I will also eat a piece of sprouted grain toast with vegan butter or jam. I love the combination of fat and dense carbohydrates. Here's one of my favorite recipes."
-Elizabeth Kovar, M.A.
Tropical Sunrise Smoothie
1 banana
1 small mango
1 peach
1/2 cup coconut milk from the can (or nondairy milk)

Place all the ingredients into a blender and mix until smooth.
*For a smaller smoothie, cut the ingredients in half.