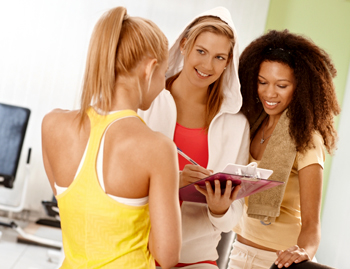 Admit it, you've had those days—teaching early-morning clients, trying to fit in your own workout in the late morning, maybe teaching a lunchtime class or seeing a couple of more clients, and then finally finishing up with the last client at about 8 p.m. Over the course of 12-plus hours of physically being in your gym or studio, you might work a total of eight. Does this sound familiar?
There are, without question, many great things about being a personal trainer. However, one of the most challenging issues is trying to be available to clients at all hours of the day. Working from early in the morning until late in the evening is a sure-fire way to get burned out; in fact, it's the reason many people leave this business. But does it have to be this way? Is there a better way to earn a living as a personal trainer? The answers are no and yes, respectively.
One way to increase earning potential is through small group training. You could also increase your income by reducing your working hours by teaming up with other personal trainers and sharing clients.
Think about it—why do we as trainers try to kill ourselves by working all hours of the day? Let's take a look at the medical industry and borrow from their business model. Many doctors who have the same specialty team up to share resources and clients. For example, when my wife was pregnant we saw her OB/GYN for regular check-ups, but he was out of town when she went into labor so one of his partners handled the delivery. Because they worked in a partnership, they were on the same page and we received great service from a knowledgeable professional—even when our regular doctor was out of town.
When I was training full-time for a large, multi-facility health club company, a few colleagues and I would refer clients to one another and even train each other's clients when people were traveling. My preference was to work early and finish by 7 p.m., so I didn't see any clients past 6 p.m. If anyone ever asked about a later slot, I referred them to my buddy who preferred to work evenings, and he referred clients who wanted to train in the early morning hours to me. We didn't keep hard numbers, but it worked out pretty fairly.
Another colleague and I would train each other's clients when we were out of town. Why should a client miss a training session because I was traveling? I'd rather have my client stay focused on his or her training goals by working with my friend, and vice versa. We found that our clients liked the diversity of our training styles and the fact that they didn't have to miss any workouts.
Currently, I work in a partnership at Function First in San Diego with Anthony Carey and Derrick Price. We each have our own specialty: Anthony is an expert in corrective exercise and reactive variable training, Derrick specializes in movement and progressive exercise programming and I focus on loaded movement-based strength and conditioning. We each have scheduled hours and together work with all of the clients. We charge clients based on whether they are going to have one, two or an unlimited number of personal-training sessions per week and then schedule the clients based on their needs, not our own.
One of us will perform the assessment and then develop a program that will be delivered by whoever is working when the client arrives for his or her training session. For the financial side of things, we collect all of the revenue for the month and then share it based on the number of hours we each worked. We're finding that the clients appreciate our different personality styles. It's also helpful to receive feedback from other professionals who might see an issue or have a more creative idea for designing an exercise program.
Here are my five top reasons why you should consider sharing clients with other personal trainers:
1. You can avoid burnout by having a set schedule of availability. If you're a morning person, team up with a night owl. You can see the morning and early-afternoon clients, while he or she works with the late-afternoon and evening clients. Your clients have more options of availability and you're not burning the candle at both ends.
2. Having a team-based approach to assessment and program design means that clients get better service because they are seeing more professionals with a variety of skill-sets. You might have a specialty in one area, like working with older adults, while your colleagues might specialize in weight-loss. You can work together to share knowledge and provide solutions for your clients.
3. TEAM stands for Together Everyone Achieves More. Working as an individual trainer can be a daunting challenge. You might be great at delivering workout sessions, but less knowledgeable about the sales process, which could hinder your ability to get clients. If you work with others, you can share responsibilities for marketing and sales, with each person bringing something to the table. Additionally, working with others in a collaborative, team environment allows you to share in both successes and defeats, which is better than trying to shoulder everything yourself.
4. Working with more clients overall can lead to a greater number of referrals of new clients. If each person in your collaborative effort stays busy providing great workouts to clients, those clients will respond by bragging about their results to friends, family and work colleagues. You might see someone regularly in the morning who is always bragging about your workouts to her friend, but she can only come in later in the evening. If you are part of a team, the new client can start working with the evening trainer so that you can stay focused on delivering kick-butt workouts during your time block.
5. By having a set schedule you will have time for other things. For example, it will help you stay on top of your continuing education, be with family or pursue other revenue-generating activities.
In my experience, it seems as if many personal trainers, especially club-based trainers, are overprotective of their clients and are reluctant to share them with colleagues. I believe this largely due to club companies, which emphasize an individual trainer's production by paying bonuses for the number of sessions delivered in a given pay period. This production-based compensation encourages trainers to think of themselves as an individual as opposed to a member of team all working together to help clients achieve results. But just because something has always been done a certain way doesn't mean it has to continue being done in the same manner. The current model of one trainer trying to be everything to all clients is due for a change.
Personal training does not need to be a solo endeavor. See if you can find a few friends or colleagues you can trust and enjoy working with to see if you can develop your own type of collaborative partnership. It might seem stressful to change a routine and do something new, but once you start you'll be wondering why you didn't make the change years ago.
For more information, please read our "Co-Training Clients: How Sharing Clients Among Trainers Boosts Business Revenues" article.