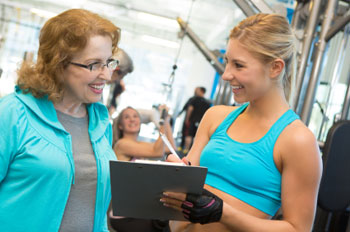 It may be the most wonderful time of the year for many, "…with the kids jingle belling and everyone telling you be of good cheer." But "there'll be parties for hosting, and marshmallows for toasting," as well, and that can be a real problem for your clients who think it'd be best to "pick up on training when the schedule settles down a bit."
Unless you are equipped and properly plan for the best ways to help your clients stay motivated and adhere to a training/health plan during the holidays, not only will they lapse but your business will, too.

There are many marketing messages out there about the importance of staying fit during the holidays, but frankly, it's overwhelming and can inadvertently lead to pushing clients away. Helping your clients identify their own desire to want to stay with their fitness/health program during the hectic holiday season is the only successful way to help them stay motivated. It's their decision, after all, and helping them see that will bring you closer as an ally and friend, rather than as an authority figure, dictating what they "should" do.
Focusing on several of these motivation-building questions may help put the correct frame of mind around your client's thinking to enable them to move to their own described next steps:
How ready do you feel to plan ahead for the holidays to maintain your eating/workout routine?
What have previous years looked like for you in terms of maintaining your healthy behaviors?
What strategies have worked for you in previous years to stay with your exercise/nutrition plan?
How worried are you that you will "blow it" during this holiday season?
What would make you confident that you can stay motivated during the holidays?
Would you like to discuss several strategies people find helpful in maintaining motivation?
Any thoughts on how I might be able to help you stay successful during the holidays with your goals?
Here are several offerings and plans that may help you motivate your clients to stay with it when the rest of the world—and the season—is pulling them in the opposite direction.
1. Sure, there's "no place like home for the holidays, for no matter how far away you roam, when you long for the sunshine of a friendly gaze, for the holidays, you can't beat home, sweet home." Know why? Close friends bring out the best in each other. So this holiday season be sure you promote "partner-with-a-close-buddy month" to help establish a support system. Talk about it, market it, create a social-media drive and establish small group training specifically for close friends and holiday preparation.
2. Offer a quantifiable fitness biodata assessment that you can share with your client's medical support team if they'd like, to create a mindset on health. This will help refocus clients on their original "why": why they started with training and healthy lifestyle choices to begin with. This also sets a new baseline to help clients re-examine their progress and see how far they've come; it also helps train their thinking on creating a new set of realistic goals for the holiday season.
3. This is the time to offer new routines, holiday programs, "before-the-party workouts" and innovative exercise methods. Keeping it fresh will lead clients to avoid thinking it's getting stale, which can be used as an excuse to miss their workouts during the holidays. "New," "improved," "fresh," "enhanced" and "boosted" are words that suggest they might not want to miss out and should be in on it from the beginning.
4. Create your own client appreciation event by inviting your clients to share in a recipe swap, free group exercise, contest, healthy shopping event or wholesome nutritious buffet. This will build adherence and keep the talk going about who is staying motivated and continuing to work out, socially motivating others to examine their thoughts and see that it can be done. This is a great way to help your clients build self-efficacy.
5. Offer home- and/or office-based workouts, either in person or on Skype/FaceTime. This demonstrates respect for your client's time and seasonal tugs; it can also help overcome the barrier of inconvenience. Consider tying this to a realistic and achievable athletic event scheduled right after January 1st to help your clients get in the "getting ready for an event" mindset.
There you have it. Some motivational conversation, combined with a handful of different offerings will demonstrate to your clients that their health come first for you and is your highest mission, that you genuinely care about their wellbeing and that your services are truly the highest quality and designed to meet their wishes and needs.