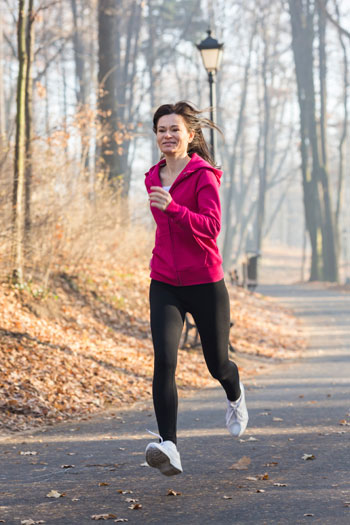 You've heard of Black Friday and Cyber Monday—now it's time to starting thinking about Workout Wednesday. In an effort to help you and your clients combat some of the effects of holiday weight gain and reinforce healthy lifestyle choices throughout the year, we launched an initiative today to help you get moving and engage in fitness activities on November 27, the day before Thanksgiving.
"Thanksgiving is a favorite holiday for many, and we want people to enjoy it by balancing their activity and nutrition, just as they would outside of the holiday season," said ACE CEO Scott Goudeseune. "That's why, in addition to identifying ways to improve the nutrition content in Thanksgiving recipes, we're launching a national initiative to get people moving the day before."
To inspire participation, we are hosting a photo contest on Twitter and Instagram beginning today. Everyone who uses the hashtag #ACEWorkoutWed alongside a photo of themselves participating in a fitness activity will be automatically entered to win prizes each week. On Workout Wednesday, November 27, a grand prize winner will receive a trip for two to the ultra-luxury wellness and spa resort Zoëtry Agua Punta Cana in the Dominican Republic. The prize, valued up to $5,000, includes a 3-night stay for two at Zoëtry Agua Punta Cana, airfare credit, the resort's Endless Privileges benefits throughout the stay such as all food and beverage, 24-hour concierge service, a 20-minute spa treatment and more.
"Imagine if people all joined together to get moving on Workout Wednesday, like they do to visit shopping malls on Black Friday," said ACE Healthcare Solutions Director Natalie Digate Muth, M.D., M.P.H., R.D. "With the average Thanksgiving meal packing 3,000 calories, every healthy recipe tweak and increase in physical activity counts."
ACE has compiled the following resources to help you practice moderation and provide workout ideas during the holidays:
-Staying Fit While Traveling (the day before Thanksgiving is also the busiest travel day of the year)
-10 Fitness Tips to Survive the Holidays
-Give Thanks and Give Back While Staying Fit
-Changing Your Mindset During the Holiday Season
-Flavorful Fall Recipes
-Fitness Classes to Try
To provide you and your clients with creative workout ideas for the contest, we will be posting weekly Workout Wednesday articles on our Fit Life blog on ACEfit.com. Furthermore, on ACEFitholiday.com, visitors can find an exercise library with thousands of moves for every body part and fitness level, workout videos led by ACE-certified Professionals, and the Find an ACE Pro tool.
To view contest entries, please search for #ACEWorkoutWed on Instagram or view the Twitter feed. For further information about the contest, please contact feedback@acefitness.org.