The ACE Health Coach Certification was launched in the Fall 2012 and, since then, professionals in a number of different industries have added the certification to their list of credentials. In this series, we are highlighting Health Coaches in various industries to show how the certification has helped expand their careers and assist their clients in making positive lifestyle changes. In this article, we feature Andrea Metcalf, a long-time ACE-certified Fitness Professional who says the ACE Health Coach has been essential for helping her understand human behavior and guide people to the next stage of transformation.
---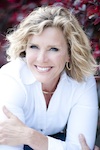 How is the ACE Health Coach Certification useful in your industry?
I have been in the fitness industry for more than 30 years and have seen many certifications come and go. I became certified with the American Council in Exercise when they first created the Group Fitness Instructor certification. A s my career broadened into personal training, weight loss and media, it has been a steady partnership in establishing credibility and trust in a sometimes confusing health world.
How has this helped you in your career?
I'm a health writer, trainer with clients, speaker, author, weight- loss coach and producer of TV and online content all related to health. Because of the media opportunities in being able to reach so many people, I receive emails and tweets f rom people looking for support or answers. Whether I'm reporting the myths of weight loss or writing how seven healthy foods should be included in your diet, my ACE Health Coach Certification has been very helpful in understanding human behavior and guiding people to the next stage of transformation they might be seeking. The ACE Health Coach Certification has been an incredible addition to my tool box for educating and supporting my audience.
How will you be using your ACE Health Coach Certification in the future?
My expertise and credentials are important in establishing and continuing my identity in an ever-growing health, wellness and media world. Having the American Council on Exercise certifications has been an ideal addition to traditional degrees in science or education and I am very proud to be an ACE Health Coach.
Why ACE?
I have been in the fitness industry since 1983 and grew up with the various certification teams. The American Council on Exercise has taken the lead and understands that it's more than just personal trainers or group fitness instructors that are caring and guiding the American public. They hold our professionals to a higher standard and unite us in the best practices that are researched and used. Having these types of trusted certifications also helps the clients we train have a level of confidence that their trainer or instructor has a certain level of expertise.
---
Andrea Metcalf is a healthy lifestyle spokesperson with more than 30 years of experience in the fitness industry. She is an ACE-certified Health Coach, best-selling author of "Naked Fitness" and has appeared on NBC Today Show, GMA Health and Steve Harvey. Andrea is the Healthy Lifestyle expert and executive producer at www.WomensForum.com and www.andreametcalf.com.