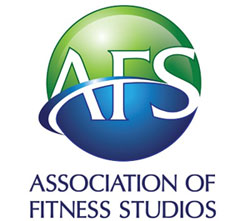 Small studio owners, as well as fitness professionals who are thinking about opening their own studios, have a new source of support in the industry—the Association of Fitness Studios (AFS). As Brad Elson, co-founder and CEO, explains in this interview, AFS was created to "help fitness professionals become even greater business owners." Read on to learn how you can tap the resources of this exciting new organization.
1. Why did you decide to create the Association of Fitness Studios (AFS)?
We recognized the need. We spoke to numerous studio owners and fitness professionals, and determined that what was lacking was a cohesive association that could help this growing segment of the fitness industry. The trend toward smaller studios was well known, as was the high failure rate of such businesses. Our investigation attributed the fallout to the fact that great trainers often don't make good business people.
The gap was not in desire or passion—it was in business training and information. Many new studio owners don't understand the challenges of running their own business, while many entrepreneurial fitness professionals don't know where to start. AFS will fill that gap as our tagline suggests: "AFS helps great fitness professionals become even greater business owners"

2. Who are your members?
We have three categories of members:
Studios are usually represented by their owner. The studio can be of any type: personal training, physical therapy, Pilates, yoga, etc. Typically, our member studios are less than 10,000 square feet, although our business principles will help studios of any size.
Fitness Professionals are instructors and trainers who have not yet opened their own studio, but have that vision. Our products and programs show these professionals what they need to know and do.
Associates are our vendor friends, providing products and services that serve the needs of studio owners. By gathering the "leverage" of a national association AFS has been able to secure advantageous pricing and programs on behalf of our members.
3. How does one become a member?
It's as simple as logging on to www.afsfitness.com and following the instructions. The process takes only a few minutes.

4. What benefits do members receive?
The benefits we offer are many and varied. As with any association, the relevance to each individual member will depend on many factors, including their membership category and status (e.g., how long they've been in business).
Our flagship benefit is access to AFS' exclusive publication Studio Success: AFS Authoritative Guide to Owning and Operating a Fitness Studio. AFS members can receive a copy, which was written by industry veteran Steven Tharrett. Studio Success is an invaluable resource for anybody in the business—as well as those who want to be.
There are also five primary categories of benefits:
Money-saving Programs. One of the best ways to enhance profitability is to save money. AFS delivers many of those opportunities, knowing that not all will resonate with every studio, but almost every studio will find more than enough savings to secure a positive return on their membership investment.
AFS Academy. Expert advice, manuals, webinars, best practices, business tips—AFS is the one-stop shop to best understand the latest trends and successful strategies in the studio business.
Community. By working together, we can positively affect all of our businesses. Our community will share ideas, successes and trends, provide a voice to and for the industry, fight for appropriate fitness legislation, and effectively use social media to enhance the industry's credibility with consumers.
News & Events. It's impossible for a single studio owner to keep up on what's happening in the industry, so AFS does it for them by constantly delivering the important information they need.
Get More Customers. Programs, partnerships, strategies, and tactics have been developed to assist studio owners and instructors to generate traffic.
5. Are you partnering with any other organizations?
Yes. We have formal alliances with Sports & Fitness Insurance Corporation (SFIC), SPRI Products and Healthy Learning, as well as with ACE. We have additional support from outside-the-industry providers such as Yodle, Yummly, Perkville and Funl, among others. We anticipate this category of activity to grow rapidly in the post-launch timeframe.