ACE East is right around the corner! In a few days we'll be meeting you for three days of programming and a packed exhibitor showroom. If you have not booked your hotel, take advantage of our special room rate of $159 at the luxurious Renaissance Hotel at SeaWorld! In addition to being in the middle of all the action, you'll be near amazing attractions like Walt Disney World, Discovery Cove, Universal Studios and Aquatica.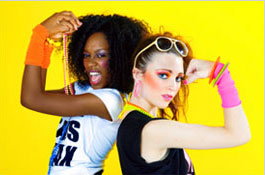 CELEBRATE THE 80s WITH ACE
Cap off your first day at ACE East with our 80s inspired Welcome Reception on the pool lawn. Join us Thursday at 7 p.m. for a smorgasbord of food, music, fun and several drawings for great prizes. Be sure to rock your best 80s attire!
REGISTRATION AND ACCESS TO SESSIONS, EVENTS
Your badge is required to attend all sessions and networking events, and to enter the exhibitor showroom. Badges may be picked up at registration during the hours listed below. You can also purchase tickets for $10 each to our networking events - breakfast on Thursday at 7 a.m. and lunch on Friday at 11:30 a.m. Tickets will be available at registration on a first come, first served basis.
REGISTRATION HOURS
| | |
| --- | --- |
| Wednesday, Oct. 16 | 5 p.m. - 7 p.m. |
| Thursday, Oct. 17 | 7 a.m. - 6 p.m. |
| Friday, Oct. 18 | 7 a.m. - 10 a.m. |
| Saturday, Oct. 19 | 7 a.m. - 10 a.m. |
SESSION SCHEDULE
Unlike other fitness conferences, ACE East does not require that you set your session schedule in advance. Throughout the event, you'll have flexibility to move around and find sessions that are right for you. A detailed schedule and hotel map will be available in the attendee handbook. All handouts, which we encourage you print off for each session you attend, are available for download online.
EXHIBITOR SHOWROOM HOURS

Thursday, Oct. 17

10:30 a.m. - 1:30 p.m.
4:30 p.m. - 6:30 p.m.

Friday, Oct. 18

10:30 a.m. - 1:30 p.m.
4:30 p.m. - 6:30 p.m.

Saturday, Oct. 19

11:00 a.m. - 2:00 p.m.
APPROPRIATE DRESS
Make sure you wear comfortable clothing throughout the event. In addition to walking around, you'll most likely get the chance to participate in a movement-based session led by one of our experts. Your attendee handbook will identify lectures, and activity-based, interactive and workout sessions.
SOCIAL MEDIA INTERACTION
Don't keep ACE East a secret! Let your friends know you're here by visiting our Social Media Lounge, where you can Tweet or post to Facebook all of the information you've learned using #ACESym13. You can even get one-on-one help from our own ACE Social Media Specialist, or nominate your favorite client for a special getaway package.
PROVIDING FEEDBACK AND GETTING CECS
A link to complete brief session evaluations will be sent to you via email each night for that day's sessions. We'll also be sending you a post-event survey, which we highly encourage you to complete. To download a CEC tracking form, visit our site. At the end of the event, your certificate of completion and a Continuing Education Course number will be sent to you via email. Use the number to log your CECs into your My ACE Account or provide it to your certifying organization. ACE East is approved for CECs with ACE, NSCA, ACSM and NASM.
If you have any questions, give us a call at (888) 825-3636, 782. We'll see you soon!