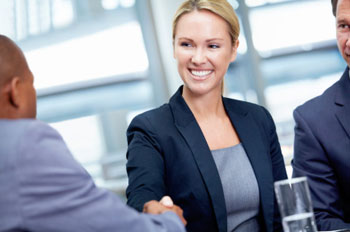 If you've been following the steps in the previous two articles in this blog series on How to Start a Program From Scratch and How to Find the Organizations That Need Your Services, you are well on your way to building an on-site fitness program. This blog covers the final steps, which are the most pivotal to "sealing the deal" with a potential new company.
Utilizing the information from Blog #2, you now know how to research companies and find the individuals you need to contact, which is most often the Human Resources Manager. Call them and ask if you could take a couple minutes of their time to discuss the health of their company. Provide them with a very brief introduction of who you are and why you are calling. You'll also want to stress that your company delivers on-site fitness classes that cater to all fitness levels and needs. Here are some topics to consider talking about:
Does the company currently have a wellness program? If so, what does it look like? How many people participate? How are they tracking success and participation? Is it all online or do they have help from local professionals? How much does it cost per person? Are there incentives?
If they don't have a wellness program in place, that's good news for you! Ask them to name the top three health concerns that are affecting their employees' productivity and taking away from the company's bottom line. Question them about what a typical work day looks like for their employees. Ask about their work stations—are they sitting or standing all day? Do people eat at their desks? Do they go for walks? You want them to start to question the workplace environment. Is it conducive to improving their employees' overall quality of life?
You'll also want to learn about the layout of the building. Do they have large conference rooms for lunchtime yoga or Pilates sessions? Is there an outdoor area for a circuit-training class? Is there a location that can be used for training during the winter months?
Reiterate their concerns and request a face-to-face meeting to discuss workout options for their company. You'll want to stress that you'll take this information and put together a few different training programs that will best suit the needs of the company. This is where your leg work from Blog #1 comes into play. If they mentioned that one of their biggest concerns was that the employees experience a lot of stress, then you'll want to consider including two or three yoga/meditation classes a week to your program. Don't worry if they want class formats that you don't personally teach—you have a network of professionals in your area with whom you can contract to do the job.
In the face-to-face meeting, you'll want to touch on the value of an onsite fitness program. Look into companies such as The Wellness Council of America (WELCOA) for reports, case studies and presentations (http://www.welcoa.org/freeresources/). Another thing to consider is the contract length. For new companies, I suggest at least a three-month contract. Will you or your staff supply the equipment, or do you want the company to buy it? Do you need to add them to your liability insurance? Do you have your own waivers and health-history forms? And, of course, discuss pricing!
When I'm meeting with a company, I recommend that they bring me back for a "Lunch and Learn" presentation for their employees. A common topic I present on is "Health and Nutrition Myths Many People Still Believe."This will be your first time in front of your potential new clients, so make the presentation fun, meaningful and engaging. I like to get them moving at the end with a little core-activation series. This is a great time to educate and motivate. I talk about the benefits of endurance training for the core musculature and then teach them bird-dogs. You'll be surprised how many people have never done this exercise and how challenging it can be. Have them close their eyes and you'll hear a ton of giggles throughout the room as they try this new challenge. This activity can lead into an explanation of the various types of class formats that can be taught to them before, during or after work.
This is a general outline to follow, but it can easily be tweaked to meet your needs and the specific needs of a company. Holding biggest-loser contests or walking challenges, adding "recess" to a workday—these are all things that you, the fitness professional, can spearhead and advocate.
Good luck on your journey!