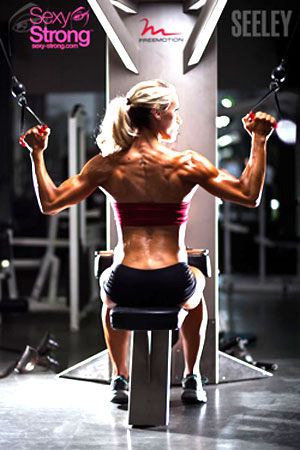 Being a competitive fitness athlete is no joke. It takes a lot of time, money, support and, most of all, dedication. There is a notable difference between being "in shape" and being a competitor. We dedicate just as much time to the 30 seconds we are onstage showcasing our hard-earned physiques as most hardcore athletes dedicate to their respective sports. I admire everyone who decides they want to compete, no matter where they start off, because it takes a crazy commitment to do it.
Here's a glimpse at a typical day in my life as a figure competitor.
Morning
My typical weekday starts with my alarm going off at 3:33 am. I get up, do the usual morning routine, pack lunch and head to work. Because I work as a fitness specialist for the Marine Corps, I get to work in a gym! I give massive props to those competitors who have to travel to and from work and the gym multiple times a day. I get to my gym at 4:00-4:15am, where I usually start my day with 30 minutes of fasted cardio (only when I am in contest prep). I never do fasted cardio when I am building muscle. I start my job at around 4:30-4:45am, and I eat my first meal around 5:00am, which is typically six egg whites, 1/3-cup oats, and half a grapefruit. On my lunch break at 8:30, I either do an additional 30 minutes of high-intensity interval cardio, or weight training (depending on the day of the week). This is followed by my second meal, which is 5 ounces of chicken, 1 cup green veggies, and 1/3-cup brown rice. I eat my third meal at around 11:30am, typically 6 ounces of lean ground turkey and salad.
Afternoon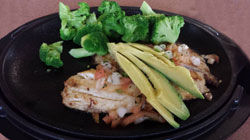 I get off work at 1:00pm, go home and unwind a bit with my son or take a power-nap. At 2:00pm I eat my fourth meal , which is usually 6 ounces of white fish, 1/3-cup brown rice or 3 ounces of sweet potatoes, and more veggies. At this point, I also check my e-mail, correspond with my online clients, answer questions, etc. At 3:30pm, I leave my home and head to my second job as an independent trainer out of World Gym in San Diego. I train clients from about 4:00 to 8:00pm, but at 6:00pm I either spend an hour with my coach hitting the weights, or I do an additional 30 minutes of cardio (again, depending on the day—I do cardio in the evening if I weight trained earlier, and vice-versa). As I get closer to a show, the amount of cardio I do increases, but I try to never do more than 60 minutes per day. More cardio could increase the chances of metabolic damage and post-show rebounding, which I try to avoid. I also eat my fifth meal at 5:00pm, which is a protein shake (made with Sexy-Strong Black Forest Whey Protein Isolate) and ground flaxseed. Post-workout I eat my sixth meal, which is usually 4 ounces of salmon and 2 cups of veggies, before my final client comes in.
Evening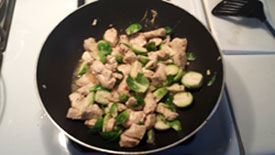 I get home from World Gym at around 8:30 and help my husband put my son to bed. At 9:00pm I shower, and do all that good stuff to wash off the grime and sweat from the day. At 9:15, I start putting together my meals for the next day. I do most of my cooking on Sundays, so putting together my meals is not difficult. It involves measuring and weighing and placing my meals into my 6-Pack containers. Finally, at 9:30 I settle on the couch, eat a small meal (my seventh), which is either egg whites or another protein shake, and hunker down for about 45 mins of TV or reading with my husband.
I weight train five to six days per week, and I do cardio four to five days per week, depending on how close I am to a show. In my off-season, I focus more on weight training and do small amounts of cardio, only to maintain my weight though intervals and total-body circuits rather than cardio machines. I train each body part twice per week.
It sounds crazy, but I love it! I am so lucky to have a family that understands the lifestyle. My husband supports me emotionally and physically by taking over most of the household chores, and my roommate helps watch my four-year old son. Every meal and workout varies a little every day. I prefer not having a life that is set in stone and is instead guided by my personal and professional goals. My weekends are my time to relax, spend quality time with my son and husband, and have fun.
I struggled for a long time trying to live a "balanced" life between friends, family, personal time, diet and exercise. A wise man (my coach—my husband Pete, the smartest man I know) once told me that being a career competitor (that is, one who plans on continuing to compete in hopes of making it to the pros, and then some), cannot have a balanced life because so much more is expected of him or her. It is not about finding "balance;" rather, it is about accepting that you always have to go above and beyond and make sacrifices, and learning how to accept that. I believe I have finally found that, and I am more than OK with it!