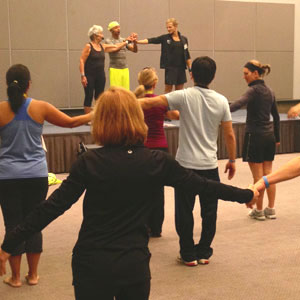 How much learning, sharing and experiencing the cutting edge of a profession can be packed into four days? Leave it to Peter and Kathie Davis, co-founders of the IDEA Health and Fitness Association, to set the bar high for fitness professionals at the Los Angeles Convention Center this past week at their 2013 IDEA World Fitness ConventionTM.
I just returned from the convention with my wife Paula, an ACE-certified Personal Trainer, and we are, frankly, a bit intellectually, physically and emotionally drained from the morning-to-night energy, exuberance and education. This year, there was a palpable feeling that information was king. The Expo was surely terrific as well, with SPRI the clear winner in terms of buzz, attention and equipment purchases. However, it was the informational/educational sessions that attendees were most excited about. Here are some of the sessions that most stood out to me:
It was next to impossible to choose between Lenny Parracino's Gray Institute: Assessment and Solutions for the Hip, Shannon Fable and Keli Roberts BOSU®: HIIT Extreme 2013, and Todd Durkin's Perform Better®: Xtreme Sport Conditioning session.
Lawrence Biscontini's Out With the Old and in with The Older presentation, which he co-presented with Bernadette O'Brien, was a huge hit. Both theoretical and practical, fitness pros left with a toolbox of physical and psychological understanding of this growing demographic—what Lawrence calls the "chronologically enriched."
Training stressed-out clients? Make sure to get a hold of Randy Corn's handout on How to Train the Stressed-out Client.
-Sara Mirkin, R.D., gave a terrific talk called Diets Don't Work, which included healthy plate guidelines, shopping tips, how to stick to a non-diet at restaurants, and behavior modification tips.
Active aging, professional development, lifestyle improvement and nutrition and weight-management presentations received a great deal of positive chatter in the hallways. These included Zoey Trap and Kathryn Coyle's Pilates for the Overweight, Beth Shaw's YogaFit® Seniors, Teri Mosey's Nutrition and Exercise for Longevity, Mark Kelly's Exercise Programming for the Fountain of Youth and New Developments and Perspectives on Obesity, Skip Jenning's 10 Principles for Success and Happiness, and Terry Eckmann's Research Update: Your Brain on Exercise.
Some years it's the new products that capture everyone's attention, but this year it is clear that fitness professionals left IDEA World 2013 with more in their hearts and minds than in their shopping bags. Fitness clients all over the world will derive immediate benefits from what their certified trainers and health coaches learned and absorbed over these last four days, thanks to the leadership and vision of Peter and Kathie Davis and their team of the world's finest fitness presenters that gathered at the LA Convention Center.