Summer is upon us. You've worked hard all winter to lose the excess holiday weight, and then all of spring to tone up to look your best in your swimwear! But with summer comes parties, commitments, weddings, long days and longer nights, all of which can take a toll on your hard-earned body. Stay in shape all summer long with these high-intensity exercises designed to keep your muscles strong while burning a ton of calories. You don't even need a gym! Just some dumbbells or resistance bands, space and motivation!
8-count Body Builders



The 8-count body builder is similar to the dreaded burpee, but adds an extra step. Start Begin standing and squat down, placing and place your hands on the floor (1). Jump your feet back to plank (2) and do a push-up (3-4). Jump your feet out into a straddle, and then back together (5-6). Jump your feet back to your hands to sit in a tuck position (7). Stand up and jump (8). Start with 10 repetitions, and gradually add reps each session.
Squat to Press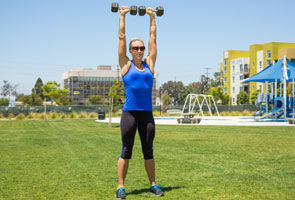 Kill two birds with one stone with this exercise combining legs and shoulders. Stand with your feet shoulder-width apart and grasp dumbbells in each hand, palms forward at shoulder level. Squat down, keeping your knees behind your toes and weight on your heels until your thighs are parallel to the floor. As you press to stand back up, push the dumbbells straight overhead for a shoulder press. Lower them back down as you bend your knees for your second squat. Start with 12 to 15 repetitions, and chose a dumbbell weight that is challenging by those last few reps.
Plank Series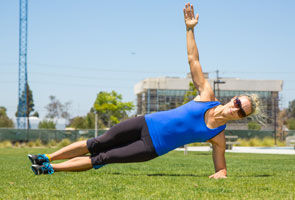 The plank series involves movements that will challenge your core in whole new ways. Start with a stationary plank and hold for 30 seconds. Give yourself 10 seconds of rest between each plank variety. Go back into your plank, but this time, alternate lightly tapping your knees to the floor for 30 seconds. Next, lift one leg off the ground, keeping your knee straight to emphasize glute/hamstring activation; hold it for a second, and then put it down. Continue alternating legs for 30 seconds. For the fourth variety, alternate your arms while keeping your hips steady and square to the ground. Finally, move into side planks with your feet either on top of one another, or one in front of the other, and place your free arm straight into the air. Hold 30 seconds on each side. As you get stronger, try to move through these variations without coming out of the plank, for a total of three minutes.
Tuck Jumps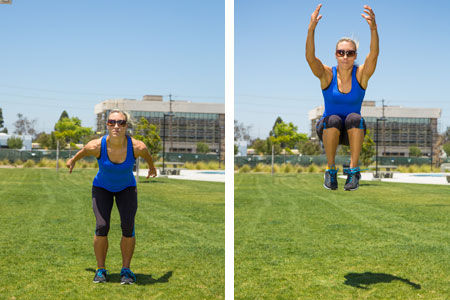 Tuck jumps are a plyometric exercise that increase heart rate and activate all the muscles of your lower body and core, effectively burning a bunch of calories. Start with feet shoulder-width apart; bend your knees and jump up, bringing your knees to your chest. Land on your feet in a slight squat position, absorbing the ground so you land softly. Do 10 repetitions, emphasizing quickness between reps, but securely landing each jump.
Push-up to Row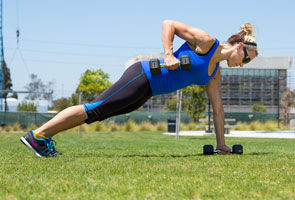 This movement combines chest and back exercises. Get on the floor in a push-up position with feet shoulder-width apart; hold a dumbbell in one hand. Execute a push-up, keeping your abs tight throughout the movement. After you return to the "up" position, pull the dumbbell up to your waist to do a one-arm row. Keep your hips square to the ground and try not to twist your torso as you row. Place the dumbbell back on the ground and repeat. Start with five repetitions per arm, and work your way up to 10 as you get stronger.
Step-ups with a Curl/Lateral Raise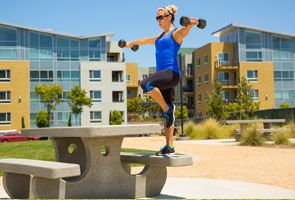 Find a bench, stool or step of some kind and grab dumbbells in each hand. Place your left foot onto the bench, and press up to stand while simultaneously doing a biceps curl with the dumbbells. Lower back down, and reach your right leg back to finish in a deep lunge position, left foot still on the bench. Do 10 repetitions on each side. When you switch legs, do lateral raises by extending your arms straight out to your sides on the step-up, and lower them on the step-down.
Sprints

Finish off your workout with short and powerful sprints. Sprints are highly intense and raise your heart rate drastically, effectively burning a ton of calories, while also working all the muscles of your lower body and abs. Find a space about 40 to 50 yards long. When you sprint, run as fast as you can for a short duration, about 15 to 25 seconds, then allow yourself to walk for about 30 to 60 seconds for recovery. Do 10 repetitions.
References
Baechel, T.R. and Earler, R.W. (2008). Essentials of Strength Training and Conditioning. National Strength and Conditioning Association.
Idea Health and Fitness Association: Short-Burst Training
http://www.ideafit.com/fitness-library/short-burst-training
The Metabolic Effect: The Best Abs Exercise the No One Ever Doeshttp://www.metaboliceffect.com/the-best-ab-exercise-ever-that-no-one-does/