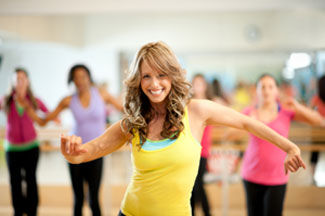 Knowing how to make an impact as a Group Fitness instructor (GFI) is sometimes a misunderstood art. Most of us become GFIs because we LOVE exercising in groups. We have found some modicum of success as a participant and decide it would be fantastic to lead others through an exhilarating hour of non-stop motivation. Of course, we can't forget that we are a special population and that everyone in the room (or outside of the room) may not feel the same way about our power hour (gasp, I know!). To increase your opportunity to make the biggest impact on the widest variety of participants, consider these 10 important— and possibly surprising— characteristics of amazing GFIs.
1. Self-motivated
GFIs are typically "on their own." In other words, it's rare to have a manager going out of his or her way to get you excited about your upcoming class, to pick out your next continuing education opportunity, to help you find great music or look for research that will help you plan your next workout. GFIs are expected to be leaders both inside and outside of the club. It's important to understand you are SOLELY responsible for the participants that CHOOSE to give an hour of time to exercise with you (this is true whether you are part-time, full-time or some of the time in this industry). To give the best experience to everyone you meet, your preparation begins long before the music starts and you must be willing to work hard to prepare for your classes—whether it's your first class or one hundredth. It does become easier, but respect for your audience should always be present.
2. TEAM Player
Even though we are "on our own" when prepping and delivering our classes, you are part of a TEAM. If we take a 40,000-foot view, we are part of a TEAM of GFIs that aspire to motivate millions to adopt a healthier lifestyle. Every choice you make reflects either positively or poorly on the profession ( talk about pressure!). As the demand for our services increases, the supply is having a hard time keeping pace. Therefore, we must continue to put pressure on one another to keep the perception of the GFI as top-notch as possible— for the veterans, as well as the newbies that are rising to the occasion.
On a more local scale, you have a TEAM of instructors at your club that you work WITH, not against. You all have a responsibility to work together for the benefit of the club and its patrons . Knowing your fellow instructors, what they teach, helping them out by subbing, promoting their classes in connection with your own, and celebrating every GFI's successes will go a long way in our fight to end the obesity epidemic. On the same note, it's also important to view yourself as part of the club TEAM—knowing everything about the club and singing its praises to members and non-members alike is imperative. If it weren't for the club, you might not have a stage (or a mic, or equipment, or…well, you get the picture!).
3. Problem Solver
Speaking of the club, the mic and the equipment, sometimes things go wrong—p olicies change, mics break, equipment runs out and air conditioners go on the fritz. In these instances, you must act as the public relations manager working on behalf of the club to the members that may or may not be disgruntled in your presence. Whether the episode is making your job harder or not, it's NEVER okay to let members see YOUR frustration with the club. Be resourceful and make the best of the situation. You won't always agree with what's happening at the club's management level, and no matter how brilliant the club you work for may be, you WILL have a tough day due to something that's out of your control. It's difficult not to revert to member mentality and side with the folks that are staring at you, but be the MVP and take responsibility. Make it right, report it to the appropriate managers and move on.
4. Positive
So, given what we discussed in #3, you know that things happen. And not just things that are outside of your control at the club, but also in your personal life, your professional life and everywhere in between. There will be days when teaching is the LAST thing you want to do. But, if you choose to walk into that club and give it a whirl, remember the switch is flipped well before you walk into the CLUB. Members are PAYING to be there to see you; this could be the best hour of their day. And most of the time, if you choose to fake it until you feel it, it won't be long before YOUR day is turned around, as well.
5. Effective
Of course, people come to our classes expecting to see results (whatever that means to them, not us). So, our workouts need to be EFFECTIVE. Notice I didn't say HARD; hard is a relative term and, quite frankly, not every workout needs to be the toughest one they've ever seen. Sometimes, the whole TEAM thing we talked about could take care of this fallacy, because we might drop the whole need to be popular thing if we realized the total number of people we service in a meaningful way is way more important than any one " packed" class. B e effective by knowing exactly what it is that you want to accomplish and having many ways to reach that destination. Be clear in your expectations to meet participants where they are versus where you think they should be.
Stay tuned for Part two of this article, where we'll talk about more important characteristics that an amazing GFI must possess.