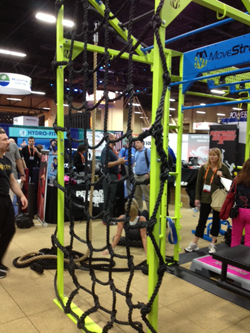 Part of a fitness professional's job is to be ahead of the curve when it comes to training methods. So while many of you have been incorporating functional training into your client sessions for years, this new "trend" has just recently begun to gain some momentum among fitness facilities. Over the last few decades, gyms have had a tendency to fill every nook and cranny with the latest, greatest strength-training equipment, but in the last year and a half, health clubs have begun to ditch the fancy weight machines to open up space for functional training.
"I wouldn't say obsolete, but there is a huge downtick in traditional strength-training equipment," says David Harris, the national director of personal training for Equinox. The trend toward functional fitness encourages people use their bodies as they naturally would, so the first machines to go are typically the ones that do just the opposite, working a single muscle and locking the body in place. (Think chest press, leg press and leg extension machines.)
"What's the real logic in sitting or laying down to train your legs?" Adam Campbell, Fitness Director for Men's Health, asked in an email about machines like the leg press. "Functional training is 'far more bang for your buck' because it works multiple muscles simultaneously, providing better overall strength and mobility, and a higher calorie burn." He went on to point out that many people spend the entire day sitting in front of computers, and the last thing they want to do when they get to the gym is sit down at yet another machine.
Fitness facilities are jumping on the functional-fitness bandwagon, not only to adapt to the latest trends, but also because it's saving them a significant amount of money. Functional-fitness zones cost around $5-6 per square foot compared to up to $50 per square foot areas filled with machines. In nearly half of Life Time Fitness's clubs, a majority of machines have been removed and the facility's corner space is used for the remaining ones. This opens up room for "jungle gyms," which consist of seven-rung ladders that people can push, pull and hang from. Town Sports International is yet another club that has removed a number of machines and replaced them with artificial turf.
What ACE Thinks
"Many people feel intimidated stepping into a health club, and if they do join a club, they find exercising on machines incredibly boring," says ACE Exercise Physiologist Pete McCall. "If a person spends all day sitting at work, coming to a health club to sit down to exercise seems counterintuitive. While traditional exercise machines are effective for loading a specific muscle or muscle group, they are ineffective for training numerous muscles to work together, which is what happens when the body is moving across the ground.
"Considering that exercise is a function of human movement," continues McCall, "anything that emphasizes using the entire body is the preferable way to train. Humans are designed to move."
That said, while functional fitness seems to be the direction the industry is going, some club members are having a hard time adapting. "Most weight machines have diagrams that help users figure out what to do and how, with a fairly small margin of error (and embarrassment factor)," says Anthony Wall, director of professional education for the nonprofit American Council on Exercise. "Open space requires more instruction, supervision—and sometimes persuasion."
What it Means for You
This trend opens up the door for fitness professionals to help engage their clients and teach them how to use the space. "Exercise equipment like jungle-gyms, suspension training systems, medicine balls and sandbags are effective at challenging our clients to develop integrated strength without overloading their systems with too much physical stress," says McCall. "To do this, it is necessary to have the space to move, and commercial gyms are realizing that creating space creates more opportunities for trainers to work with and provide results for clients."
Traditional exercise machines cost a lot of money to purchase and require ongoing maintenance for optimal (and safe) operation. While there are some clients who are more comfortable using exercise machines, the fact is that many people who choose to work with a trainer do so because they want human interaction and an appropriate amount of physical challenge when they exercise. Health club operators are now realizing that instead of spending large amounts of money on equipment, they can simply remove underutilized pieces and open up spaces that allow trainers to work their magic. The open spaces benefit the members by creating more enjoyable exercise experiences with their trainers, which ultimately benefits the health club by selling more personal and small group-training sessions.
If you're a fitness professional who is interested in developing exercise programming that will help clients move more efficiently, check out our Functional Training Specialty Certification.
References:
Rubin, Courtney. "Fitness Playgrounds Grow as Machines Go." The New York Times. The New York Times, 21 Apr. 2013. Web. 03 May 2013.