With the summer months looming, it's time to get serious about your fitness routine.
The thought of taking off a t-shirt at the beach or wearing a bikini at the hotel pool has many folks scrambling to find a "get-fit fast" routine. With warmer weather approaching, now is the time to get started if you want to look good and feel confident in your own skin.
Establish the Goal
While I'm a firm believer that fitness and an active lifestyle should be a life-long, year-round pursuit, it is important to set up goals along the way. New Year's resolutions and important events such as reunions, weddings and beach season are typical "date-specific" choices. Just make sure your goals are S.M.A.R.T. (Smart, Measurable, Attainable, Realistic and Time-driven). In other words, trying to lose 50 pounds by June 1 when you're just getting started on May 15 isn't the best approach. Make sure your goals meet all five aspects of the SMART protocol. Now, let's focus on training that beach-ready body.
Pieces of the Puzzle
Once the goal is set, it's important to establish the road map you'll use to achieve that goal. Here are three vital factors that must be considered:
1. Mindset
Train your mind and your body will follow. You may have the best program ever created, but if you don't have the drive and commitment to do it, then it's simply a waste of great content. Remain positive and keep yourself accountable.
2. Nutrition
Again, your programming may be topnotch, but you still won't get far without proper nutrition. You simply can't out-train a bad diet. You need both a solid training program and a sound diet to get optimal results. Focus on eating REAL food first—lean proteins, healthy fats, single-ingredient carbohydrates, lots of fruits and vegetables, and water. Remember, six packs are made in the kitchen—not in the weight room.
3. Exercise
Your mind is ready and your diet is dialed in—now it's time to move. Here is a pre-summer routine that can be done just about anywhere with very minimal equipment.
Density Routine
A density routine is a circuit-training workout, where you will complete a six-station circuit while tracking your time. Complete the six movements in succession, and then rest for 60 to 90 seconds before starting the next set. Depending on your current fitness level, you may want to start by completing the circuit three times, and ultimately work up to four to five sets per workout.
Workout – (movement in parentheses)
1. Plyometric (Broad Jump)
3x8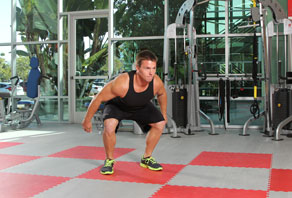 2. Upper-body Pull (Pull-up or Row)
3x10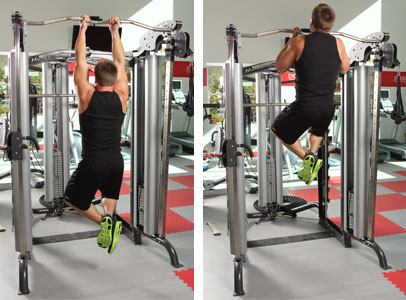 3. Upper-body Push (Push-up variation)
3x10

4. Single Leg (Lunge to Rear Leg Lift With Balance)
3x8 per leg

5. Torso (Hip Hikes)
3x15 per side

6. Sprint
3x20 seconds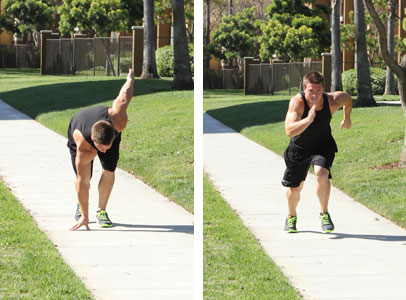 Workout Rules
Quality over quantity
Strive to make every rep the best rep
Rest when necessary
Record your time after each workout to chart your progress over time
Have fun with it!
Movement Breakdowns
1. Broad Jump
Start with your feet about hip-width distance apart and swing your arms to begin creating a weight shift. Next, extend your arms up overhead, and then quickly throw them down and back as you drop your hips into a quarter-squat position. Explode out and up, throwing the arms out in front of you. Focus on landing soft and absorbing the impact into the landing using your muscles, not just your joints.
2. Pull-up
When performing pull-ups, remember to think of pulling the bar down to you. Drive your elbows down and back as you bring your chest toward the bar and resist the urge to kick your legs or "kip" with the lower body. At the bottom of the movement, fully extend the arms without losing shoulder-joint integrity.
If you aren't quite ready for pull-ups yet, perform a bilateral row exercise instead—the TRX Row is one of my favorites.
3. Push-up
Begin in a traditional push-up position, with hands slightly wider than shoulder-width apart and fingers pointed out slightly (about 20 degrees). Your elbows should come out around 45 degrees relative to the body and you should maintain a neutral spine position throughout the exercise. Brace your abs, squeeze your glutes and lower your body as one unit under control. Perform your repetitions in a controlled manner.
If 10 reps feels too easy, turn them into an explosive "clap push-up" to increase the intensity.
4. Lunge to Rear Leg Lift With Balance
Start from the floor in a half-kneeling position, with your left leg forward and your head and chest up. Shift your weight forward and focus on loading through the left hip; lift yourself off the ground and send the right leg back. Reverse the movement to return to the starting position. Push the hips and reach the right leg back and slowly lower down with control, tapping the right knee to the ground. Repeat on the opposite side.
5. Hip Hikes
With your body in a straight line, lay on your side with feet stacked, and come up on your forearm. Your elbow should be directly under your shoulder throughout the movement. With only your forearm and the side of your bottom foot touching the ground, perform a "hip hike" movement by engaging your obliques and raising your top hip toward the ceiling. Lift and lower under control for 15 reps and then repeat on the opposite side.
6. Sprint
When sprinting, be sure to maintain a slight forward lean and do not break at the hips. Drive off the balls of the feet while keeping a neutral spine and your eyes fixed a couple feet in front of you. Make sure to pump your arms to incorporate your upper body. Work hard for 20 seconds and then take your 60- to 90-second rest before starting the next set.
Final Thoughts
This routine can be done just about anywhere. Pull-ups are really the only exercise that requires equipment. If you can perform pull-ups, a tree at the park or any sturdy bar at the local playground will do. All that's needed for the other movements is some room to move. If you prefer to work out at a facility, your "sprints" could be performed on any cardio equipment, treadmill, bike, rower, etc.
This is a fast and effective six-movement routine that should take 20 to 25 minutes to complete. Begin each session with a 10-minute dynamic warm-up that elevates your heart rate and prepares your body for the workout to follow. Bird dogs, bridges, jumping-jack variations and thoracic spine mobility drills are staple movements in my routines. Follow every workout with 10 minutes of stretching. Focus on any areas that may need a little extra love. Based on those numbers, you'll be in and out in 45 minutes.
These workouts are designed to build strength, shed fat and have you feeling great. Complete the routine three times per week, follow a nutrition plan that encourages eating REAL food, get adequate rest and the results will come.
Regardless, of your occupation, age, gender or background, we are goal-driven creatures. Tap in to what inspires you, create your game plan, set it in motion and do whatever it takes to get the job done. No excuses.