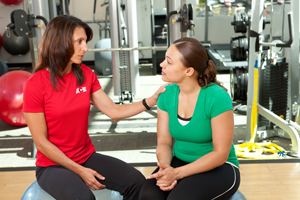 As ACE-certified fitness professionals, your passion and motivation is to help your clients flourish and grow in fitness, health and wellbeing. Inevitable lapses and relapses occur and you are prepared to evaluate triggers for these normal setbacks, reassess your client's motivations, barriers and obstacles, and help in crafting a plan for future coping strategies.
Then there are grotesquely catastrophic events such as the life-altering bombings at the 2013 Boston Marathon. Clients who ran in the Boston Marathon or are preparing for upcoming races, friends or family attached to the event, and even those who have been attached to the media in the past several days are all likely coping with trauma stress. Here's how to help them—and yourself—deal with the emotional aftermath of this tragic test of human resilience.
While every individual will react differently, depending on their background, closeness to the event and prior experiences with trauma, we also share many similar responses. Shock, disbelief and denial are initial normal indicators of a trauma response and when the "psychological Novocain" wears off, people typically experience a cataclysm of emotions, including fear, helplessness, guilt, anger, flashbacks, nightmares, anxiety and depression. When the rollercoaster slows down, relief or equilibrium reoccurs.
Clients need to talk it out, work (it) out, turn it off and friend it up, all while putting their energy into the positives in their lives. Help your clients talk it out without any fear of being judged, being told what to think or sense of shame. Ignoring thoughts and feelings negatively affects coping. Text, email, phone and ask face-to-face how your clients are doing.
Explain the physiology of the exercise-stress connection through the H-P-A axis to help your clients understand the value of working it out through continued adherence to their fitness routines. Help your client re-center, recover and heal with vigorous exercise and controlled breathing, which have been shown to have a positive effect on depression and anxiety in post-traumatic stress. This type of relaxation is required for brain-body balance.
Guiding clients to limit exposure to unnecessary media broadcasts is another tool for reducing obsessive ruminations, reminders and flashbacks. The amygdala, the center of the brain responsible for creating the strong hormonal reaction that generates emotions, can actually be tricked into being activated by watching reenactments of the initial real event. Urge your clients to avoid morbid preoccupation with grim details to diminish re-traumatization.
Helping clients connect with others through group fitness classes can be especially valuable because many who experience trauma stress naturally want to withdraw from social activities. Mutual support is vital to moving forward after a trauma, so suggest that clients identify ways to spend more time with friends and loved ones.
If your clients continue to experience emotional distress, report having trouble functioning at work or at home, appear to be having trouble connecting with others—these are signs that professional help may be necessary.
My experience of more than 35 years of helping people, organizations and communities heal in the days, weeks and months following a traumatic event—natural or man-made—has taught me that the greater the challenge, the more likely it is that individuals will rise to the occasion. The personal connections you have built and the rapport you and your clients enjoy are the foundation on which to help them move forward.