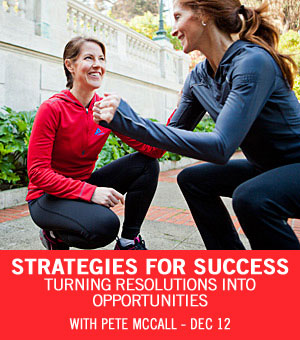 Are you familiar with the term "third place"? What does it mean to you? One reason for the success of coffee purveyor Starbucks is that Howard Schultz set out to create a third place for people to spend time that is neither the home nor the workplace. Starbucks thrives because it is a place where one can spend a few minutes reading, studying, chatting with a friend or playing around online while enjoying a favorite beverage. Do you have a favorite third place? Whether it's a health club, a running trail or an outdoor training space, for those of us in the fitness the third place is probably our favorite place to work out.
Think about that for a second. Many of us probably plan our schedules around our workouts and look forward to that time as a respite from the daily grind. For those of us making the time to exercise, it is essential to our lives and an important component of who we are. Hence, its why many of us have gone through the time and effort to turn our hobby into our profession and become an ACE-certified Fitness Professional to help others enjoy the benefits of healthy living.
A known fact among fitness professionals is that the two slowest times of the year are the two weeks in August when every client seems to take vacation at the same time and the last half of December when everyone is caught up in the rush of the holiday season. Personally, I always enjoy these slow periods because it allows me the opportunity to catch my breath and do some planning to prepare for the busier times of the year.
As the end of the year approaches, many people are enjoying their last binges of gluttonous living before resolutely committing (or, in many cases, recommitting) to a healthy lifestyle. Now is a good time to plan for how we can help these new fitness consumers turn the health club or gym into their "third place." As Personal Trainers and Group Fitness Instructors, we have the opportunity to engage these individuals and help them develop the healthy habits that make physical activity an integral part of an active lifestyle instead of a short-lived effort. If you want to maximize the New Year's resolution rush and develop clients who will stay with you for the long haul, consider taking some time to review the ways in which you establish successful rapport with your clients.
Rapport is defined as a relationship based on trust and mutual understanding. When we developed the ACE Integrated Fitness Training® model, we made rapport the foundation, knowing that without a successful relationship that engages a client to make lasting behavior changes, even the most technically accurate exercise program will be ineffective. If you are interested in helping clients achieve long-term success, use your slow periods to rethink strategies and tactics for helping clients implement lasting behavior changes.
When we're busy rushing from one client to the next or planning our next group workout, it can be easy to overlook establishing accurate expectations and channels of communication before jumping into the client-trainer relationship. There have been plenty of times when I agreed to start working with a client before taking the time to get to know him or her and establishing an effective rapport. Usually, these are the clients who get frustrated with a perceived lack of progress or frequently cancel sessions at the last minute. Working with these clients can be exasperating and may encourage you to develop a bad attitude about all your clients.
Over the years, I have found that when I take the time to get to know a client by engaging him or her in a few specific conversations to identify the real reasons he or she wants to start an exercise program, it usually creates a more positive experience for each of us. It has taken some time, but I have learned how to ask better questions and be more direct about communicating steps that clients can take to ensure a successful training experience, which ultimately leads to healthier habits.
Some of the strategies I have used successfully include:
Identifying the current stage of change in the Transtheoretical Model of Behavior Change and communicating with the client to meet the needs for that stage.
Taking a big, general goal and breaking it into smaller, more specific goals.
Using a gradual progression of intensity to allow a client with a limited exercise background to experience results without any muscle soreness or pain.
Using assessments to show how clients progress and improve from the initial session.
Taking the time to understand obstacles that have prevented the client from exercising to help develop solutions to avoid future lapses.
We all know that January brings the resolution crowd—the ones who are determined to start and commit to an exercise program. While the resolution rush does make gyms more crowded, it is often only for a few weeks because many of these "newbies" often find different uses for their time and fail to continue on with an exercise program past early- to mid-February. These people start exercising with a purpose and an interest in achieving results, but often are not engaged, which makes it easy for them to quit. The fact is that health-club members who participate in programs such as personal training or group fitness are much more likely to see results and maintain a program of regular physical activity.
If we can learn how to properly engage the influx of new exercisers, we can have a direct impact on helping them improve their lives with healthier behaviors such as increased physical activity. At the same time we will be creating new fitness consumers, which benefits all of us who work in the fitness industry. While the January rush was something I once made fun of, I have learned that if I take the time to properly engage these new members, I can help them make the gym their "third place" while creating both potential training clients and new participants for my group exercise classes.