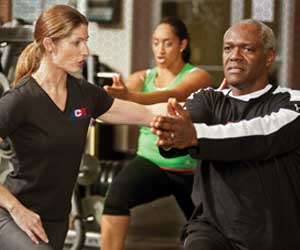 When I first entered the fitness industry almost 20 years ago, corrective exercise was not an area of specialization that was very familiar (or available) to many trainers. However, I quickly realized that a lot of my personal training clients were being deterred from reaching their goals by various aches and pains. This was not only frustrating for my clients, but limited my potential as a trainer and the overall success of my business. As such, I decided that I would begin learning how to assess my clients for musculoskeletal deviations and try to figure out which types of exercises would help alleviate the pains they had and correct their imbalances so they could get on with participating in the activities they enjoyed. As time went on, I found that integrating structural assessments and corrective exercise into my personal-training protocols enabled me to help more and more people reach their goals. When I made the decision to move from the United Kingdom to set up a facility in San Diego, Calif., the field of corrective exercise was just beginning to gain momentum.
As I suspected, the problems faced by my new clients in the U.S. were not much different than those of the people I had helped in Europe. Not surprisingly, they also experienced aches and pain that prevented them from engaging in favorite activities and fitness pursuits. In fact, research shows that up to 85 percent of Americans will experience back pain at some point in their lives, and musculoskeletal pain is the most frequent cause of activity limitation in people under the age of 45. What's more, Americans shell out at least $50 billion on back-pain "fixes" every year. This includes visits to doctors, chiropractors, physical therapists, pain specialists, orthopedic surgeons, X-rays, MRIs and, in some cases, surgeries. People also turn to over-the-counter pain relievers or dole out hard-earned dollars on prescription medications. And then there are all the pricy gadgets that promise relief: ergonomic chairs, pillows, beds, braces, heating pads, ice packs and more. And yet people are still not finding relief. It's no wonder the business of corrective exercise is booming! Many people are starting to realize that the traditional approaches to pain relief don't work and are instead turning to their personal trainers and health specialists for guidance in resolving musculoskeletal problems and pain.
Over the past decade, I have traveled all around the world teaching health and fitness professionals about the benefits of corrective exercise and why it is such a lucrative specialty offering. What I have come to find is that while many trainers are keen to offer corrective exercise services to their clients, they find the information regarding structural assessment and corrective exercise confusing and, therefore, difficult to integrate into client programs. As such, I have teamed up with the American Council on Exercise to make corrective exercise more accessible and practical for fitness professionals everywhere. One of the ways we are accomplishing this goal is through a hands-on corrective exercise workshop. This informative and interactive seminar provides attendees with a straightforward, step-by-step process for conducting postural assessments and designing effective corrective-exercise programs that can be used with every client. A few of the fundamental corrective exercise concepts you will learn during this day-long workshop include:
How to effectively identify structural deviations in five major areas of the human body: feet and ankles, knees, lumbo-pelvic hip girdle, thoracic spine and shoulder girdle, and neck and head
How and why common postural deviations and musculoskeletal imbalances cause pain and how to utilize corrective exercises to alleviate it
How to identify when to incorporate corrective exercises into personal training programs
Examples of corrective exercises that you can use with clients in real-world settings
How to regress and progress corrective exercises to meet the needs of individual clients
The techniques you will learn in this workshop are the very same assessments and exercises that I use to help my own clients. These protocols also are featured in the comprehensive, corrective-exercise educational program I created, The BioMechanics Method®. Components of this program (some of which are featured in the ACE Integrated Fitness Training® model) are used by thousands of professionals in more than 25 countries around the world to successfully help clients eliminate muscle and joint pain. Come and learn how you, too, can help your clients (and yourself) alleviate chronic aches and pains and build a successful business in the process. The popularity of corrective exercise is rapidly increasing, so don't miss this opportunity to meet this profitable market demand!
To learn more on conducting assessments and designing effective corrective exercise programs that you can use with all of your clients, register for an Introduction to Structural Assessment and Corrective Exercise Workshop near you!