It comes at the same time every year, yet somehow it always seems to take many of our clients by surprise: The Holidays.
With some help from you, your clients can stay active during this time of year and perhaps get a jump—or a run, a squat or a push-up—on their fitness goals for the New Year.
Thanksgiving is the starting point of a five-week (or more) period of holiday celebrations that often spell doom for your clients' attempts to stay on track with their health and fitness. But it doesn't have to be that way. Here's what you can do to help see them through:
Help clients find opportunities instead of obstacles
You'll likely have no trouble hearing what your clients' obstacles are to fitness at this time of year. Turn this around! Have them pull out their calendars and ask them, "Where are your opportunities to exercise this month?" Help your clients map out 'bright spots' in their holidays where they will have any available time to work out.
Encourage your clients to not limit themselves to normal workout days and times and instead focus on locating the open spots where it will be possible to work out, in spite of the schedule demands. Let them know that you'll help them maximize that available time.
Offer shorter session times or use small-group training.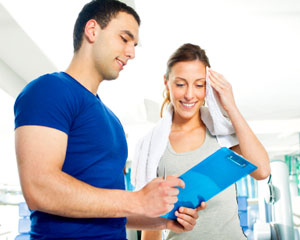 If you're not already offering small-group trainings, you've no doubt thought about it. Half-hour or 45-minute sessions might be just what your clients need at this time of year. Perhaps shaving a few minutes from their time with you will help them feel like they are carving out more time for other demands, while still making time for their fitness program.
The emotional boost and self-efficacy that your clients will perceive from this win-win will no doubt make them feel good during a time of year when they often feel their fitness commitment slipping away. Remind your clients of the importance of punctuality (particularly for shorter sessions) and encourage them to warm-up on their own so they are ready to go at the start of your session.
Another option is to create some small group-training programs for the holidays. Group clients together who are similar enough in their goals, workout times and current abilities, which will increase the likelihood that they will all benefit from doing the same workout. Consider developing a series of sessions to get your clients through the period between Thanksgiving and New Year's Day where each day has a different theme (e.g., core, balance, strength, power, flexibility) or feature different equipment (e.g., a partner training day, a ViPR training day, kettlebell day, suspension trainer day, medicine ball day). There are several ways to approach this within the space and equipment you have access to. Get creative and have some fun with your themes! (Note: If you need help planning small-group training, consider attending ACE's Small Group Training workshop—you will leave with a completed program ready to go.)
Now that you have a plan in place for getting your clients in to work out during the holidays, you can focus on how you'll fill the time.
Have clients do what they haven't been doing.
If your clients have been doing weights before cardio, have them do the opposite. Using time-based sets? Switch back to rep-based sets for the holidays. Using metabolic circuits? Switch back to traditional strength training. Try faster, full-body exercises if they've been doing more traditional strength training.
Changing things up is a great way to challenge and engage your clients at a time of year when they may be feeling distracted or less motivated. Our bodies adapt to that which we've been doing most often, so changing up any major part of your clients programs can lead to progress in less time. And, it will feel challenging enough to the client that they will know they are getting a benefit.
Develop some "less is more" workouts.
Your clients might not have time for their full routines, so help them figure out how to get a good challenge in whatever time they have! The body responds to the demand of an effort—not its duration. The benefits of an hour of exercise don't suddenly appear in your client's body when the clock rolls over from 59 to 60 minutes during your sessions. If your client normally does 30 minutes of cardio and they only have 15 minutes, help them figure out how to feel as challenged after 15 minutes as they do after 30.
Provide immediate feedback on achievements.
Once your clients make it to even one workout between Thanksgiving and New Year's, praise them for it—especially if this is typically an "all bets are off" time of year for your clients' workouts. Research shows that immediate feedback can powerfully motivate, while delayed feedback can have the opposite effect. Don't wait until after the holidays are over to praise your clients' efforts. Congratulate them for exercising at their first session of the holiday season. The immediate praise and feedback from you will provide further motivation and encourage their participation in workouts throughout the holiday season.