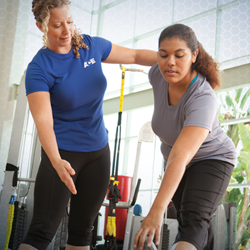 The health and fitness industries are at an important crossroads. Never before have we known so much about how to manipulate training parameters to elicit maximal physiological responses from the bodies we are training. At the same time, our population is more inactive, overweight and unhealthy than ever before. For years we have been trying to encourage those who are on the road to "obesity and inactivity" to change directions and go down a less-traveled path built on evidence-based fitness programming and nutrition education. The time has come to forge a new path.
Over the years, the influences of positive psychology have shown us that simply educating a person about healthy food choices or giving them an exercise program is not enough. To help people make lasting change, we must help them adopt healthful behaviors related to fitness, nutrition, stress and other modifiable lifestyle factors that result in improved health, fitness, weight management and reduced risk factors for cardiovascular disease. These changes go well beyond selecting sets, repetitions, intensities and training modes. Instead, they require coaching techniques that engage and motivate clients, drive adherence, break down barriers and build self-efficacy.
The present-day health coach merges the best practices of exercise programming, nutrition education and health promotion with behavior-change techniques from coaching and positive psychology. This is a rapidly growing field in fitness, healthcare and corporate wellness, with people moving into "health" or "wellness" coaching from a variety of professions, including personal training, dietetics, nursing, health education and counseling. While many are qualified health professionals in their respective areas, many lack the comprehensive skills to perform all that is required in this new frontier.
ACE Health Coach Certification
The ACE Health Coach certification is designed to determine if candidates meet established competency levels to practice as safe and effective health coaches. The ACE Health Coach exam was created to assess the core competencies required of a coach, working independently and with other professionals, to help a wide variety of individuals and groups to adopt structured behavioral-change programs that focus on lifestyle and weight management through physical activity, nutrition and education necessary to improve and maintain health, fitness, weight, body composition and metabolism. It is important to note that the ACE Health Coach certification is the only NCCA-accredited certification program in the health coaching profession.
ACE-certified Health Coaches in Allied Health
ACE-certified Health Coaches hold a unique place in the allied health field. They understand the interrelated emotional, behavioral, physical, nutritional, exercise and lifestyle factors that must be addressed to help clients make lasting change, and they possess the knowledge and tools to coach clients throughout the process. These are critical services for clients who have had significant barriers to achieving, and multiple failed attempts at, successful weight loss. These are also the knowledge and skills sought by employers in commercial and medical fitness, healthcare, corporate wellness and insurance industries.
Becoming an ACE-certified Health Coach
Fitness and health professionals who meet the eligibility requirements can sit for the ACE Health Coach Certification exam. Those who pass the certification exam will earn the ACE Health Coach certification. ACE offers a complete set of study materials to help candidates prepare for the ACE Health Coach examination. The centerpiece of these materials is the ACE Health Coach Manual, written by a team of allied health experts, including behavioral psychologists, sport psychologists, medical doctors, registered dietitians, exercise physiologists and health coaches.
In summary, the ACE Health Coach certification is designed to assess if health and fitness professionals meet the requisite qualifications to coach clients through health- and fitness-related behavioral changes that will create lasting change. This is a critical role in the evolving framework of healthcare, as coaches can make a significant impact on reversing the rising rates of obesity and related health issues.
For more information about the ACE Health Coach certification, contact an ACE Education Consultant at 888-825-3636.