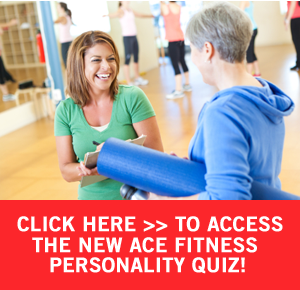 Do you ever wonder about the suffix "ality" in the word "person-ality" It indicates "having the properties of," "an aspect of," or "a part of," the "person" and it's an important concept to understand if you want to effective and successfully coach a fitness training client.
Serving as the foundation for the ACE Integrated Fitness Training® (ACE IFT®) model, rapport allows you to creatively establish the "ality" of the client. Providing a well-researched, evidenced-based approach to building the finest rapport possible, the ACE IFT model helps you understand and relate to the "ality" of your clients, helping them reach their goals and become your raving fans.
While there are many approaches to studying personality and individual differences, the Holland-Daves model described in the 4th edition ACE Personal Trainer manual is one of the most applicable, categorizing people based on two important scales: dominance and sociability. To make it even easier for trainers to assess their clients' personas, ACE has created a Fitness Personality Quiz Facebook Application that is based on this model and will serve as a useful tool during your ACE-based assessment. By having your new clients go online to answer the questions, you will be able to gain essential insight into their personality style prior to their first training session.
One of the most important elements of communication is to hear what isn't being spoken. Directing your future and present clients to this new App on the ACE fit Facebook page is a practical way to adhere to the Jimi Hendrix' adage that "Knowledge speaks, but wisdom listens." There's no verbal interchange "test" required and no need for your client to feel uncomfortable revealing their thoughts, emotions, motivations and behaviors to someone they have just met. Instead, they can take this short quiz in privacy, look at their predominant style and, based on their most frequent responses, determine if they are a "Planner," "Go-Getter," "Social Butterfly" or "Adventurer."
I took the test and (not surprisingly) found that I'm a "Go-Getter" with a little bit of the "Adventurer" showing up. The ACE App provided me with personalized tips on how to take my fitness to the next level and stay committed, along with valuable resources to branch out. These results spoke to me, which is a clear indication that they were designed to apply to my unique personality.
As a trainer, imagine the edge you will have with new clients when armed with a solid personality-style assessment that allows you to look through the very same lens as they do when approaching the world. It will allow you to develop a better understanding of shared goals and craft a bond built on friendliness, genuineness, respect and affirmation.
Understanding the psychological, behavioral and emotional needs and characteristics of your clients creates the platform for rapport. The new ACE Fitness Personality Quiz App will help you build trust and credibility, which is necessary for forming the all-important connection that assures successful training. While you can build rapport with a genuine smile, a friendly handshake, consistent eye contact and a proper greeting using your client's name, understanding how to respond to your client's personality style will take your relationship to the next level and prepare you to move along the IFT continuum.