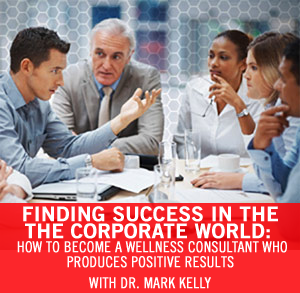 For more on how to successfully apply your personal training knowledge to a corporate environment, view ACE fitness expert Dr. Mark Kelly's recorded one-hour webinar.
It's natural for fitness professionals to feel intimidated by the idea of breaking into corporate wellness since most companies providing these services are large, powerful and use reporting tools and software programs that are out of reach to the average individual. Because of this, many trainers tend to shy away from getting involved in this industry, but the truth of the matter is that corporations don't need all that hype and complexity. All they need is a service that will directly and indirectly save them money and make their employees healthier and more productive.
I started my career in corporate wellness working for Chevron Corporation performing health assessments back in the mid-90s before fitness technology exploded. Software packages were still in their infancy, so all I had were Excel spreadsheets and a few pieces of testing equipment. Later I invested in more sophisticated equipment and software that measured health risk and physiological variables in a rapid fashion. This allowed me to provide Chevron with detailed graphic reports that explained test results and various aspects of health.
After providing corporate wellness services to corporations for many years, I developed my own company. Here are some tips I have for those interested in a career in this industry:
Perform an "inventory" of your skill sets, including skills that you may think are not significant or of corporate interest.
Look at the needs of a corporation from a wellness perspective and prioritize the factors that will cost them the most money. For example, if a back strain costs a company $3,000 and a major back injury costs $25,000 in direct and indirect costs, explain how injury prevention through core muscle strengthening and proper lifting techniques can save them money.
Do some research. To be successful in corporate wellness you will have to put a lot of effort in at the start, but the result will be well worth it. Research a company's size, the type of work they do, the average age of the employee, past accident reports, or areas of preventable medical costs. Going into the meeting prepared and knowledgeable will help you "win the bid."
Develop a proposal and focus on quality content. A basic proposal has the following standard features:
Problem identification
Overall goal
Strategies to Implement your program
Resource assessment - time, cost, personnel
Proposed program
Expected costs, benefits, and overall benefit-cost projection
Pursue the company. Remember that your proposal is similar to a starting bargaining position. Begin bidding a certain price for your services knowing they may counter with a lower fee or alteration. Have a bottom line price and perhaps a minimum number of hours of service that you will not go below, and make sure not to bend too much or they may not respect you or the quality of services you offer.
Corporate wellness can be as complex as creating a comprehensive medical care and preventative injury program with a fitness and nutrition program, or as simple as a weekly on-site yoga or group fitness class. Start small and build from there, always trying to pick up new skills and instruments that expand your services. The corporate environment is a rewarding place to work, and your impact on the health of the employees and the company's bottom line will be greatly appreciated and rewarded.