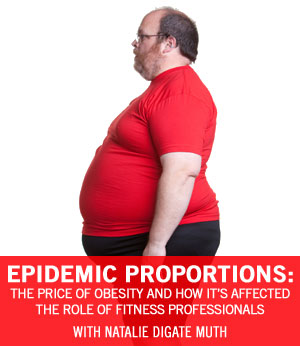 For more on the role fitness professionals play in reversing the obesity epidemic, join registered dietitian Natalie Digate Muth for our recorded one-hour webinar.
I get tired of people who say, 'It's simple; just eat less and move more," wrote Tara Parker Pope, a New York Times Well blogger on her struggles with weight. "We don't do dieters any favors by telling them that it's easy and simple."
Every day, efforts to control weight and body size permeate the lives of most Americans. That struggle is demonstrated in the 25 percent of men and 40 percent of women on a diet at any given time, the $35 billion spent on weight-loss products annually and the devastating health consequences that result from excess weight and obesity. Fitness professionals on the front line in the war against obesity struggle every day too; they struggle to develop tips, strategies and programs to help their clients achieve a healthier weight.
While the mantra of "eat less and move more" works in practice, the struggles that clients face are much more complicated, ingrained and difficult to change. However, an emerging body of science combined with increased motivation to improve on multiple levels has invigorated the effort to reverse the obesity epidemic within the next generation. Fitness professionals are in a unique position to significantly contribute to reversing the weight problem in the U.S. and across the world. With that said, in order to be effective, they must stay on top of the latest research and scientific advances, emerging trends, and community collaborations and partnerships.
The Science
Much of what we thought we knew about weight loss may not be accurate, such as the common teaching that to lose a pound a week you should create a 500 calorie deficit each day, which will add up to 3500 calories - about the number of calories in a pound of fat. In the long term, this never plays out. While initial weight loss may more or less follow this principle, subsequent loss is frequently stalled despite large caloric deficits. A group of scientists at the National Institutes of Health developed a mathematical model to account for changes in metabolism that occur with weight loss. The study estimates that for every 10-calorie decrease in intake, the average overweight adult will lose about 1 pound with half of the weight lost by one year and 95% of the weight change by three years. For example, a woman who decreased her daily caloric consumption from 2,200 calories to 2,000 calories per day would lose about 10 pounds in one year and about 10 more pounds by the end of three years. If she had created a 500-calorie deficit each day, she would lose 25 pounds in the first year and about 25 more pounds by the end of three years. This is a lot slower weight loss than one would expect from the simple calculation of 3,500 calories in a pound. The research concludes that we don't do dieters any favors by telling them weight loss is easy and simple.
Emerging Trends and Collaborations
Despite an intensive physical activity regimen, nutrition changes or behavioral rewiring, many struggle to achieve their weight loss goals. While individuals are responsible for their behaviors, community and policy-level factors can greatly influence eating and activity patterns. Earlier this year the Institute of Medicine released a report titled "Accelerating Progress in Obesity Prevention: Solving the Weight of the Nation." In the report, authors outlined several goals that, if implemented collectively, would make significant strides in obesity prevention. They included:
Make physical activity an integral and routine part of daily life.
Create environments that ensure healthy food and beverage options are the routine, easy choice.
Transform messages about physical activity and nutrition, making healthier options more desirable and accessible.
Expand the roles of health care providers, insurers and employers to better support physical activity and nutrition.
Make schools a national focal point by increasing physical activity opportunities and strong nutritional standards.
Clearly, most communities, states and even the nation as a whole have a long way to go in achieving these objectives. Fitness professionals can serve as powerful leaders in their communities by transforming many of these ideals into reality. For example, they can play an integral role in the development of:
Community programs designed to increase physical activity (objective 1)
Community task forces that develop and disseminate nutrition and activity recommendations to influential community members and decision makers (objective 2)
Awareness-building and social marketing efforts to increase knowledge of healthy physical activity and nutrition choices (objective 3)
Initiatives to increase access to and quality of work-based activity programs (objective 4)
High-quality physical education programs that effectively increase the physical fitness level of students (objective 5)
These are just a few examples of the many collaborations and initiatives that can play a prominent role in the broad-scale effort to reverse the obesity epidemic by creating optimal nutrition and fitness opportunities, and choices for community members.
Finding the Solution
Ultimately, the price of obesity is very high for not only individuals and families but communities and the nation as a whole. With the exorbitant number of overweight and obese Americans, and the importance of exercise in reversing the epidemic, fitness professionals must take a leading role as exercise experts. With the most up-to-date knowledge and the right tools, they can each day make small steps to promote weight loss, ensure weight loss maintenance and prevent weight gain through both one-on-one coaching and community interventions.