As fitness technology advances, the outcome typically results in your clients moving less and less. There is, however, one technology that can actually help your clients get more active, get better results, and potentially have a positive impact on your fitness business.
Body monitoring devices, which have the ability to track activity data throughout your day, such as steps taken, calories burned, sleep quality and duration, and workout intensity or quality, have become a rapidly growing product in the fitness industry. Most of these devices have companion smartphone apps to enter data on the go and see progress in real-time, as well as a built-in accelerometer, which provides highly accurate measurements of steps taken, movement speed and direction. The various devices available present some interesting opportunities to enhance the success of your fitness business.
Here are some ways you can potentially profit from having clients and members use these devices: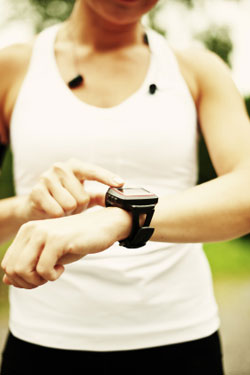 Monitor clients in between sessions (only with certain devices): If you could periodically review your client's data, you'd be able to see a more accurate pattern of their daily choices, including what they eat and what physical activity they do. Factors like those affect fitness outcomes – and helping them monitor their progress would likely ensure they'd have more success following through on what they need to do to successfully live a healthy lifestyle.
Create contests (for club or studio owners, and some personal trainers): There are several options to run special programs with various rewards and prizes. Whether you choose to hold a contest with one winner or ones with prizes going to anyone meeting a certain criteria, technology allows you to measure several different data points recorded by the devices.
Share client success stories online or on social media: Showcase the achievements of your members and clients by combining the know-how, expertise and accountability that a trainer can provide with the extra level of accountability and utility of body-monitoring devices. Additionally, many devices' integrated software will automatically share new personal bests to social media or allow you to post individual successes as desired.
Get referrals: If clients are getting results, they will stay with you and refer others to you. Client adherence can sometimes be enhanced in seemingly simple and subtle ways. Sometimes the little things are what make the difference in helping people stick with behavior change. Many of these devices use the power of people's addiction to their electronics to your advantage in fitness. Some have lights on them that change color as you burn calories or take steps, while some have vibrating reminders that can be used to give people reminders to get up and stretch if they have a desk job, for example.
If you're interested in learning more about body monitoring devices and their business applications, view Jonathan's recorded one hour webinar, "Fitness Tech to Boost Your Business: Body Monitoring Devices and More."