When Elaine LaLanne, the widow of "Father of Modern Fitness" Jack LaLanne, walked on stage at the opening ceremony for 2012 IDEA World Fitness Convention in San Diego last week, jaws dropped. She looked up at a mammoth-sized photo of Jack, and immediately dropped to the floor, pumping out almost a dozen properly formed push-ups. Did I mention she is 86?
Welcome to the 30th anniversary of IDEA Health & Fitness Association. It delivered on its promise to bring "knowledge, credibility, inspiration, marketability, and personal and professional growth" to the 6,000 fitness professionals in attendance.
With the likes of 75-year-old fitness icon and actress Jane Fonda accepting the Jack LaLanne Life Time Achievement Award, and presenters including renowned fitness and nutrition expert Tara Costa from The Biggest Loser, and hysterically funny Pamela Peeke, MD, MPH, FACP, the largest global event for the fitness industry leaped to a remarkable kick-off with this year's theme, BE: The Transformation.
I was staggered by the 300 in-depth education offerings covering personal training, nutrition, business development, mind-body, wellness and group fitness, as well as the networking opportunities, workouts, challenge competitions, vendor expo displays and pure fun throughout the San Diego Convention Center. Major industry trends and the newest and hottest products in fitness, nutrition and clothing filled the classrooms and expo floor.
If you didn't attend, you missed unrivaled presentations from ACE luminaries including ACE Senior Fitness Consultant Lawrence Biscontini on group fitness and yoga/tai chi; ACE Exercise Physiologist Pete McCall on small-group training; Dr. Adam Bordes on building a successful online fitness business; and Natalie Digate Muth, MD, MPH, RD, and ACE Chief Science Officer Cedric Bryant, Ph.D. (with Biscontini and Len Kravitz) in a brilliant, energetic question-and-answer session on health and nutrition.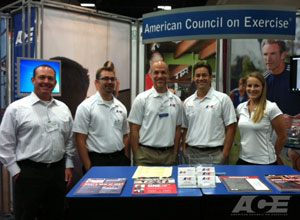 It seemed to me that nutrition and obesity were very hot trending topics with a 30% increase in food and nutrition sessions over previous years. There were cooking demonstrations, practical aspects of food selection, classes on how to beat obesity, and demos and lectures on power fueling.
ACE has long anticipated the obesity epidemic becoming a hot topic, and has remained at the forefront with our Lifestyle and Weight Management Coach Certification, webinars, workshops and countless presentations. With the on sought of presentations on nutrition and wellness at IDEA this year, the LWMC certification will no doubt be even more sought after, especially among health care teams working with obese, sedentary clients.
Thirty years ago when Peter and Kathie Davis created IDEA in San Diego, the trend was high-impact aerobics with hand-held weights. This year, attendees saw more integrated, balanced, body-weight functional workout routines, portable equipment, mind-body, along with suspension training, small-group programs like "boot camps," dance-related classes like Zumba®, indoor cycling, and of course Les Mills choreographed group exercise.
Core and balance training, Todd Durkin's boot camp aboard the USS Midway, metabolic training, sport conditioning training techniques and even mixed martial arts classes along with STOTT Pilates, reBarre, Schwinn and Keiser® cycling, vibration training and building skills for personal training directors were all part of the offerings for those who wanted to earn up to 20 continuing education credits.
New products? The convention floor was filled with so many vendors, it was impossible to see it all in one day. I had many favorites but two standouts were the EBA Gravity "Posture Shirt" and the delicious "CocoaVia" drink.
I know the "Posture Shirt" sounds like a gimmick but put one on and then tell me it's not the real deal. The product uses banding and varied tension technology that tilts the shoulder blades into proper position, centering the shoulder joint and providing a balancing effect that benefits the entire upper body.
"CocaVia" also caught my eye – and my taste buds. The healthy beverage contains a daily cocoa extract supplement containing 250 mg of cocoa flavanols (made from pure cocoa) in each serving. The research on cocoa flavanols has been of interest to me, so when I saw this and tasted it, I was hooked.
Aqua Gear's superfiltration systems for water bottles, Trigger Point Performance's cold roller (felt SO cold and hit the spot), the Core Stix workout (a total-body workout designed by NHL strength and conditioning coaches and space shuttle engineers), the Indo-Board, anything from Perform Better and SPRI, SKLZs HyperSquat, and a very hot product introduction from Darya Bronston, the CoreFitnessRoller were also new trendy must-sees that will be around for a long while.
Rachel Cosgrove, a certified personal trainer, fitness competitor and owner of Results Fitness in Newhall, Calif., was named the 2012 IDEA Personal Trainer of the Year. Think you have what it takes to be next year's IDEA winner? Apply for the Fitness Instructor, Personal Trainer or Program Director of the year for 2013 by January 1, 2013, on the IDEA website.