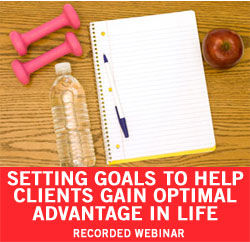 For more on methods of setting inspirational, motivational and educational goals to help clients stick with their programs, join ACE fitness expert Michael Mantell for our recorded one-hour webinar.
Want to turbo-charge your clients to the top 3% of society? Equip them with a commitment to goal setting. That's right, fewer than 3% of adults have written goals and plans that guide their daily direction.
And with research demonstrating that goal setting led to performance enhancement in 78% of the experimental studies evaluated, it's no wonder Brian Tracy considers goals to be "fuel in the furnace of achievement."
While many fitness coaches have studied the importance of goal setting and understand the value of stating goals in elementary SMART terms, it appears clients all too often jump into an exercise program aiming to "tone up," "lose some weight" or "get a bikini body." With the press of business and economic needs, it's often too tempting to just go along with that and get started developing an exercise program based on ill-defined goals, perhaps informing the client along the way of broad fitness indicators and some vague process and performance goals.
With that approach to goal setting your clients will, as Bill Copeland said, "spend their lives running up and down the field and never score." It's time to take goal setting as seriously as any other element in consummate fitness coaching.

Rapidly: What are 10 reasons why goal setting is so important?
Fast: What element in goal setting accounts for 80% of success?
Quick: What are four prerequisites for successful goal setting?
Quicker: What are five principals of goal setting?
Even more quickly: What's the difference between performance, process and outcome goals?
Instantly: What organized goal setting process do you unfailingly use?
If you got six out of six correct, you are doing very well. Less than that, it's time for you to set a goal for yourself that's SMARTER—arm yourself with breakthrough, jaw-dropping, advanced goal setting tools!

Yes, I said, SMARTER. Not just SMART. Everyone knows how to create SMART goals (though not everyone does so), so if you are trying to boost your career to the next level or beyond, be SMARTER in your goal setting: specific, measurable, accepted, realistic/recorded, time-constrained, evaluated and reversible.
Goals must be written. It becomes a promise to oneself and is just a dream until you write it down—then it becomes a goal. Progress in achieving goals is evaluated, that is, monitored regularly. And goals are always reversible, depending on a client's abilities, injuries, stamina, and desires.
One forward-thinking model of establishing SMARTER goals begins with helping clients develop a compelling vision—remember, what you see is what you get.
Want to help you clients live better, healthier, fit and happy? Help them begin their planning and implementation goal-setting process with a health vision, a wellness vision and a fitness vision. Athletes and fitness enthusiasts use imagery to prepare themselves for goal achievement, to perfect skills leading to goal achievement and to seeing themselves being successful in their fitness regimen. Tactile, olfactory, auditory and kinesthetic senses are all important in turning visions into active reality.
Of course securing commitments to personally meaningful goals (not externally imposed), identifying barriers, identifying motivational factors, confidence levels, constructing executable plans based on an initial careful assessment of the client, deciding how the client's positively stated goals can be measured SMARTER, setting goals with clarity and realistic challenge, obtaining monitoring/feedback, evaluating progress and reinforcing and revising as need be, are all essential elements of a general goal setting process.