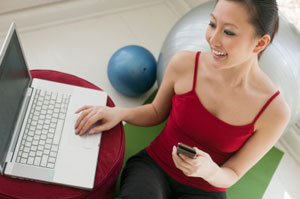 In the ever-expanding information age, the need to provide the public with the latest cutting-edge and scientifically-applicable content has become increasingly more important. Online distribution and social media are reinventing the way experts in virtually every genre are creating and distributing their content to a growing audience around the world.
Use the following 12 rules to learn how to build a completely virtual, fully-automated and infinitely profitable fitness business using tools that are inexpensive and easy-to-use.
Top 12 Rules for Monetizing Your Fitness Knowledge
Decide exactly what you are going to teach.What do you love reading about in your free time? What are people always asking you about? What do you think about most of the time? These are the types of ideas you should consider building your content around. If YOU are excited about it – your audience will be too.
Determine the best medium you are going to use to package your content. Can you make words come to life on paper? Do you have a great speaking voice that will turn into an amazing audio course? Do you come to life on video? Regardless of your method of delivery, keep in mind that different people will learn in different ways. You can always repurpose your content by writing it once, recording the audio, and turning the audio into a video course.
Figure out WHO needs your information right now. What frustrations and fears do your prospects have? What are they searching for on Google? While everyone needsto learn what you are teaching, you can only talk to a very specific number of them effectively. Once you know WHAT you want to teach, how you are going to deliver it, and who you are going to deliver it to, it's time to build the content.
Start creating products and programs that will deliver your message. In the world of content delivery, there are only two main types of information products:
The free content to build buzz: these are the free videos, blogs, 2-3 page newsletters, and short audio courses. All of these should be used to give people an introduction to you and your content.
The fee content to build a business: after you have attracted enough attention with your free content, now is the time to package your content in a format that your audience will be willing to pay for.
Build a website that provides tremendous value. While brochure-style websites used to be an effective way to share your expertise, in today's content-driven world, when people have problems, they want products or services that are going to help solve them. Become a problem solver!
Capture their contact information. While providing an endless array of free content on your website is a great idea, the only way you are going to be able to monetize your content is if you ask visitors to provide you with their name and e-mail address in exchange for the value you are providing them. No matter what you give them in what format, make sure they are going to get HUGE benefit from it.
Build a relationship with your audience. Now that you have their contact information, the way you can begin to build a relationship with people is by delivering small pieces of educational content over a period of time, with the goal of continuing to build value and deepen your relationship with them. After providing valuable information, your audience will start to trust you – when they trust you, they are going to be more willing to buy from you, if not now, they will at some point in the future.
Offer your product or program. After you have built a relationship, it's time to ask for the same. At a pre-determined interval (after 3-5 value-added content pieces), offer them your information for sale ("If you've liked all the free content I've been sending you, you are going to LOVE this product/program/service I have for you. Check it out HERE.")
Be prepared when they don't buy (because most won't). The average conversion rate for cold traffic is 3% within the first week of offering a product/program/service. Does that mean that the other 97% of your audience doesn't like you? Does it mean they don't like your content? Not necessarily. Generally speaking, when people don't buy one of your products/programs/services, they aren't sure that the content you are providing is going to help them solve their problems. If you sell (1) the right stuff, (2) to the right people, (3) at the right time, (4) at the right price, you are going to sell your stuff, all day long, all the time.
Take your time (but get cracking!) A smart businessperson once said, as long as necessary, as quickly as possible. There are a variety of courses, books, and live workshops that will provide you with ALL of the tools you need to build a completely virtual information business. Don't try to do everything at once. Start with ONE product/program/service that most inspires you, work on that one idea first (book, audio, video, etc.), get it running smoothly, and

then

move on to the next one.
Interested in learning more great tips to expand your business? Check out Adam Bordes and Ted Vickey's session , "Using the Internet to Grow Your Fitness Business" at the 2012 Fitness & Health Bloggers Conference, held June 22-24 in Denver, Colo. As a special offer to ACE-certified pros, receive a $75 discount off of the regular $250 conference registration price by registering here.