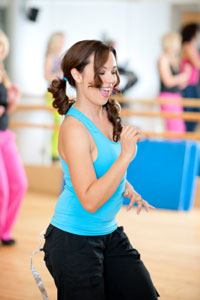 Since the late 90s when Les Mills hit the States, pre-choreography has been a source of debate among fitness professionals worldwide. Many thought the pre-choreography idea would never work in the U.S., but boy were we wrong. Not only has Les Mills succeeded (approaching 1 million instructors in over 14,000 health clubs in 80 countries with 10 programs to choose from), but it's inspired many companies to follow their formula. Today pre-choreographed and pre-formatted class options are flourishing; ever heard of Zumba®? How about R.I.P.P.E.D.? Turbo Kick®? Group Power®?
Of course, "free style'" instructors still exist (those that choose their own music, class design and choreography). And while several of us that fell into fitness prior to the late 90s peacefully co-exist with our pre-choreography brethren, there are still many who are as adamant as ever that these types of classes, training programs and instructors are harming our industry. And, you know what? I just DON'T GET IT!
With obesity on the rise and activity levels on the decline, do we have the luxury to take time for infighting? Whether you're a die-hard "free style" instructor or someone entering the fitness world as a pre-choreography expert, we all have the same goal (at least, I hope we do). Our job is to simply help people find fitness in a package they enjoy consuming so they keep coming, get fit and live for a long time!
There's no doubt I won't be able to solve this 15+ year debate in one article, but what I can do is provide 3 lessons we could learn from the pre-choreography process because it IS working. Here we go:
#1: Consistency
Group fitness is NOT a known commodity; many members are skeptical because from club to club, teacher to teacher, day to day, they are just not quite sure what they're going to get when they walk into a group fitness studio. Enter pre-choreographed classes where the formula is the same no matter where you go. For example, strength training was made accessible by BODYPUMP™ by keeping the order of the exercises and rep ranges the same week after week, making it easier for members to figure out their unique success formula, as well as gauge their progress by comparing apples to apples each time they came.
Free style instructors, you can do this too; Group Fitness Managers, you MUST! Create class titles and descriptions that are less instructor dependent by being specific about equipment that is used (or not used), the promise of the class and its structure. Then, make sure that every time that class is taught (and let's hope it's not on your schedule 1x per week) that all instructors embrace the format in the same general way, peppered with their own personality. We have to move members away from having to guess what's going to happen in class and provide them an easier landscape to navigate.
#2: Repetition
Many free style instructors feel that "their" members would be bored if they did the same class week after week, but I beg you to investigate. Have you ever asked? And, if you have, did you survey the front row? Yeah … head to the back or out onto the cardio floor and ask those folks what they think instead because, let's face it, the people in the front row think they could be you and want to be you. There are already so many moving parts that leave participants feeling less than coordinated and consciously incompetent. Our goal is to get them to consciously competent or beyond. The only way to do this is have some repeatable moments that folks can master!
Easy to do … repeat a combination every now and again and make a big deal about it. For example, at the start of the month in a step class you could announce that combination #4 will be repeated every week this month and you'll layer new challenges in each week. This not only provides a reason to return, but gives them a way to judge their progress. In the group fitness world we often believe the only way you know if a workout is working for you is if you feel like you're going to die, but that doesn't always keep people coming back. Sometimes they need to feel successful.
#3: Preparation
If you've ever taught a pre-choreographed program you know it's not as easy as it looks! There are lots of things to memorize and tons of time spent practicing to make it not appear that you are reading a teleprompter while you're cueing. At least, that's the way it is in the beginning. Eventually, you begin to understand the formula and the learning becomes second nature. But no matter how long you've been doing it, you spend time with your new CD in the car listening over and over, you watch a video of the perfect delivery and take notes, and scan the suggestions for new scripting. In other words, you put time and energy into HOW to deliver, not just WHAT to deliver.
Free style folks, we could take some cues. I see many instructors spending countless hours pouring over the steps or exercises they're going to deliver, but then they wing how they deliver it. Put forth some effort by watching videos for the cueing, get new ideas for what to say, how to explain things, find a performance element that suits your style, think about the music you use and set aside time to rehearse. I have explored the soft side of fitness for a long time and I know one thing to be true- it's not what you say that counts, it's how you say it. In other words, people do not really come to your classes for the moves- they come for how you deliver. If we put more emphasis on this side of things I know our classes would grow.
Of course, these top 3 merely scratch the surface in lessons we can learn from quality pre-choreographed programs. One final thought to take away that Les Mills, in particular, does so well- great instructors are not born, they are made. Our industry is microwaving instructors to meet the demand of the consumer rather than slow cooking them in Crock-Pot®, which is what's necessary for long-term success. We need bodies and we need them fast, so folks are going to a training class on Saturday and teaching on Monday. What I love about the Les Mills model is the commitment you must make to the process, which includes a lengthy training that is pricey, mic time while you're there and tough feedback, team teaching (suggested) once you leave, and you're not 'let loose' until you've passed a video evaluation. Then, the expectations for ongoing development are extensive.
Now, I'm not suggesting that education opportunities that do NOT do all of this are not valuable; the responsibility should lie on those that guard the studios. I'm suggesting that Group Fitness Managers could up their game in this area and all instructors could invest a bit more time in honing their craft before operating on real patients! Set up mentoring programs (that's how I learned, thank goodness), organize team teaching, give and accept feedback from managers, peers, and customers, invest in your education (not just because you need the CECs!), and constantly seek improvement.
Our industry is at a crossroads and we MUST put pressure on one another to up our game in whatever way necessary to meet the ever increasing demands of our potential customer. That's where we need to spend our time, not on debating the type of classes other instructor's choose to use to motivate others. Fitness professionals must come together- learn about what your co-workers do, explore what the competition is getting right and realize that we have so much to learn from one another. The more consumers have to choose from, the more apt they are to find their place. And, at the end of the day, isn't that what we want?