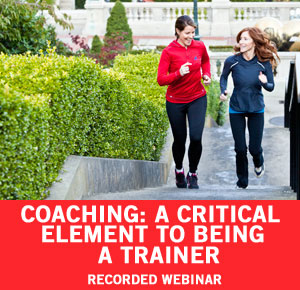 For more on techniques to motivate your clients and encourage them to adopt new lifestyle habits, join ACE fitness expert Michael Mantell for our recorded one-hour webinar.
Who are you calling "coach"? I know, you're an ACE-certified Personal Trainer.
You know everything there is to know about what ACE CEO Scott Goudeseune describes as our, "comprehensive programs that are truly individualized based on consumers' physical-activity levels, current health status and needs and desires." You have the ACE Integrated Fitness Training® (ACE IFT®) model buried deep in your brain, and you understand injury prevention and professional responsibilities that accompany your highly envied certification. So why do you feel that sometimes the industry is passing you by?
It's not that you aren't skilled enough in exercise program development or physiological and functional assessments; it's that you're delivering your hard earned know-how in an old Ford Model-T. It's just not as attractive to consumers as the fully equipped 2012 version.
If you want to stay ahead of the pack and be the genuinely unsurpassed and unrivaled, busy and successful fitness professional you dreamed of becoming, it's time to get your keys to the new and improved personal training model —the contemporary fitness coach.
Michelangelo once said, "Every block of stone has a statue inside of it, and the task of the sculptor is to discover it." As far as you're concerned, he could have been speaking to fitness professionals looking for business-boosting power in the form of a new identity and updated skills as a fitness coach.
Think about what you do in a 1-hour training session. You are tactic-oriented. You instruct your clients and lead them through a specific workout or series of workouts with biometric perfection. You analyze their problems, provide advice, prescribe specific exercise progressions, give clients goals and teach skills. When your clients leave a great workout session with you in the gym or at the park, they may think, "Wow, my trainer is great!"
With all of the websites, YouTube videos, iPad and smartphone apps, magazine articles, books, TV and radio shows on fitness, exercise, health and weight loss, don't you think many people can get exercise progressions for free elsewhere? They can and they do.
Fitness coaches offer something that can't be obtained anywhere else but from you! That can be the difference in why some of your colleagues have a business schedule filled morning to night and others are folding towels on the gym floor.
Fitness coaches provide a comprehensive service of guiding clients to a fit body and promoting a healthy lifestyle in a forward-looking, evidence-based, strategic manner. Coaches enable and empower clients to let go of "quick fixes," eliminate self-created obstacles, establish their own health and fitness goals and achieve lasting change. In fact, good coaches with a mediocre program provide far more than a mediocre coach with a superior program. Coaches understand that it's not the exercise program; it's the coaching relationship that leads clients to leave a terrific aerobic or anaerobic workout session thinking, "Wow, I'm great!"
Coaches know their strengths and weaknesses, have healthy self-esteem, have a clear idea of their clients' personalities and understand how to connect with them in ways that fit their needs and internal self-talk. Fitness coaches are comfortable exploring the emotional needs of their clients, family and personal challenges and rely on dialogue for motivation building rather than just a way for "the expert" to direct in a fixed, externally determined process.
Celebrated fitness coaches create supportive environments that lead to higher levels of health and well-being (not just more sets and reps). They have an unconditional positive regard for clients (that isn't just about shouting for them to "finish big!"). And they have the ability to be empathic and passionate about helping clients build internal motivation and personal goal setting to improve their fitness and health – a passion that exceeds their own desire for personal success. You see, the business-building model of contemporary fitness coaching is based on far more than biomechanics of exercise; it involves knowing how to deliver the intangible yet highly sought after sense of caring not only for body and muscle results, but for the entire person being coached.
Words, phrases, body language, listening skills, pacing and facial expressions are all part of the deliverables. So are your understanding, acceptance, enthusiasm, playfulness, authenticity, courage, calm and warmth (Jordan, Walker and Hartling, 2004).
Are you ready to reinvent the way you train and become a reinvigorated, in-demand, peerless role model in the fitness and health profession? Sit behind the wheel of this new model and enjoy the roadway to success.
---
Reference:
Jordan, J.V., Walker, M., & Hartling, L. M. (Eds.). (2004). The complexity of connection: Writings from the Stone Center's Jean Baker Miller Training Institute. New York: Guilford Press.