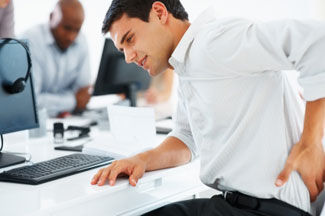 Mom may not have always been right, but she had one thing down. Keeping your head up and your back straight is sound advice for you and your clients.
Unfortunately, it's not as easy as it sounds, especially when most of your clients spend 8 hours a day at a desk staring at a computer.
"Many people have desk set ups that aren't conducive to good posture," said ACE Director of Credentialing Todd Galati. "Because of that, a few things start to happen when they get tired. Their head drops forward as they stare at the screen, the upper part of their back hunches over and their shoulders move forward because they're continually reaching their arms up and out."
Prevent Long-Term Damage
Poor posture at work can lead to exaggerated lordosis (curvature of the lower back) or kyphosis (also known as "hunchback").
"Eventually our bodies become accustomed to those deficiencies, and we'll adopt that incorrect posture even after we leave our desk," Galati said. "With exaggerated kyphosis (curvature in our upper spine) our muscles between our shoulder blades will become longer and weaker to their counterparts, the chest muscles. This causes an imbalance causing the scapulae to be pulled forward (protracted), adding to the "hunchback" posture and issues that go with it."
If you don't complete those deficiencies in your clients at the onset of training, it will most likely get worse or increase their chance of injury.
"When your clients aren't moving efficiently, it makes their activities of daily living more difficult and inhibits movement when they're working out," Galati said. "If their weight is distributed evenly and their spine is neutral, they'll feel more in control of their bodies and be able to move more freely."
Solve It with Movement
Correcting postural deviations in your desk-bound clients should be the first obstacle you tackle in a training regimen. Get started with these 4 movements: