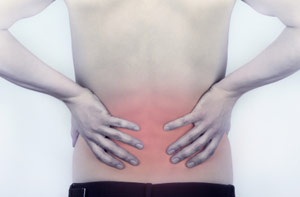 Working with clients with lower back pain can be an extremely challenging and yet, incredibly rewarding experience. In order to effectively work with a growing population of clients who suffer from low back pain – according to statistics, almost 80% of your clients have suffered from at least one episode of back pain – personal trainers need to learn not only HOW to work with these clients, but also how to grow their business from it.
There is an endless array of sources of lower back pain – mechanical back pain caused by trauma or injury or visceral back pain caused by some disease of the internal organs such as pancreatitis, prostatitis, aortic aneurysm, infection, tumor, etc. For the purposes of this discussion, we will assume that you're working with a client who is suffering from mechanical back pain and as such, you will be able to help them.
Due to the growing complexity of low back pain (where it comes from, how to get rid of it, and how to prevent it from coming back), the healthcare profession has virtually exhausted all of its resources (medications and surgeries) trying to figure out an extremely complex problem that doesn't seem to be going away. As such, they are looking to you, the fitness professional, to help them manage their clients and improve their clinical outcomes.
Whether it's the run-of-the-mill ache and pain, or the "I can't get out of bed" type of back pain, one thing is certain – low back pain simply hurts. The two questions that seem to pop up again and again in the fitness profession are these:
Once I learn how to modify my clients' workout programs to help them prevent low back pain in the future, how do I get the word out about my new knowledge and experience?
How do I reach out to the healthcare profession in hopes of developing a mutually-beneficial relationship?
Great questions.
Join Adam in the "Catering to Clients with Lower Back Pain" Webinar

If you're interested in learning more, sign up for ACE's Live Webinar on April 2, 2012. Register Now →
With the ultimate goals to help people improve their quality of life and build your business, here are 3 things you can do to: (1) increase your "brand" as an expert who can help clients with low back pain, (2) build a marketing platform by creating high-value information pieces, and (3) plug your services within the healthcare community:
Stake your claim: An effective way of letting club members know that you are starting to work with clients with lower back pain is to deliver a lecture where you talk about some of the most common causes of lower back pain, and what they can do to their current fitness program that will help prevent their pain from coming back.
Spread the word: In this viral age of information sharing (via blogs, twitter, facebook), you need to get the word out about your newfound knowledge and expertise. To do that, you need to create valuable content that you can share with the world. Write a 500-word blog post, create a short newsletter, whitepaper, or e-book; record a two- to five- minute YouTube video of you demonstrating several back-strengthening exercises; post a 10-minute audio clip of you teaching people how to modify their current exercise program. Whatever vehicle you choose, remember that your content is your introduction to the world, not just the members of your club. So make sure it's highly-valuable content, cite your sources where necessary, and be prepared for an added boost of popularity.
Reach out: In order to build bridges between you and the healthcare community (primary care physicians, chiropractors, physical therapists, etc.), you need to have a solid level of understanding of the various back conditions (disc herniation, arthritis, sciatica, spondylolisthesis, etc.). One of the most common reasons healthcare professionals don't encourage their low back patients to work with personal trainers is because they are afraid that the fitness professional either: (1) isn't qualified to work with their patients, or (2) will make their problems worse. Prove them wrong!

Invite members of the healthcare community to your low back pain prevention lecture (even though they will probably not be able to attend, they will recognize the fact that you are a needed expert in this area); e-mail them with a link to your blog, newsletter, whitepaper, etc. further demonstrating your expertise. The more the healthcare professional sees you as the "go-to" resource for training people with low back pain, within a relatively short time, you may have more business than you know what to do with.
Whether you build your personal training business from the inside out (working with current club members and clients), or you build it from the outside in (working with clients referred to you from the healthcare community), when working with clients with low back pain, you have an incredible opportunity to not only increase your revenue, but make a tremendous impact on the quality of people's lives.
Join Adam in the "Catering to Clients with Lower Back Pain" Webinar

If you're interested in learning more, sign up for ACE's Live Webinar on April 2, 2012. Register Now →