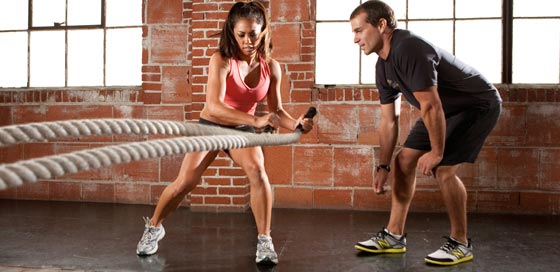 Take a moment and think back to when you first thought about becoming a certified personal trainer. Why did you take that step? A passion for business and marketing strategies probably wasn't what made you study for your certification. It might be, however, what keeps you thriving in the fitness industry.
Like so many of the ACE-certified personal trainers who have shared their stories, there's no doubt you wanted to become a personal trainer because you had a passion for fitness, wanted to stay on top of cutting-edge exercise information and – possibly most importantly — desired to positively transform lives.
This passion and desire probably then fueled the excited energy you felt upon receiving your certification — to get out there and start training. Right away.
Eventually, you realized you wanted to recruit new clients, and/or successfully start and run your own fitness businesses. You might have then wondered how you would do it?
How Business Knowledge Fuels Your Fitness Career
In addition to learning new training methodologies, knowing how to market and operate your fitness services is perhaps even more important. Your potential clients won't know that you're a great trainer with awesome exercises if they don't know you exist. Or you'll have trouble retaining your faithful clients — amongst competition — if your operations are ineffective. If you're constantly in legal trouble, this can obviously really harm your business.
Maybe you're a natural entrepreneur underneath your fitness clothes who easily understands business and marketing concepts. But do you also create meaningful client relationships that can help propel them towards results? If you aren't using the ACE Integrated Fitness Training® Model to help you connect with every personality type, you might not be retaining and recruiting clients.
Many of our veteran ACE-certified personal trainers (10 or more years of experience) say they wish they gained this all-too-important business and legal knowledge that would have helped them succeed earlier in their careers.
Even if it's not what initially sparked your interest in personal training, business savvy is an important component of your whole profession. Without it, you might not be able to stay in business — and continually fuel the actual passion that first set off your fitness career.
Resoures to Help You Become a Complete Personal Trainer
Whether you're a newly certified personal trainer trying to break into the industry or a veteran trying to take your business to the next level, ACE has created two continuing education options for you: the 2.0 Personal Trainer Career Launch Bundle and the 1.0 Personal Trainer Career Launch Bundle.
While specifically designed with the new personal trainer in mind, both continuing education bundles are made up of courses that will help any professional get better. They provide a solid foundation in business and marketing strategies as well as defensive techniques to protect your business from law suits. In addition, you'll learn how to connect with clients while guiding each one through safe and effective programming. The complete kit will also teach nutrition strategies and the latest on training youth. Through both bundles, you will become a complete personal trainer.
And most importantly, the knowledge you gain will help you keep that passion for fitness and training alive and thriving.