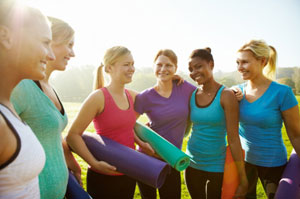 Every yoga teacher has a unique path, so there isn't a one-size-fits-all equation for how to get the practice your desire. The truth is that as you begin to dive deeper into your passion and profession as a yoga teacher, you may begin to find that the "business" side of yoga can be a bit difficult to navigate.
To ease the stress and allow your practice to flourish, utilize these solutions and truly unlock your business potential as a yoga teacher.
1) Leverage the Yoga Growth Spurt
According to Yoga Journal, in 2008 in the U.S. alone, over 16 million adults practiced yoga, and they spent a grand total of $5.7 billion on yoga classes and products. This figure represents an 87 percent increase compared to a study from 2004.
Are you seeing that kind of growth in your own practice? You may not because more individuals are becoming certified, more venues are offering yoga and there's just more competition in general. But as an independent practitioner, you can still leverage this growth spurt and share your practice with more students by following these six tips:
Invest in the highest standard of teacher training you can. This will lay the foundation for you to become a top-notch, highly sought teacher.
Have patience. Treat your business like a good wine — it only gets better with time. Watch that you don't get burnt out, especially in the early days. You have to be really grounded for your practice to soar.
Know your big picture. What do you want your business to be like in three to five years? Set your vision and make daily decisions accordingly. Ironically, by doing so, you will set yourself up for higher quality, short-term results
Can you afford to rely on your teaching for your entire income? If finances are too tight, you might consider getting another job that keeps your practice authentic to make ends meet — perhaps in an area that supplements your teaching.
Is your practice strong enough to teach full-time? Make sure your own practice is solid enough so that you will be able to support a healthy, full-time practice.
Create your own dream team! Build a network of individuals who will support you with your growth. These can be other yoga teachers experiencing similar business challenges who can support you in overcoming hurdles; specialists who can offer specific advice in their respective areas of expertise; people who you can complete certain tasks for you; or folks who will be there purely for emotional support. Whatever it may be, don't do this alone. Team up with people around you.
2) Get Real
Before you can unlock your business potential as a yoga teacher, you must be honest with yourself. Ask yourself the following questions:
What is my true passion?
What are my core strengths?
How can I make good money?
In his book, Good to Great, Jim Collins refers to this as the "Hedgehog Concept." Take the time to study this book because it will truly transform your business.
Keeping in mind that being a yoga teacher is both a lifestyle and a business, you need to have a lot of energy to stay in this game. It's a lot easier to maintain both your lifestyle and business if your practice follows you both on and off the mat — truly embracing the yoga lifestyle may mean you love spending most of your time on the mat. You also need to come to terms with the fact that it is okay — and indeed essential — to make money if you want to stay in business. So this will include asking for and charging profitable fees that will allow your business to thrive.
3) Get "Niche'd"
The best tip that I can give related to this point is, don't be a generalist! The more of a generalist you are, the harder it will be for your practice to grow. So how can you discover your niche? It starts with getting real (covered in the second tip) since your niche is a representation of you! Avoid the temptation to simply make up a niche, and instead, take the time to discover what is already authentically you, and find a niche for yourself from there. Keep in mind that the more you "get niche'd," the easier it will be for students to talk about their amazing yoga teacher, and that positive word of mouth is by far your best marketing tool.
4) Know Your Therapy
With yoga making headway in the healthcare establishment, yoga is increasingly becoming more common and more widely accepted as a complementary alternative medicine. With research on the therapeutic applications of yoga on the rise, consider teaming up with medical practitioners who are consistent with your niche/philosophy. Explore options such as sharing a space or establishing a referral system with these professionals. Either way, this kind of partnership will help you build and nurture your community, and knowing the therapeutic applications of your yoga is certainly one way to add quality to your practice. And the higher the quality of your practice, the more students will want to practice with you because they will get more out of it.
5) Be Mobile
The more you get out into your community — as much as it's consistent with your niche – the more opportunity you will see as a yoga teacher. Start by identifying where potential clients, who may be attracted to your niche, spend most of their time. From there, consider how you could offer yoga in their traditional spaces. All that's left to do then is test it out! Before you go mobile, keep the following things in mind:
Be very strategic with your bookings with regards to both with whom you are booking, and where they are located (be weary of what your travel time is costing you).
Know your priorities and know your boundaries; and arrange your schedule accordingly.
Consider renting a space for your ideal students to come to you (or to help with costs, consider co-op arrangements, sharing a space or simply creating a designated space in your own home). No matter where you go, make sure you always practice in a beautiful physical space, as the aesthetics of your space matters to your students.
For 5 more great tips to unlocking your business potential as a yoga teacher, tune back into the Fitnovatives™ blog for part 2 on Friday, March 16th! And a special thanks to Stephanie Tait, Business Director for the Yoga School of Business, for her contributions to this blog post!