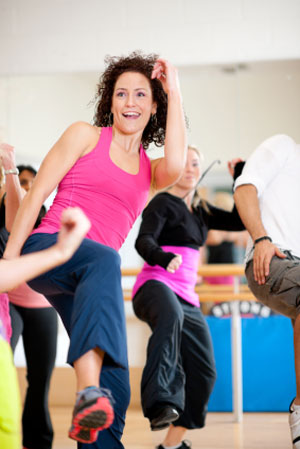 After 15 years of holding a variety of positions in health clubs — including sales, management, personal training and group fitness — I have come to the conclusion that the potential of group exercise to single-handedly transform your facility is beyond compare.
Group fitness studios should be the heartbeat of your club. It should be a direct line of communication with hundreds (maybe even thousands) of members and non-members daily, and a place where members find more than just a great workout, but a friend or accountability partner who keeps them loyal to your four walls.
However, I've also realized that there's a big difference between clubs that do this well and clubs that don't. And many times, the differentiator is not in the quality of the staff, the location or even the number of team members operating in the department.
Not being able to harness the potential of group fitness simply boils down to a lack of understanding — or awareness — of the true business of group fitness. Also, it's hard to do.
Group fitness has changed immensely in the past 25 years from aerobics rooms with neon signs and shiny spandex to a buffet of fitness opportunities housed under one roof.
Beyond delivering great results, group fitness instructors (GFI) are also expected to be club ambassadors to both members and potential members. All the while, the average GFI is employed part-time by the facility and usually, wears many hats within a facility (personal training, childcare, etc.), holds a similar position with other facilities in town, or has a full-time job outside of the fitness industry. And let's not forget, the folks who have the responsibility of leading this part time task force are usually part- time, as well.
Well, it's no wonder that there's a disconnect between instructors and managers, and why leveraging group fitness is so difficult!
Until now…
Introducing the Group Fitness Trifecta — an easy way for instructors and managers to gain a broader view of our role and determine what needs to be done, in big ways and small, to have the largest impact!
The Group Fitness Trifecta breaks the GFI's position into three, equally weighted, areas of concern. If a GFI can focus on all three, and if the group fitness managers (GFM) can find ways to encourage and incentivize dedication to all three, we might just be able to take it to the next level by proving our worth to the big boss.
Education: Passing your group fitness exam is step one. An important step, yes, but it merely scratches the surface. From there, you must determine your specialties and obtain qualifications and seek continuing education in order to teach in the areas that you have passion and skill. As well, it's important to continue to seek out mentors and learn from veterans about those 'unwritten' rules that textbooks cannot teach you. Ongoing education is a must and live education is important! Taking other instructors' classes, reviewing choreography from a wide variety of sources and keeping close connection with those who manage you to help harness and direct your studies will keep you growing in the fitness industry. Growth is IMPERATIVE to stay relevant!
Teamwork: Group fitness is a TEAM sport! No matter how much you think a higher number of people you put in your individual classes is most important, it's actually more important that you are working with your teammates to create a solid program where members (and potential members) can feel supported and successful. If you are hoping that members will like you and only you, you could potentially be derailing their quest for a healthy lifestyle! What if they can't make it to your class this week? What if you get hurt, move or have a baby? Don't you want them to work out regardless of where you happen to be? A strong TEAM at a facility can help influence the members' experience far quicker than any single individual.
Class Value: Of course, you will be judged by your class value, but if you focus on #1 and #2, then #3 will take care of itself! Shameless self-promotion of your classes via Facebook and Twitter, as well as face-to-face, can certainly increase your numbers for the short term. But being a trusted fitness resource and a team player will create raving fans who last a lifetime. Find out what your cost per head is for classes, but also ask what type of penetration (number of people taking your class compared to the number of members who enter the club during the same time frame) you are receiving to set goals for increasing class value.
Remember, you have a direct line to dues! Your actions – whether during one hour a week or 10 – cause a ripple effect both inside and outside of club walls that can positively affect sales. If you focus on the three areas that make up the Group Fitness Trifecta, it's true that someday, more GMs and owners could see the connection between a well-maintained/supported group exercise department and a thriving business. And who knows, we might just end up with a raise! Pass it on!
Want to learn more about the Group Fitness Trifecta & The Business of Group Exercise? Check out Chapter 10 of ACE's new 3rd edition Group Fitness Instructor Manual.