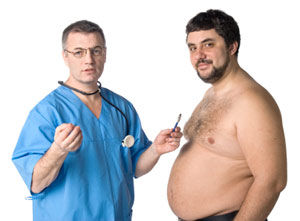 Fitness professionals interested in intensifying efforts to combat the obesity epidemic just got a major boost from the federal government.
Late last month, the Centers for Medicare and Medicaid Services (CMS) — the government entity that administers Medicare, the health insurance program for all Americans older than 65 years, and that works with states to administer Medicaid for low-income families — approved a generous and comprehensive reimbursement program for primary care physicians to provide obesity counseling to Medicare recipients.
Now, more physicians who have long hesitated to deal with the complicated and notoriously difficult-to-treat condition may be more willing to develop programs for their obese clients.
With physician reimbursement tied to documented weight loss, more physicians will turn to a network of allied health professionals, especially fitness professionals and dietitians, to help clients achieve and maintain weight loss success.
And that opens up a door to pioneering fitness professionals to establish stronger relationships with physicians, reach more clients, and make a greater impact in the mission to reverse the epidemic of obesity. Some tips on how fitness professionals can strengthen relationships with medical professionals are below.
The Details of the Reimbursement Program:
This new benefit provides physician reimbursement for intensive behavioral therapy to obese patients (defined as a BMI>30).
According to CMS, intensive behavioral therapy consists of three components:
Obesity screening using BMI as the standard
Nutritional assessment
"Intensive behavioral counseling and therapy to promote sustained weight loss through high intensity interventions on diet and exercise."
Under this program, Medicare reimburses physicians for one face-to-face visit every week for the first month and every other week for months two through six. If patients lose at least 6.6 pounds, they also get a monthly visit for months seven through 12. Those who don't achieve the 6.6-pound weight loss get a visit to reassess readiness to change after a six month period.
While reimbursement is currently limited to Medicare beneficiaries, many believe this reimbursement will soon extend to private insurance and potentially Medicaid and SCHIP (State Children's Health Insurance Program).
Opportunities for Fitness Professionals:
Though the CMS is only paying physicians for providing intensive obesity counseling, a major objective of the program is to encourage physicians to reach out to other allied health providers to facilitate client weight loss.
In fact, the need for intensive exercise interventions for successful weight loss is explicitly stated in the CMS report. As such, fitness professionals are a stronger asset than ever to clients and to primary care physicians.
Fitness professionals who are interested in capitalizing on this opportunity to make a pronounced impact in the fight against obesity and to grow their business through strengthened relationships with physicians should take action now.
Here are a few ideas to get started:
Build your knowledge base and experience. Opportunities to gain competence in working with clients who suffer from obesity are widely available. For example, ACE offers the Lifestyle and Weight Management Coach and Advanced Health and Fitness Specialist certifications as well as a variety of continuing education programs. When establishing connections with doctors, highlight your educational strengths, keeping in mind that most physicians will only refer to allied health professionals they consider to be highly trained, credible, and personable.
Get comfortable with the medical model. Learn and adhere to widely accepted practices and protocols that physicians live by, such as documenting visits and outcomes and developing individually tailored programs based on proven methods. The goal is to evaluate, understand and educate clients, document sessions and communicate outcomes with other providers all within the allotted time.
Introduce yourself and your services to the community. Identify physicians in your community who are interested in obesity treatment and prevention, and introduce yourself and your services. A few great places to meet these doctors are through local community obesity task forces, word of mouth from clients and friends, and local multidisciplinary professional meetings. You may even consider making arrangements to present your services and opportunities for collaboration through a noontime talk or a brief appointment. Or, you could simply drop off promotional materials highlighting your qualifications and experiences which make you especially qualified to work with their patients.
Offer value-added programs and services. Since this program reimburses physicians, but not other allied health professionals, you have to prove to both the doctors and their patients that your services are worth the cost. One way to do this may be to offer complimentary training sessions or group programs. Once the clients start to see results, they'll be inclined to want to continue to work with you.
Be an advocate in your community. Ultimately, the only way to truly reverse the obesity epidemic is to advocate for and create healthier communities which encourage physical activity and healthful nutrition habits. Committed fitness professionals are an integral part of this mission.
More information on the CMS decision to reimburse physicians for obesity counseling as well as a summary of the research and guidelines supporting intensive behavioral therapy (including exercise training) for the treatment of obesity is available at www.cms.gov.