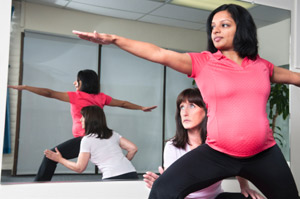 There are 6 million pregnancies throughout the US every year, with just over 4 million live births and nearly 2 million pregnancy losses, according to the American Pregnancy Association. The likelihood is great that you will be privileged to serve as a fitness coach for a pregnant woman.
Coaching fitness professionals understand that implementing the ACE IFT™ model with any client is only executed properly on a base of genuine connection/rapport.
Michelangelo's belief that "Every block of stone has a statue inside of it and the task of the sculptor is to discover it" provides the mindset for the fitness coach in approaching every client. Nowhere is the coaching model — guiding a client through to getting a fit body and promoting a healthy lifestyle — more compelling than with a pregnant client.
Understanding the biomechanics of exercise with pregnant women as it relates to the IFT model is critical. However, so is serving as a memorable and compassionate motivator, being an exemplary listener/communicator, demonstrating passion and self-discipline in order to lead by example with unrelenting commitment to health and fitness.
Exploring emotional needs, nutritional concerns, family and personal challenges through the use of skillful active listening, dialogue, self-exploration, creativity, personal growth and partnership are all necessary skills in aligning with the health focus of moms-to-be. Being available via cell phone, text messages and email are also valuable ways of building connection/rapport.
While the American College of Obstetricians and Gynecologists has a set of published guidelines for (aerobic) exercise during pregnancy and the postpartum period, which they note are intended to be suitable for all pregnant women regardless of their basic level of physical fitness, the breakthrough IFT model with its continuum of health-fitness-performance, understands that every exercise prescription is individualized according to the client's current fitness assessment. So for newly pregnant women, the question is not "should I begin or continue to exercise," but rather where is the proper starting place along the continuum?
The benefits of exercise for pregnant clients include healthier weight gain, an easier labor and delivery, less leg cramping and back pain, lowering the risk of gestational diabetes by as much as 27%, having more energy, less likely to get constipated, and according to fitpregnancy.com, 75% less likely to need a forceps delivery, 55% less likely to have an episiotomy, and up to four times less likely to have a Cesarean section.
Understanding the psychology of each trimester, at least in general terms, allows the fitness coach to establish a personal connection/rapport more readily and more genuinely.
During the first trimester, women describe being on an emotional roller coaster with anxiety, and unfounded fears of the health of the newborn, the pregnancy and labor/delivery process and marital concerns common.
The second trimester, often emotionally calmer, commonly comes with feelings of self-consciousness and potential feelings of lowered self-esteem, along with continued marital concerns. They also normally have a heightened need for attachment and co-dependency on others.
In the third trimester, renewed fears of the baby's arrival and imminent life-changes are common, with heightened concerns about labor and the birth process.
Once cleared by their obstetrician, fitness coaches can expect to encourage clients to engage in at least 30 minutes of moderate-intensity physical activity most days of the week.
But in the first, some say in the second and third trimester(s), all pregnant women should avoid exercise that involves lying on their backs in a supine position due to dizziness upon standing and decreased blood flow to the fetus.
The primary concern with exercise intensity during pregnancy should be a focus on blood flow to the fetus. In the third trimester, aerobic exercise may need to be limited due to alterations in the center of gravity and balance.
High-impact activities are also best avoided. Aggressive stretching should also be avoided due to hormonal changes creating lax and mobile ligaments and joints. Stretching should be gentle and static. Of course, in coaching these clients, it is necessary to avoid activities that increase the risk of contact injuries.
Fitness coaching brings many rewards working with a diverse population of clients. Working with pregnant clients can be challenging, but when your client returns to your training post-partum with her newborn baby, your efforts will be overwhelmingly rewarded.