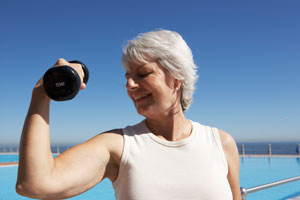 Anyone who reads professional fitness, exercise physiology or strength and conditioning journals, knows that fitness equals longevity. Inactivity doubles the risk of mobility limitations and propels cognitive decline. The amount of data demonstrating the effect of exercise in slowing the aging process is simply staggering. Does this matter to a young fitness professional who may have never heard of gerokinesiology?
ACE's own Cedric Bryant, Ph.D. noted in an interview, "No matter what area you look to, be it heart disease, obesity, diabetes, high blood pressure, osteoporosis, research shows that being physically fit into your senior years will keep you healthier and active longer." One can add to this list of documented activity benefits sexuality, state of mind, physique, and social abilities.
ACE, in partnership with the International Council on Active Aging, recognizes the need to assist the fastest growing population of the country — and health clubs. Look around — one in four of your club members are probably 55+.
Unless you are near, or in, this age group, the phrase "aging process" may mean nothing more than something your parents or grandparents experience. However, being professionally prepared to graciously meet the fitness and health needs of this generation makes good business sense.
There are 78 million baby boomers in America, born between 1946 and 1964. Within less than 10 years, the 65+ population will increase by about 40%, to 55 million adults. And of those 65+, 7 million will be 85+.
Are you prepared to train the 10.5 million health club members who are 55 and older? After all, nearly 30% of those 55+ engage in physical activity 50 or more times a year and about 25% of them use personal trainers. Do you understand their values, physical and emotional needs and practice good communication skills with boomers?
Boomers value competition, change, hard work and success. Because boomers are truly the "show me" generation, speaking with them in an open, direct, non-controlling manner are important methods of building rapport. Boomers want thorough answers, will press you for details and prefer options in what they hear. The one thing boomers do not envision is a quiet retirement. They want to compress disability into as late as life as possible and increase their healthy life years.
Gentler, kinder workouts, low-impact exercises, comfort and diminished risk of injury attract many boomers new to regular exercise. Unless you incorporate posture, strength, endurance, flexibility, agility, and balance you may not be doing enough to promote negligible senescence – preventing the normal biological changes caused by aging.
In addition to using the complete health assessment protocol, including health-risk appraisals and risk stratification found in the ACE Integrated Fitness Training™ (ACE IFT™) Model (pages 105-132 of the ACE Personal Trainer Manual), consider these questions that are easy for the more senior boomer population to relate to, first reported by Moffat and Lewis, physical therapists, in their book, Age-Defying Fitness (Peachtree Publishers):
Are you not standing as straight and tall as you once did?
Is walking up a flight of stairs a strain at times?
Are you getting up from a chair more slowly than you used to?
Is it getting harder to look to the left and right while backing up?
Do you get stiff sitting through a long movie?
Is standing on one leg to put on your shoe difficult or impossible?
Do you trip or lose your balance more easily?
Does walking or jogging a distance take longer that it used to?
These questions demonstrate your sensitivity to, and knowledge of, the realities of your older adult population, necessary in rapport and program building.
A relevant framework to further understand the special needs of this population, is Nagi's 1991 Modified Disability Model, in which physical inactivity and a variety of age-related disorders magnify anatomical and structural impairments, setting the stage for functional cognitive and physical restrictions that create the type of disability that result in an incapability to sustain activities of daily life/physical functioning.
The "stability/mobility→movement→load→performance" sequence applies for posture, strength, endurance, flexibility, and balance training. The mode, intensity, duration and frequency elements of a customized training plan for your older clients have been well studied. Cardio, strength, flexibility, balance and core training are the key elements in any boomer workout. Keep in mind that musculoskeletal injuries are the number one reason people seek medical help and are among the leading causes of death for the 65+ population.
You will represent yourself as a fully helpful fitness/allied health professional by properly motivating your older clients to engage in unfailing aerobic and strength training, while also being open to discussing their sleep patterns, clean living lifestyle, social engagements, nutrition, life extension drugs and supplements, preventive health measures, medical conditions and treatments, and age-related emotional and family challenges and successes.