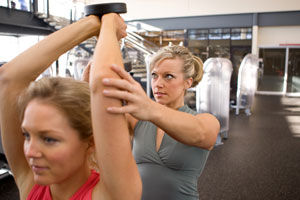 With nearly 40% of adults not exercising sufficiently, and 50% of those who do begin an exercise program discontinuing within the first six months, obtaining and keeping clients can be a major business hurdle for fitness trainers. Become a fitness professional, however, and that hurdle might not be so challenging.
Of course extraordinary empathy, exceptional listening and unique motivational skills are essential ingredients in building an engaging level of rapport; just as outstanding social support skills and brilliant instructional competencies are important for maintaining successful professional training relationships.
You can flawlessly execute the ACE Integrated Fitness Training™ (ACE IFT™) Model "investigation → planning → action" with your clients; know how to adopt an "open, well-balanced, erect, but relaxed posture with a slight forward lean toward the client" (page 101, ACE Personal Trainer Manual); deliver impeccable motivational interview techniques; understand the transtheoretical model of behavior change; offer a thorough health-risk appraisal, and after all that, wonder why the client appears less than excited about training with you. Then, she/he fades away only to show up training with another fitness professional in your club.
Based on a study done by Deana Melton, Ed.D., CSCS, HFS and others on women's perspectives of personal trainers, published in The Sport Journal in January, 2011, I'm going to offer some very useful tips on what else you need to be aware of to turn fitness training into a fitness profession.
I know the study was based on women's perspectives, yet with women accounting for about 60% of all health club members, and the fact that women are the majority of those who hire trainers, this is a good place to start. Get these skills right and you are on the way to building a reputation as a solid fitness professional.
What professional attributes do you carry that attract first-time clients? What first impressions do clients see in you before they hire you?
Gender is one issue that you can't do much about except to understand that when women seek professional trainers, they often feel more comfortable with women because they believe other women will understand their struggles, their body image issues and they believe they can be less self-conscious about their bodies. So if you are a male fitness professional, you would be smart to share your understanding of women's concerns in a way that leaves a potential female client reassured that gender is not the issue — empathy is.
Empathy is the central professional trait that leaps in front of potential clients and stays there throughout the training relationship. Think of your first discussion as a job interview in which you need to demonstrate your sensitivity to what a client is going through emotionally and physically. Why? The research places this high on the list because subjects noted that highly empathic fitness professionals make them feel more comfortable in training sessions and afford them the confidence that they will achieve their goals.
Physique is another professional characteristic that is shared before you even begin to speak. Not surprisingly, potential clients want you to have an attractive physique and exceptionally clean appearance because it gives them confidence that you are competent and you will be motivating.
When potential clients see other clients of yours who have achieved positive changes in their physical appearance and in their fitness, it speaks volumes about your professionalism.
Fitness professionals have well-developed interpersonal and communication skills; consistently demonstrate charisma, enthusiasm and sincerity; know how to make a workout enjoyable; and develop a feeling of encouragement and camaraderie among their clients.
They pay attention, are highly focused on their clients and keep formal notes and document progress – they are not busy talking with other club members when training a client. Professional fitness trainers demonstrate their knowledge of anatomy, physiology, and exercise program design. Interestingly, the research suggested that in the eyes of potential clients judging professionalism, your level of empathy trumps your physique, and your ability to express passion for the fitness industry may be more important than your degree.
Above all, the changes your clients see in their own bodies are more important than any other professional credential you carry. They want to see results.
Negative characteristics that detract from professionalism include inappropriate behavior such as flirting, canceling sessions too frequently, not calling ahead of being late, cursing, or discussing personal problems, your weekend activities, your dating problems and successes, dressing inappropriately or making sexual innuendoes. Professional fitness trainers, in the eyes of clients have "good bodies" but "keep them covered."
Professional trainers use social media to motivate clients, develop a favorable image of themselves, communicate with clients, send encouraging messages, and promote health and fitness activities.
The bottom line here is never do anything that says you are an amateur. A fitness professional produces high-quality service in every area of practice. Excellence is always your goal. Your ACE certification and college degree open the door to opportunities in the fitness world. Develop the characteristics described above and you'll walk through those doors as an accomplished fitness professional.