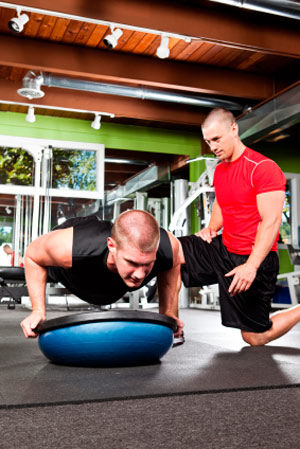 As a long-time personal trainer and an avid exercise junkie, it's always fun to visit different facilities and experience working out in them.
Whenever I go into a studio, independent gym or corporate health club, I pay close attention to details such as the equipment, available space for movement, and organization – it should be intuitive and organic. With background as a health club-based personal trainer and group fitness instructor, experience as a club general manager and time spent as a regional director, I also take note of the facility cleanliness and the staff biographies – admit it, you do the same thing when you're in a new facility.
We all know that the equipment selection and layout of the fitness floor are critical to positive energy and overall vibe, or "mojo," of a club or studio. One of the most important things for working with clients is having the space to move. I have often seen how too much equipment can ruin gyms. In my opinion, it's more important to give a client all three planes of movement rather than have another fixed piece machine that only allows for one or two limited paths of motion.
A good facility layout is one that features equipment designed to be carried, thrown, swung, or otherwise lifted in various patterns along with the space — this allows for plenty of room for movement. Other marks of a good facility are clean locker rooms and the well-maintained floors. There is nothing more disgusting than a facility with dust balls in the corners and a locker room that smells like it hasn't been cleaned since the 1990s. If you are a fitness buff, then I'm sure you pay attention to the same details every time you work out in a new place.
Based on the considerations mentioned above, I've compiled a brief list of some of my favorite places to train and why. When I say "train," I mean both personal workouts and working with personal training clients.
Club Zum in Seattle, WA: My wife had a conference in the city and I tagged along because I had never been, and we were thinking about possibly relocating to the Pacific Northwest. We did an online search for local health clubs and found Club Zum. Upon visiting the facility, I immediately fell in love. It was a small independent club with everything from an Olympic platform to kettlebells to a sandpit. It also has a garage door that opens to the outdoors to take advantage of the days the sun decides to pay a visit. One of the coolest features is that the personal trainers are all avid outdoor enthusiasts and schedule various trips and outings for the members. If we ever move to Seattle, I know where I want to work.
Balance Gym Kalorama in Washington, DC: My friend, Graham King, started this training studio in the basketball court of a parochial school in an exclusive Washington, DC neighborhood. The fitness equipment is in a loft area to the side of the basketball court and features kettlebells, an Olympic platform and climbing ropes. Yes, if you miss the rope climbs from junior high PE class, you can relive those memories here. The basketball court has cinderblock walls, so you can jack clients up with circuits of sprints, high-power medicine rebound drills and kettlebell lifts. It takes a while to progress a client to that level, but once they're there, they'll love the intensity. I used to train a few clients here when I lived in the city and I try to drop by for a workout every time I'm back.
Equinox, Nationwide: My last job was as a director of education and even though I had a free membership from my employer, I paid for my membership because of the equipment and the layout of the clubs. Any time I walk into an Equinox facility, I immediately notice the energy. The company puts a lot of thought into the layout at each location and fills space with the latest equipment while allowing for plenty of space to move. The clubs are clutter-free and are always stocked with cutting-edge equipment like TRX® Systems, ViPRs® and kettlebells. I can't mention Equinox without talking about the group fitness program, which always have the most creative classes with highly dynamic instructors. They know that group fitness is the lifeblood of a club, and it shows.
Club One in Pittsburgh, PA: I was in Pittsburgh to teach an ACE workshop at this facility. I went in for a visit the day before the workshop to meet the manager and see the space I would be using. The facility has an indoor track with room for agility drills and a unique configuration in a training space that allows for use of TRX® Systems, medicine balls AND kettlebells. So it was easy to sequence exercises for a high-intensity metabolic circuit, which is always a nice way to relieve stress after a day of travel. However, most impressive was that the next day at the workshop, I learned that the combined experience of the Club One employees attending the workshop was over 60 years – for only 3 employees! The Fitness Manager had 24 years of experience and the two personal trainers in attendance had over 20 years each. The ownership group and management must be doing something right to retain this staff for so long. Other fitness facility operators should find out what it is and copy it.
The Reebok Sports Club, New York, NY: (Full disclosure: I was the director of education for the company, which owns and operates this club.) I make it a point to visit this club every time I'm in Manhattan because it is always such an awesome experience. The best feature of the club is an outdoor track that is located six floors above the street. It allows for the opportunity to train outside with killer views of the upper west side. Many of the personal trainers at the club have been there since it opened in the 1990s and they are a professional group who is extremely dedicated to their clients. Finally, the locker rooms are always in immaculate condition, even during busy rush periods and the club has a full service café with plenty of healthy options for post-exercise refueling.
There you have it: Some great places to train, along with some of the best attributes that you can look for in a fitness facility! If you live in or are considering a move to one of these markets, then I highly recommend these facilities either as a potential place of employment or your own location for pursuing your personal fitness interests.