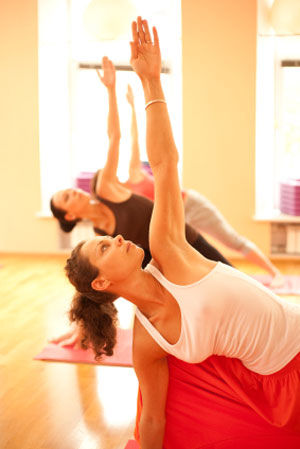 The phrase, "one thing leads to another," might remind you of The Fixx's 1983 smash hit single, but these few simple words can actually serve as a guiding principle for structuring your next yoga class.
Two primary objectives of the physical practice of yoga are to: (1) create balance in the body through the development of strength and flexibility, and (2) establish a deep connection between breath and movement.
The word vinyasa is a somewhat general term that can be used to describe a number of yoga-related elements, from a series of postures to a certain style of yoga class. However, when broken down to its Sanskritic roots, the term vinyasa means "to place" (nyasa) "in a special way" (vi).
Typically, when we speak of vinyasa, we are referring to breath-synchronized movement throughout a yoga class in which poses are linked together using the breath in order to create continuous flow.
While there are an abundance of asanas (commonly referred to as postures or poses) in yoga, the foundation for a physical practice should focus on practicing postures progressively in order to enhance steadiness, alertness and overall comfort — qualities referred to as sthira and sukha in the Yoga Sutras.
In order to realize the qualities of sthira and sukha, it is imperative to first understand the necessary steps to prepare one's breath, body and attention for the asanas selected in the given practice. To do so, it is important to explore and understand a variety of postures (which are often grouped into categories, such as seated, standing, etc) and the associated physiological, emotional and spiritual benefits of each.
With a deeper understanding of the purpose and benefits of each asana, we may then begin to focus our attention on the fundamental concept of vinyasa krama, which is expressed in the Yoga Sutras as the action taken to correctly organize and construct a gradual and intelligent course for yoga practice [in Sanskrit, this is "the step" (krama) used "to place" (nyasa) "in a special way" (vi)]. The reality is, one best way to sequence a yoga practice does not exist because there are many factors to consider.
These factors include the individual or class needs; lifestyle and long-term goals; what activities will follow the practice (for example, a series of asanas designed to prepare a tennis player for his/her sport will likely be very different from someone who suffers from insomnia and is seeking a relaxing practice to perform late in the evening); energy level; experience, etc.
Usually, most — but not all — sequences in yoga are linear: One posture follows another in a logical step-by-step direction from less to more challenging asanas, and then concludes with less challenging asanas. A practice following this notion may look like this: Beginning a sequence with simple warm-up poses that set the tone (and prepare the body) for the practice, moving to more challenging postures that add intensity to the practice before ultimately slowing the practice down through the incorporation of cooling postures, and then ending in savasana.
As an example, let's look at the following general class structure and discuss the logic behind why certain postures may come before others:
Centering postures: Beginning class in a posture such as balasana, or standing or sitting quietly, gives students the opportunity to become grounded and to begin to observe the body and the breath, focusing their attention towards cultivating pranayama, often described as the art of breath control (from its Sanskrit roots, prana means "life force" or "breath" while ayama means "to suspend" or "to restrain").
Standing poses: In an effort to effectively prepare the body for the practice and ultimately develop the connection between breath and movement, standing postures, including Surya Namaskar (sun salutation), are frequently utilized as a warm-up. Standing poses also serve as good preparation for many balancing poses to follow.
Seated, Kneeling or Supine poses: Postures performed in a variety of positions (e.g. seated, kneeling, supine, etc) are often included in a practice in preparation for inversions and arm balances. These may include postures that are performed in order to open or stretch an area of the body, such as supported virasana, or perhaps to strengthen the body, such as vasisthasana.
Inversions and Arm Balances: Inverted postures, such as salamba sirsasana, allow students to explore and discover unknown aspects of themselves by moving into positions that, for the most part, are opposite from our daily positioning.
Prone poses: Many prone poses, like bhujangasana and salambhasana, are backbends which can serve as great counterposes for many inverted poses while also strengthening the body.
Seated poses: Seated postures can provide numerous benefits towards the end of a practice, and often work well as a transition into the supine postures to follow. It is important to be mindful, however, not to place two intense, opposing postures back-to -back without incorporating an appropriate period of rest and transition postures in between. (This applies to any point in the class sequence.) For example, if you've finished your series of prone poses with an intense backbend such as dhanurasana, incorporate a few resting, transitional postures into your sequence before moving into a powerful forward bend you may be visiting in the seated series to follow, such as paschimottanasana.
Resting poses: Concluding practice with resting poses, which are often performed in a supine position, give the body a chance to restore while once again, allowing students to practice pranayama before moving into the completely relaxed state of savasana.
Again, this is just one example of a general class sequence, but it provides some thought and understanding into how postures may be sequenced. Other ideas for sequencing may include:
Teaching to an apex pose: Apex (also referred to as peak) poses are more challenging and require multiple areas of the body to be opened and/or strengthened first. If opting to sequence to an apex pose, begin by first selecting a pose that is challenging, yet appropriate, for the format and class level you are teaching. From there, be sure to identify what areas of the body will need to be opened and/or strengthened before reaching the apex poses, and then identify the appropriate preparatory poses.
Teaching to an area of the body: Structuring a class sequence focused on an area of the body can have many benefits, and may better serve your students' needs. For example, a class sequence which focuses on opening the hips could be a great option when teaching students who spend the majority of their day in a seated position (such as at an office). Or, creating a class sequence that focuses on the hamstrings can be good when leading a yoga class for athletes since many athletes tend to lack a great deal of flexibility in the hamstrings. Finally, a sequence focused on the back may appeal to a varied class of students since back pain is the second most common complaint cited in doctor's offices in the U.S.
Teaching with a theme: Teaching with a theme can help you develop a deeper connection with your students because the focus extends beyond simply practicing yoga and instead, encourages students to truly embrace and "live yoga." It is important that the theme you select is relevant to your students, so ask yourself what your students need and where you would like to take them. Examples include concepts or qualities, such as gratitude or awareness, as well events in nature, such as a full moon or summer solstice. To best serve your students, ensure that the theme is carried throughout the entire class from the postures selected to the music played to the phrases and quotes spoken.
The take-away message is that there is no steadfast rule or specific path to follow for sequencing yoga classes; there are many different styles of yoga as well as many different reasons for practicing. Other factors to keep in mind are the skill level of the classes you are teaching (e.g. beginner, intermediate, advanced) and most importantly, the students' unique goals, desires and needs for the evolution of their personal yoga journey.
A good rule of thumb, regardless of what style or level of yoga you teach, is to always "practice what you teach" to ensure that the sequence you've developed and the postures you've selected conveys what you want, both physically and emotionally.
To witness and experience intelligent yoga sequencing, join me for "Yoga for Every Body," a chair-based yoga session I'll be teaching at the AARP Life@ 50 event at the end of this month in Los Angeles.