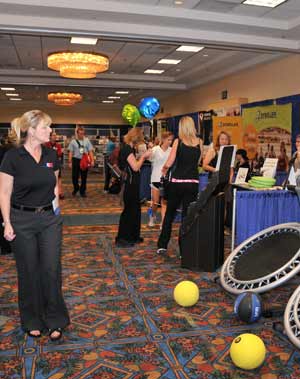 Over the years, my experience going to conferences and workshops taught me many things that have contributed to my success. One was that if I was an early adapter to a piece of equipment or a theory of training, it provided me with a way to stand out from other trainers and attract the attention from clients who are constantly looking for new, fun and exciting ways to exercise.

If you are thinking about going to a conference this year, I highly recommend it! There is a lot of new equipment out on the market and the best place to learn about is often at a conference. After scoping out all of the latest equipment from recent trade shows, here are some of my favorite pieces. The biggest trends I've seen are the use of non-traditional strength-training equipment and the use of technology to enhance the exercise experience. The following products are not listed in any particular order:
If you are looking for ways to help your clients see results and stand out from your competition then I highly recommend getting out to a conference and experiencing some of these products firsthand. You'll earn the continuing education necessary to maintain your certification, get to meet and work with other fitness professionals (which helps overcome trainer burnout) and learn about the latest research and training equipment. It might seem expensive but the money spent on attending professional education workshops can come back to you in many ways and the costs related to conference fees and travel could be tax deductible, so it is worth your investment (speak with a tax professional for specific information).
If you want a reason to come to San Diego this November we will host the ACE Fitness Symposium where I'll be teaching workshops about different strategies for core training and running a small group training program. Additionally, you can learn about some of the latest fitness products on the market and training techniques through the sessions and Vendor Showroom. Hopefully I'll get a chance to see you there!